Skip the Indian takeout and make this butter chicken recipe at home! You won't believe how easy this Indian butter chicken is to whip up and it's as good as anything you'll get from your local Indian restaurant!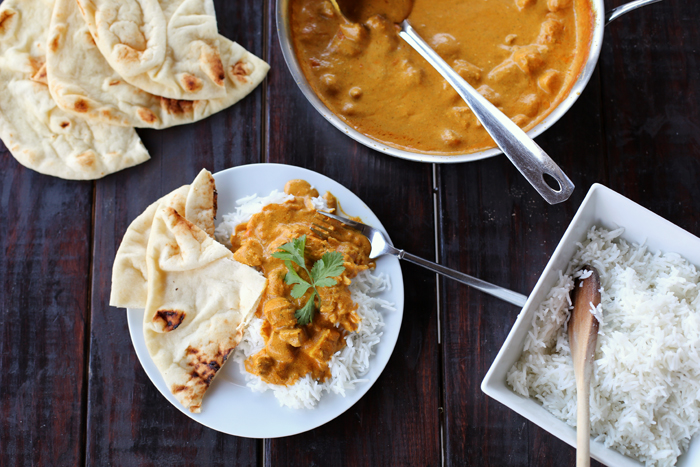 The number one thing Bart and I miss about Texas is Tejis and their crazy good butter chicken.
Okay, okay, the number one thing we miss are our friends and family there, but the SECOND thing we miss most is Tejis.
We first went there for lunch when I turned 23, after my friend Julie recommended it strongly. At the time, it was about six folding tables set up inside an Indian grocery store and it wasn't so much that the atmosphere was lacking as much as there was absolutely no atmosphere at all.
You ate your food off a styrofoam plate and looked around at bare walls and linoleum floor. It was fantastic.
By the time we moved away in 2013, it  had expanded to a much nicer sit-down restaurant, plus opened a location downtown, we'd met Teji herself, and we'd eaten approximately forty thousand cartons of the best butter chicken I've ever had.
Make your own butter chicken
If I lived in Austin, I'd never bother making this butter chicken recipe because I could just go pick it up from Tejis.
But since a fourteen hour drive for Indian butter chicken seems a bit much, this recipe is the closest substitute I've found and also, it has a tiny piece of Tejis in it because my garam masala was purchased at the Tejis grocery store many moons ago (and it's still going strong).
Also, it's super easy. The only remotely unusual ingredient is the garam masala and most grocery stores sell that these days. If not, you can order it from Amazon for a good price.
If you like this Butter Chicken recipe, check out these recipes too: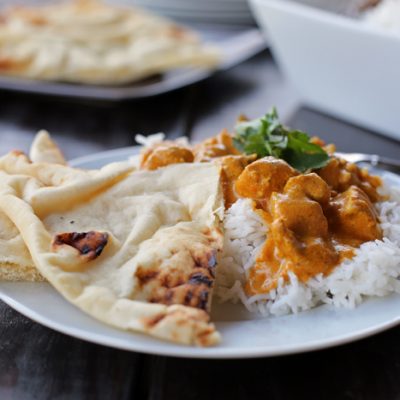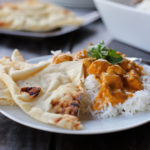 Easy Indian Butter Chicken
This Indian butter chicken recipe is so good, you can skip the takeout and enjoy this butter chicken at home, no tipping required!
Ingredients
Marinade:
1/2

cup

plain Greek Yogurt

1

Tablespoon

lemon juice

1

teaspoon

turmeric powder

2

teaspoons

garam masala

1/2

teaspoon

chili powder

1

teaspoon

ground cumin

1

Tablespoon

grated fresh ginger

2

garlic cloves

minced

2-3

boneless skinless chicken breasts

cut into bite-size piece
Sauce:
1

Tablespoon

vegetable oil

1

cup

tomato sauce

1

Tablespoon

sugar

1

teaspoon

salt

1/2

cup

whipping cream

1

Tablespoon

cornstarch

1

Tablespoon

water
Instructions
Whisk together the marinade ingredients until smooth and then stir in the chicken until the chicken is thoroughly coated. Let sit for at least 15 minutes or refrigerate up to 24 hours.

In a large frying pan, heat the oil over medium-high heat. Add the chicken and all the marinade and cook for a few minutes, then turn the chicken pieces so they cook on the other side. Add the tomato sauce, sugar and salt and let simmer on low-heat for about 5-10 minutes, until the chicken is cooked completely through. Stir in the whipping cream. Whisk the cornstarch and water together in a small bowl or cup with a fork then pour into the sauce, while stirring the sauce. Let the sauce come to a simmer again and cook for a minute or two to thicken, then salt to taste and serve with basmati rice and naan bread.

Enjoy!