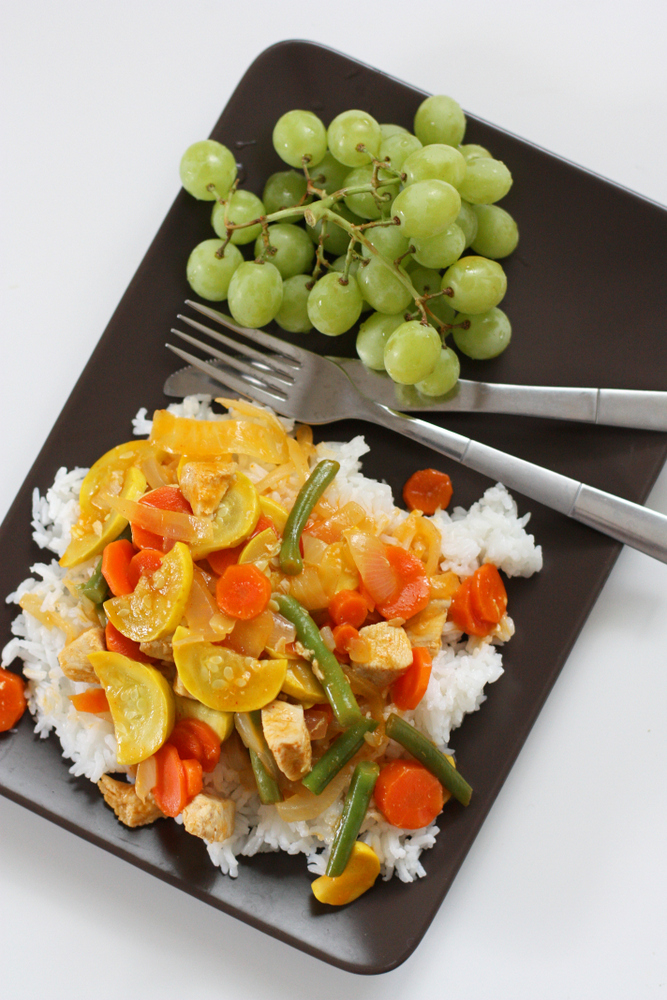 When we used to do a CSA back in Texas, I made this easy Thai curry all the time to use up the never-ending squash and carrots we'd get during the summer.
Then we moved and I don't think I've made it in two years.
This week, since I don't want to throw away contents of our produce drawers when we move next week, I made it again to use up some zucchini, yellow squash, carrots and onions sitting in the fridge.
And Bart and I kept saying, "Why haven't we had this in such a long time? This is so delicious."
If you've got a bunch of vegetables sitting around, whether you grew them yourself or bought them at Wal-Mart, this is a really super great way to use them up.
Plus, it only takes one pan to make the whole thing, which, next to taste, is pretty much the best quality a meal can have.
Well, and if my children will eat it. I like that quality in a meal too. So this one wins on all fronts. I won't be waiting another two years to make this again.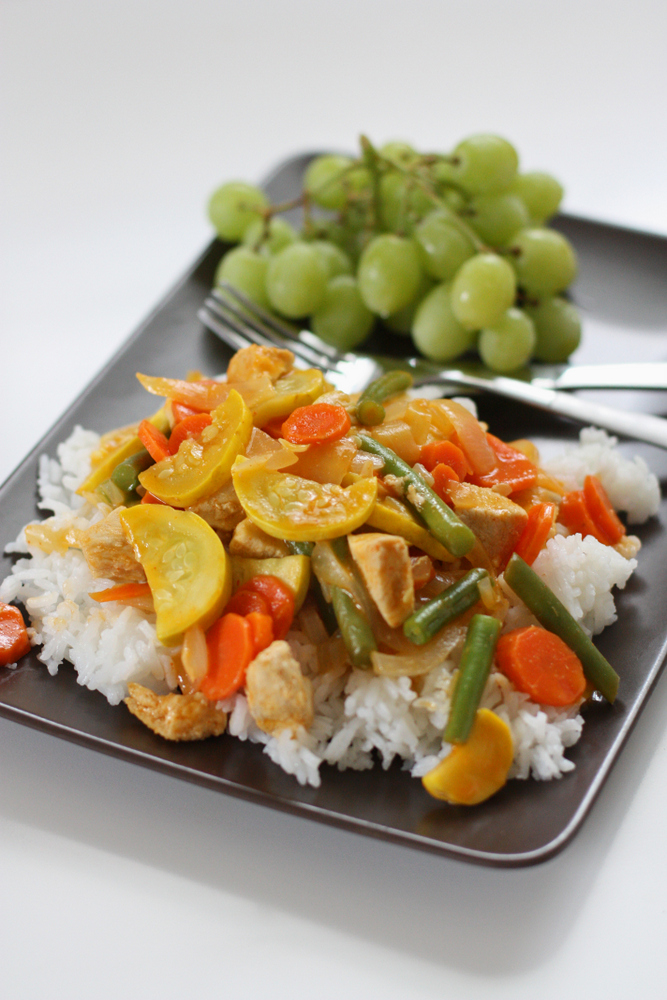 easy thai curry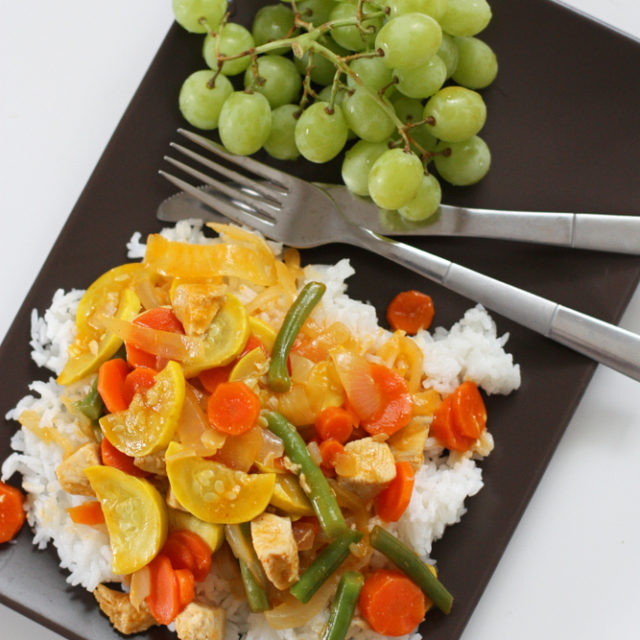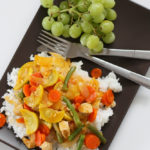 Easy Thai Curry
A super easy one-pan Thai curry that's packed with veggies (plus it's totally kid friendly!)
Ingredients
1

T

oil

1/2

onion

sliced into half moons

1-2

cups

thinly sliced vegetables

I like yellow or zucchini squash, carrots, and green beans; bell peppers and snow peas are also excellent

2

chicken breasts

cut into bite-size pieces

salt and pepper

1 1/2

T

Thai red curry paste

1

cup

coconut milk

2/3

cup

chicken broth

1

T

fish sauce

1

T

cornstarch

2

T

water

3

T

lime juice

Jasmine or basmati rice for serving
Instructions
In a large frying pan heat oil over medium heat.

Add the onion and cook until slightly softened, about 3 minutes. Add any crunchy vegetables that will need longer cooking than others (I usually add the carrots at this point and wait on the beans and squash for a couple of minutes).

Add the chicken and salt and pepper the whole mix. Cook for 2-3 minutes, until the chicken is cooked on the outside.

Stir the curry paste into the pan and cook for about 30 seconds.

Add coconut milk, broth, and fish sauce.

Bring to a simmer, stirring occasionally, scraping up the browned bits on the pan bottom, cooking until vegetables are as soft as you'd like them to be and chicken is cooked through. Whisk together the cornstarch and water until smooth and pour it in to the pan, stirring constantly. After about thirty seconds, it should have thickened up a little.

Add lime juice, salt and pepper to taste, and then serve over rice.
if you liked this easy thai curry recipe, you might like these other posts: