The frugal side of me loves banana bread because it makes bananas that are five seconds from the garbage can into a new, delicious food.
But then, I find that most banana breads become completely disgusting to me in a day or two because they become so sticky and soggy. And. . . I can't really talk about it anymore without getting a little ill. So let's move on.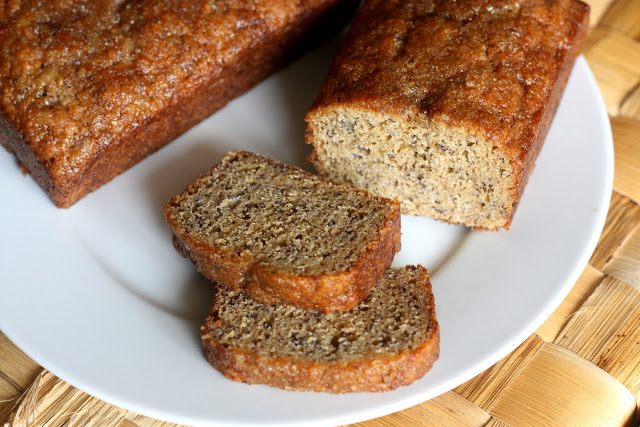 This banana bread, happily, doesn't have that problem (because you remove pretty much all the excess liquid from your bananas). It stays good for several days and freezes like a dream.
Also, the first time I made it, I did four mini-loaves and Ella ate an entire half loaf on her own. And then Bart came home from work and ate an entire loaf by himself (I'm not sure he'd want you to know that). This is GOOD banana bread, is what I'm saying.
And, as if all those things weren't enough, it uses FIVE bananas, which I really appreciate because it helps either get rid of the entire bunch on my counter or whittles down the always bursting bag of frozen bananas in my freezer.
The catch is that it's not QUITE as easy as your standard banana bread recipe. It adds a couple of steps, which, for me, is a perfectly acceptable trade-off for the best banana bread I've ever had. And for clearing off my counter.


how to make banana bread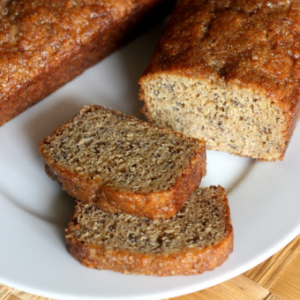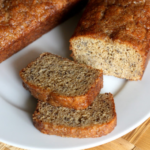 Banana Bread
Banana bread is such a great way to use up old bananas, which makes my waste averse self happy.
Total Time
1
hour
20
minutes
Servings
1
loaf or 4 mini loaves
Ingredients
1¾

cups

flour

I usually do half white-wheat and half all-purpose

1

tsp

baking soda

½

tsp

salt

5

large

very ripe bananas, peeled

8

Tbsp

unsalted butter

melted

2

eggs

¾

cup

packed brown sugar

1

tsp

vanilla extract

2

tsp

granulated or Turbinado sugar
Instructions
Preheat the oven to 350˚ F. Lightly grease a loaf pan (or loaf pans, or hey, muffin tins) with cooking spray.

In a mixing bowl, combine flour, soda and salt. Whisk together.

Put peeled bananas in a large microwave-safe bowl; cover the bowl with plastic wrap and cut a couple of slits in the wrap to act as vents (if you use too small of a bowl, your bananas are going to overflow and make your microwave a sticky mess. Don't ask how I know this). Microwave about 5 minutes, until the bananas are soft and have released liquid. Dump the bananas into a mesh strainer set over a medium saucepan and let drain, pressing the bananas down occasionally, for around 15 minutes (you should have ½-¾ cup liquid in the bottom of the saucepan).

Put the saucepan with the banana liquid on the stove and heat to medium-high.

Cook until reduced to about ¼ cup, about 5-10 minutes stirring occasionally.

Meanwhile, whisk together the melted butter, eggs, brown sugar and vanilla.

When the banana liquid is reduced appropriately, remove from heat and add the drained bananas to the liquid, mashing with a fork or potato masher until fairly smooth. Pour in the butter/egg/sugar/vanilla mixture and stir to combine.

Pour the wet ingredients into the dry ingredients you whisked together earlier and fold together gently, just until combined. Pour the batter into the prepared pan(s).

Sprinkle the sugar evenly over the top.

Bake until a toothpick inserted in the center comes out clean or a gentle press of your finger doesn't leave an indent in the top, 55-75 minutes for a single loaf, more like 30-45 for mini loaves, and about 20-30 for muffins.

Allow to cool at least 15 minutes in the pan before removing.

Continue to cool and serve warm or at room temperature.
if you liked these recipe on how to make banana bread, you might also like these other recipes: