I don't feel particularly RAVENOUS from nursing, but I do feel like I'm more in love with food than ever.
When my mom was here and then when friends brought meals over, I was making tons of treats since I didn't have to worry about making real food. It was glorious and also made me grateful for the crazy amount of calories I was burning via nursing.
It was a struggle to not make every last item on this list a dessert, but . . . I persevered. Every one of these is 110% worth making.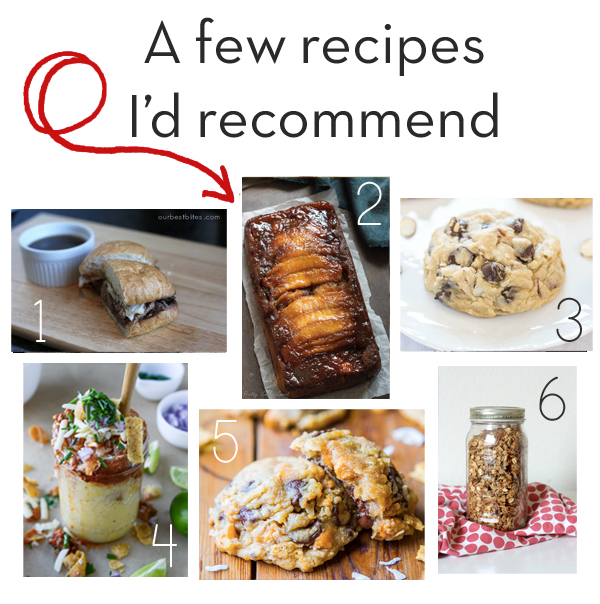 1. Crockpot French Dip Sandwiches
: I'm pretty sure Bart thought he'd died and gone to heaven when I made these. They were super easy and so good. Gotta make these again soon.
2. Caramel Banana Upside-Down Cake:
I hosted a little birthday lunch for a dear friend this week and this was one of the cakes I made. I was nervous about it coming out of the pan and that I'd overcooked or undercooked the caramel (caramel is so tricky for me), but it was perfect. Impressive looking (always a bonus) and amazing with a scoop of vanilla ice cream.
3. Almond Joy Cookies
: I went on a mega sugar spree a couple of weeks ago (I'm trying to dial it back now) and made these after lunch one day. Ella got huge eyes and said, "You're making cookies in the DAY?!" Proof that I'm not a very fun mom.
4. Chili Cheese Polenta Bowls
: This was one of the last dinners I made before Star was born and it was so ridiculously good. I think everyone has a certain type of food they particularly like (pasta, Mexican, sandwiches, etc) – for me, it's a bowl of any type. Let me pile a bunch of stuff in a bowl, and I'll be a happy camper. Next time I make this, I'm doubling the chili, freezing the extra, and then having it ready for a second dinner later.
5. Seven Layer Magic Bar Cookies:
After the Almond Joy cookies, I couldn't stop myself from making another batch of cookies. And holy. cow. these were amazing. I could have eaten them all myself. Graham cracker chunks, butterscotch chips, coconut . . . the whole nine yards. Cookies (and ice cream) are my very very favorite treats.
6. Granola
: I just started making this again and we are all going crazy over it. The first time I made it a couple of weeks ago, I had to cut the girls off after they'd each eaten four bowls of it with yogurt for lunch. And usually Bart eats about 15 handfuls before I've even gotten it off the pan and in to a Tupperware. This is seriously good granola.