Sometimes you want a recipe that is more health food and less dessert.
And sometimes you want brownies, with not even a bit of pretending to be healthy.
Bart and I love these brownies. Brownies are among his top three favorite desserts and I'm banned from trying any new recipes for them now that we've discovered this one.
And brownies are not among my favorite desserts, but when I start smelling these baking in the oven, I suddenly remember that this recipe, well, I really really love this recipe.
This recipe is the perfect cross between a fudgy and a cake-y brownie. I didn't know such a thing was possible, but apparently, it is.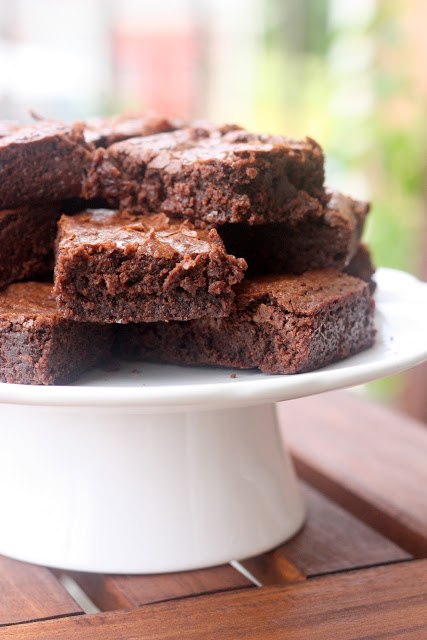 The Best Brownies
Ingredients
2

ounces

unsweetened chocolate

4

ounces

bittersweet or semisweet chocolate

10

tablespoons

unsalted butter

1 1/4

cups

sugar

2

teaspoons

vanilla

3

eggs

2/3

cup

flour

I always use white-wheat, as if that makes them at all healthy

1/2

teaspoon

salt

1/2

teaspoon

baking powder
Instructions
Preheat oven to 325 degrees. Line a 9x9 baking sheet with tin foil (with enough overhang on two edges that you can pull the brownies out after baking) and spray with cooking spray.

Melt chocolate and butter in large-ish saucepan over medium-low heat until completely smooth, stirring very frequently to keep from burning.

Remove from heat and whisk in sugar and vanilla.

Add the eggs, one at a time, fully incorporating each one before adding the next. Whisk until mixture is completely smooth.

Add dry ingredients (with the salt and baking powder on top of the flour), and stir until well combined.

Pour batter into prepared pan; bake until a toothpick or cake tester inserted in center comes out with wet crumbs, 35-45 minutes (it's always 35 minutes for me).

Cool brownies in pan on a wire rack for five minutes. Use foil handles to pull brownies from pan. Cool on wire rack for at least 15 minutes.

Cut into 16 squares and serve warm or at room temperature.