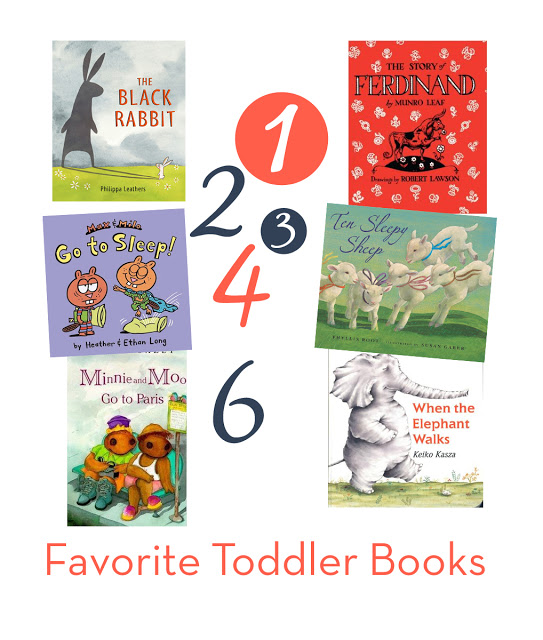 picture books worth reading
The Black Rabbit by Philipa Leathers – I checked this one out after I saw it recommended on The Horn Book, but Bart was the one who read it to Ella. And, oh my, did it hit her funny bone. Also, mine. Cute, quick, and clever (three of my favorite things a picture book can be).
Minnie and Moo by Denys Cazet – I'd never heard of this series until I was a librarian in Massachussets and one of the libraries had a whole slew of them. Now, in our local library, they happen to be on the shelf that Ella can just perfectly reach, so we come home with a new one (or five) almost every week. They're a little long, since they are easy reader chapter books, but she'll sit through the whole thing. They're so goofy, they make me laugh too.
Max and Milo go to Sleep! by Heather & Ethan Long – This is a totally silly book about two little brothers going to bed. One of them, of course, can't get to sleep and decides to read. But then he needs a light. Which makes him too hot. But the fan makes his mouth to dry. Etc, etc. The other brother is patient. For a while.
The Story of Ferdinand by Munro Leaf and Robert Lawson – This was one of the books that my in-laws gave my girls for Christmas along with an audio recording, and I have fallen in love with it all over again. When Ella says to me, "She was a wise mother, even if she was a cow," I die a little. (Also, did you know that this team wrote another book? I just saw it featured on Design Mom and it's top of my list to check out when we get new library cards in Durham).
Ten Sleepy Sheep by Phyllis Root and Susan Gaber – This is such a sweet bedtime story, but we read it all day long, thanks to Ella's obsession with numbers and counting.
When the Elephant Walks by Keiko Kasza – I have no idea where this little board book came from, but suddenly Ella was declaring it was her favorite book every and I read this many times on our way down to Galveston. And then Ralphie's oldest girl read it many more times to her (bless her).
And if you'd like a printable copy of this list that you can take to your library or screenshot on your phone for easy access, just pop in your email address below and it'll come right to your inbox!
if you liked this post about picture books worth reading, you might also like these other posts: