Looking for a copy of this list of books for kids who are scared of the dark? Pop in your email address below and it'll come right to your inbox!
Do you have a child who is scared of the dark?
It can make bedtime tricky when they're imagining something terrifying behind every shadow in their room.
Here are some of our favorite books for kids who are scared of the dark to make bedtime just a little frightening!

Books for Kids Who are Scared of the Dark
Dragon Night by J. R. Krause
Georgie is afraid of the night. The dragon is afraid of the knight. But after an adventure together, these sweet friends help each other face their fears.
Orion and the Dark by Emma Yarlett
Orion is fairly terrified of lots of things, but dark? That's the scariest of all. Until Dark comes to pay Orion a visit one night and takes him on the adventure of a lifetime to prove that the dark isn't so scary after all.

Scared of the dark? It's Really Scared of You by Peter Vegas
This playful book reminds me of the saying "it's more afraid of you than you are of it", but instead of referring to wild animals, it is referring to darkness. This book offers a perfectly silly way to help ease fears. 
Lights out, Leonard by Josh Pyke
During bedtime, all Leonard sees is a huge scary monster hiding in the dark corner of his bedroom. This makes sleeping a bit of a challenge, until he finds a book called How to Frighten Monsters. 

The King Who Banned the Dark by Emily Haworth-Booth
I love this modern fairy tale about conquering the fear of the dark. When a young Prince becomes King, he decides to ban the dark. It was really great until all the townsfolk became tired and exhausted, and revolted. Will the King overcome his fears and realize darkness and light are needed? 

Bedtime for Yeti by Vin Vogel
Yeti loves playing with his stuffed toy, but when it goes missing, will he have the courage to brave bedtime alone – in the shadowy darkness?

The Darkest Dark by Chris Hadfield
Inspired by the childhood experiences of astronaut Chris Hadfield, this picture book is perfect for any child afraid of the dark. Chris loves space and dreams of being an astronaut but he's terrified of the dark. Until he sees the 1969 moon landing and realizes the dark can actually be thrilling, not terrifying.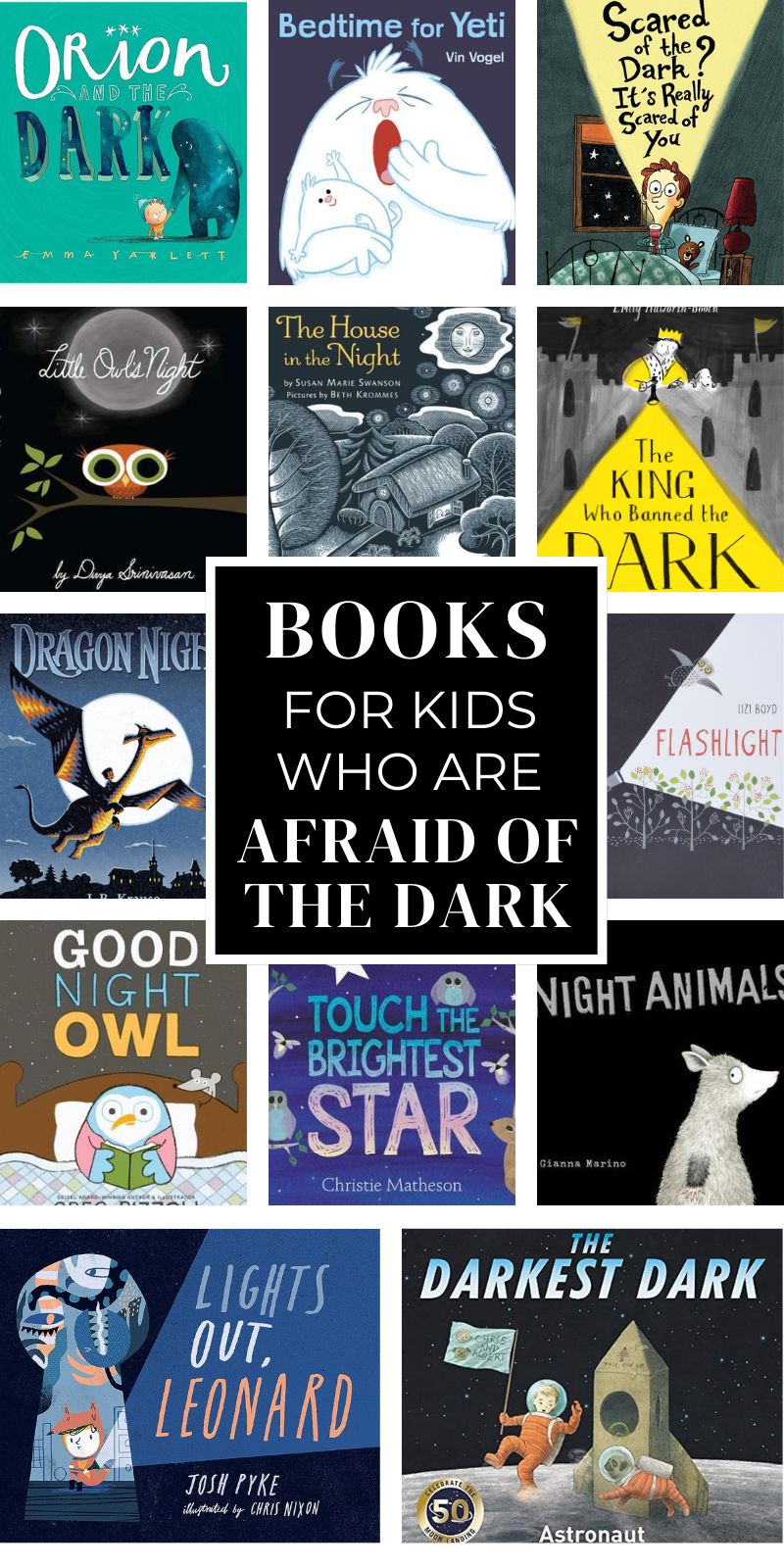 Night Animals by Gianna Marino
One night animal after another – Possum, Skunk, Wolf, and Bear – are terrified by the night animals that are coming to get them. The stark black background and the moonlight silver text make for an eye-catching and surprising bedtime story. Oh, this one made me laugh.

Little Owl's Night by Divya Srinivasan
Little Owl enjoys a lovely night in the forest visiting his friend the raccoon, listening to the frogs croak and the crickets chirp, and watching the fog that hovers overhead. Little Owl paints a beautiful picture night, sure to ease the mind of a curious child.
The House in the Night by Susan Marie Swanson
When I bought a copy of this for my school library, my aide read it for the first time and told me, "I've always given new parents a copy of Goodnight Moon. Now I know what I'm going to give them for their second children." She's not wrong – this book is beautiful and has the same quiet house feel that's so comforting.

The Dark by Lemony Snicket
Laszlo is afraid of the dark. And the dark lives in the same big house as him. Will he be able to conquer his fear of the dark when he decides to pay it a visit?
Flashlight by Lizi Boyd
A little boy explores the night with his flashlight, illuminating all sorts of fun things until he drops the flashlight and the animals shine it on him instead!

Touch The Brightest Star by Christie Matheson
This one is perfect for a little one who needs a little more engagement. The concept is similar to the one in Press Here. On every page, you touch or rub or tap something in the picture, and on the next page, the illustration has shifted in response. The colors are so vibrant and there is just something so magical about the night in this book.
Goodnight Owl by Greg Pizzoli
If you know Greg Pizzoli, you know this book will not lack in humor, and entertainment. When all Owl wants is a good nights sleep, he takes drastic measures to get what he is needing.

And if you'd like a printable copy of this list of books for kids who are scared of the dark so you can take to your library or screenshot on your phone for easy access, just pop in your email address below and it'll come right to your inbox!
If you liked this list of books for kids who are scared of the dark, you might like these lists too: