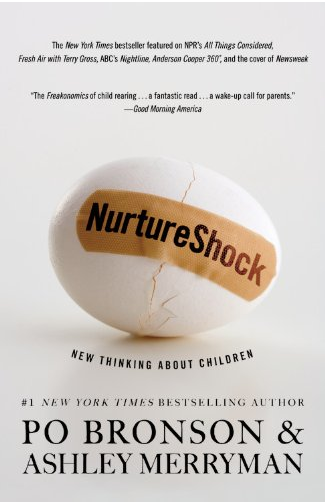 8 of 10: Interesting if you have children or frankly if you're a human being, NurtureShock: New Thinking About Children is full of information about how people react to different events and situations, particularly in ways that seem counter intuitive.
A few years ago, I stumbled upon this article (probably thanks to someone mentioning it on their blog) about how praising children can backfire in a major way. I read it to Bart, who said it exactly described much of his childhood attitudes toward school and other pursuits.
When I saw a number of positive reviews of Nurture Shock online, I requested it from the library but I didn't realize it was by the same authors as the article until I read the back of the CD case.
nurtureshock by po bronson
The idea of the article (and the first chapter of the book) about praise is that children who are praised for being smart are far more likely to rely on their natural abilities and less likely to make an effort when things don't come easily. Instead, they reject new things, feeling that any failure proves they aren't "smart."
Kids who are praised for effort, on the other hand, tend to be far more willing to try new things and to put in effort to succeed.
The stories they share and the research they present are fascinating and often surprising. Each of the ten chapters is about a specific part topic related to children (sleep, lying, racial attitudes, sibling rivalry, etc) and what research suggests about how children naturally act on these topics, as well as how parents can deal with the issues.
I particularly appreciated that it talked about how to deal with these issues, rather than simply pointing out that, "hey, children naturally gravitate toward people like them, rather than being completely colorblind as we once thought. Good luck raising some non-rascist kids!"
The audiobook of Nurture Shock is narrated by one of the authors, Po Bronson, and he's an excellent reader (reminded me of Malcom Gladwell). Po Bronson has a child of his own and tested a lot of the research on his own son and talks about it when it's relevant, which I loved.
Nurture Shock is definitely worth reading if you have children of your own, but even without them, I think it's all very fascinating, especially as you see your own experiences reflected in the research.
I'll admit it wasn't quite as gripping for me as Outliers was – some chapters were less interesting to me than others, and occasionally I found the research a little overly long, but overall it's a great book.
if you liked this review of nurture shock by po bronson , you might also like these other books: