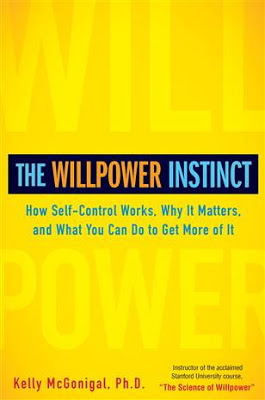 The irony of how long I procrastinated picking up The Willpower Instinct was not lost on me.
But once I started it, I was immediately sucked in. This was a fantastic book (one of those ones I haven't been able to stop reading aloud to Bart), and it was especially fun to read right as I was making and beginning work on my goals for 2013.
the willpower instinct by kelly mcgonigal
Kelly McGonigal is a professor at Stanford and teaches an immensely popular class (for anyone who wishes to take it, not just Stanford students) called "The Science of Willpower."
All of the strategies she talks about in The Willpower Instinct are ones that were tested over many semesters by hundreds and hundreds of participants in her classes, who were working to overcome obstacles from nail-biting to writing novels, and just about every addiction you can imagine.
I really enjoy non-fiction that isn't just theoretical and this book is full of ways to try out the theories she suggests, whatever you're struggling with, whether it's clicking away the evening on the Internet (what, me?) or eating fifty cookies every day. I'm excited to go back and apply some of her strategies to my own willpower issues in the year ahead.
Better yet, McGonigal is a really FUNNY writer – for instance, when she's talking about the Dunning-Kruger effect, she explains that it's the effect of how people deeply overestimate their abilities and the WORSE they are at something, the better they think they are at it (say, driving or multi-tasking). "This explains, among other things," she writes, "a large percentage of American Idol auditions."
And even if you're a completely perfect person, The Willpower Instinct is worth reading because it's just INTERESTING. I loved seeing how our brains react to different circumstances (did you know that when healthy items like salads are added to a menu, the sales of unhealthy items increases dramatically?) and learning more about what things we believe about willpower are actually wrong.
It's so nice to start out the year with a really great book.
I read this book for the BlogHer Book Club and you can read other reviews and discussions at BlogHer.
I am paid for my participation in the BlogHer Book Club, but I choose which books to read and my reviews are strictly my own opinions. If I think a book is terrible, I'll say so. If I rave about a book, it's because it's one I'd give to Kayla or my mom.
If you liked this review of the willpower instinct, you might also like these books: