Fantasy books are Ella's love language – she just can't get enough of magical worlds or characters with special powers.
I asked her to help me put together a list of fantasy books for kids and I didn't have to ask her twice!
The hardest part was keeping it to a somewhat reasonable number of titles!
Lots of these are ones we've done as family read alouds too and they're just all A+!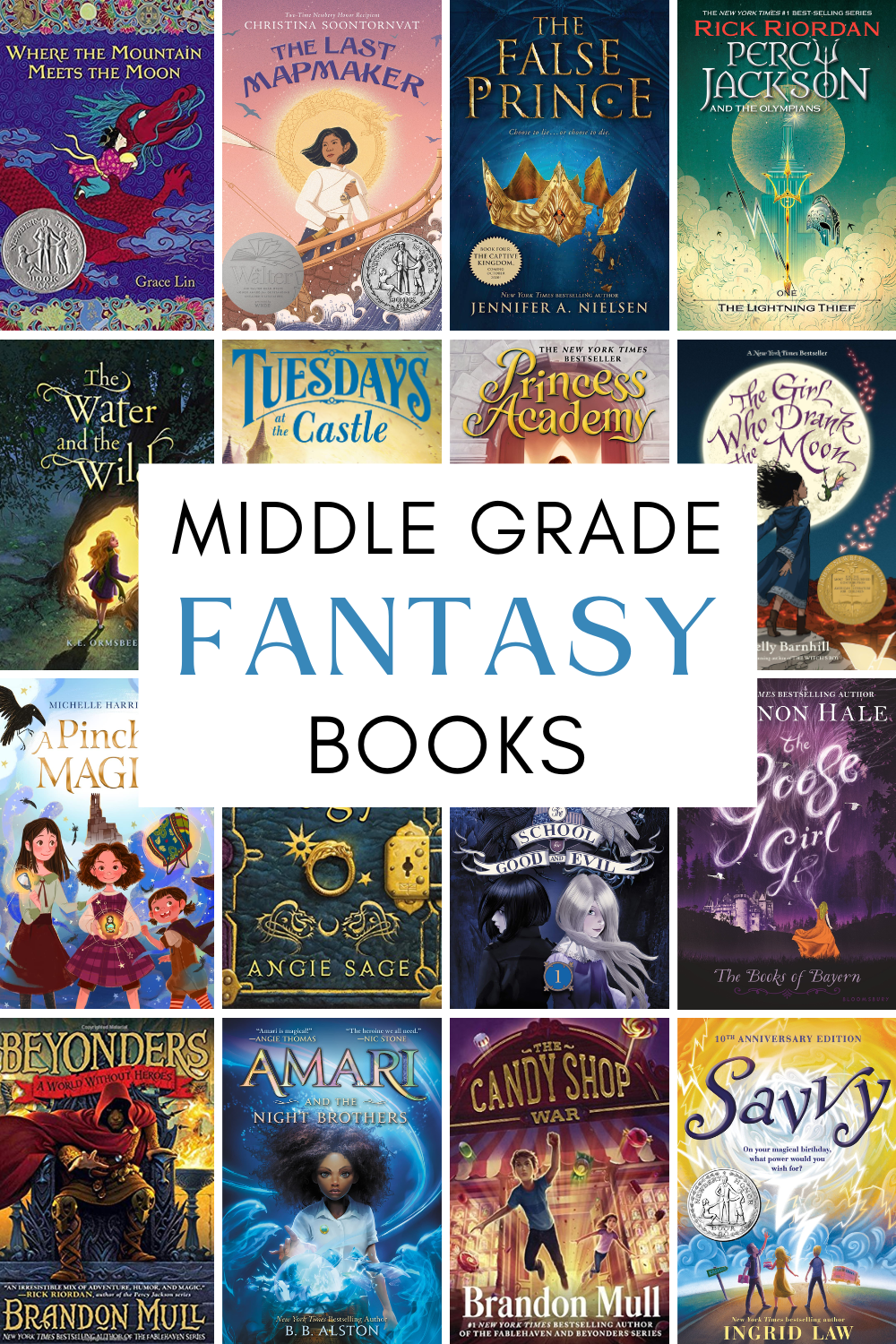 20+ favorite fantasy books for kids
The Candy Shop War by Brandon Mull
3 book series
Who could dislike a book with kids using magical candy to fight evil magicians? When Nate moves, he joins a club with three other kids from the neighborhood, The Blue Falcons. But when a new candy shop opens in their town, the Blue Falcons start doing errands for the owner, who gives them magical candy as a reward!

Keeper of the Lost Cities by Shannon Messenger
9 book series
Sophie doesn't fit in at school or in her family, in part because she can read minds. Then she meets a boy who has the same powers she does and it turns out there are a lot of secrets about herself and the world around her that she doesn't know. But she's going to find out pretty quickly! My two older girls have been reading these non-stop for the last few months.
Fablehaven by Brandon Mull
5 book series
This is a great series about two kids, Seth and Kendra Sorensen, who go to spend a few weeks with their grandparents on their very remote property. It doesn't take them long to figure out not everything is as it appears. The butterflies and dragonflies in the garden are actually fairies! That is only the beginning of the magical creatures that inhabit Fablehaven. I thoroughly enjoyed this series, and you know that isn't something I say often about fantasy! (Full review here)

Princess Academy by Shannon Hale
3 book series
I read this book on paper, then Bart and I listened to it when we moved to Boston and had days of driving a U-Haul together, and the girls and I just listened to it in the car recently. Don't let the title fool you – this book isn't just for girls. This book is great for all ages, boys and girls alike – with as much adventure and intrigue as you could hope for. (Full review here)
Beyonders by Brandon Mull
3 book series
Jason, along with his friend and sidekick, Rachel, must embark on an epic quest to bring down Maldor the evil ruler. Will the cost be worth it to save the new world they have stumbled upon? 

Amari and the Night Brothers by B.B. Alston
3 book series
I read this aloud to my children and we were all completely sucked in! Amari's mourning the disappearance of her beloved older brother (the police say he's almost certainly dead), but when she gets a pre-recorded message from him, she discovers that there is a supernatural world she's known nothing about and that her brother was heavily involved before his disappearance. Joining this world isn't going to be easy, but she's willing to do whatever it takes to find out what happened to her brother. And she better mean it, because "whatever it takes" turns out to be a LOT.

The Girl Who Drank the Moon by Kelly Barnhill
This Newbery winner about a witch raising a child in the woods of a fairytale land has been on my list to read. . . .since the moment it snagged that shiny sticker. I still haven't read it but Ella absolutely loved it!

Dragon Rider by Cornelia Funk
3 book series
I know Cornelia Funke best for her Inkheart series, but Ella LOVED this book about a boy named Ben and a young dragon called Firedrake who are both determined to find a place here dragons can live peacefully. Of course their quest is full of challenges and the story is jammed with surprises, mysterious creatures and terrifying villains.
The School for Good and Evil by Sonan Chainani
I love a good book that involves familiar characters from classic fairy tales and this one does it in such a unique way. Sophie is set to go to the School for Good, just like Cinderella and the like of her did. Agatha is a shoe-in for the School for Evil with her black clothing and naughty cat. With no explanation, the girls are each put in the exact opposite schools that seem fitting for them.

Where the Mountain Meets the Moon by Grace Lin
This was a GREAT book about a little girl, Minli, who sets out on a quest to find the Old Man on the Moon so she can find a fortune for her poor family. It was especially fun for my girls who are in a Mandarin Chinese immersion program at school. It's full of little side stories that weave wonderfully into the main plot and gorgeous illustrations. Highly recommend.
The Land of Stories by Chris Colfer
6 book series
I'm pretty sure I didn't see Ella for a month when she blazed through this entire series. Alex and Conner, sister-brother twins, open up a beloved book of stories only to find themselves sucked into the book. In a mysterious land where magic runs rampant, they find themselves interacting with fairy tale characters they've heard about all their lives. The real question is. . . can they ever get home?

The False Prince by Jennifer A. Nielsen
5 book series
Sage is a young orphan boy who is taken in by a devious nobleman who is selecting orphans to impersonate the prince of Carthya to prevent a civil war. Ella was such a fan that she begged Bart to listen to it after she finished and had the best time listening to him make predictions about the story.
The Last Mapmaker by Christina Soontornvat
I read this one aloud to the girls and we blew through it so fast – we were all completely absorbed by it! Sai works for the most celebrated mapmaker in the kingdom, but she lives in fear of someone discovering that she isn't of the proper rank. Luck is on her side, though, when the mapmaker is invited on a discovery voyage to find a mysterious new land and he asks her to accompany her. High adventures and lots of clever twists and turns. (Full review here)

A Pinch of Magic by Michelle Harrison
4 book series
A Pinch of Magic follows three Widdershins sisters, Fliss, Betty and Charlie, who are cursed to always live on their gloomy island. If they go beyond, they will die by the next sunset. Their incredible adventure, full of shipwrecks, smugglers, and sorcery, begins after being gifted three magical family heirlooms. It's a race against time to save their lives and each other.

The Tail of Emily Windsnap by Liz Kessler
9 book series
My girls have been SUPER into this series. Ella has read them all multiple times and my younger girls love listening to the audio version of this girl who discovers that she is half mermaid.

Artemis Fowl by Eoin Colfer
8 book series
This book kicks off the 8 book series which follows Artemis Fowl. His billionaire father who made his fortune as a criminal has just disappeared and Artemis' mother has a mental breakdown. Which means that it's entirely up to Artemis to restore the family fortune. Luckily, Artemis happens to be a brilliant criminal mastermind. And he's determined that kidnapping a fairy and holding her ransom is the best way to save his family. Except he may have underestimated the fairies.
The Sisters Grimm by Michael Buckley
9 book series
I first heard about this series nearly a decade ago from my mother-in-law who read it with one of my nieces. Two orphaned sisters are sent to live with their grandmother (who they didn't even know existed) in a strange little town called Ferryport Landing. When they arrive they soon learn that they have descended from the Brothers Grimm and the book of fairy tales those brothers wrote? Is actually history. And as one fairy tale mystery after another pops up in their town, it's up to the sisters to solve the mysteries. This series is just DANG fun, with all the characters from every fairy tale you know popping up. The question is, who can they trust and who is trying to take them down?

Percy Jackson and the Olympians by Rick Riordin
6 book series
I grabbed my mother-in-law's copy of this book when we were living there and I suddenly found myself without a next book to read to the girls and they are SO INTO it. Seriously, there were shrieks of despair every night when I finished for the evening. I read it back in 2008 and it's fun to revisit – I enjoyed it MUCH more as a read aloud than I did when I read it solo! (Full review here).

Houdini and Me by Dan Gutman
My girls were absolutely transfixed by this book. They didn't know much about Houdini before this and we all loved the photographs of the real Houdini scattered throughout the book. In this story, Harry is a young boy who lives in the house Houdini once inhabited and loves learning more about the famous magician. But things take a surprising turn when he discovers an old flip phone and it starts receiving texts from someone who claims to be the real Harry Houdini.

The Wishmakers by Tyler Whitesides
2 book series
I don't even know where this book came from, but when we were looking for a new title for a family read-aloud, the girls picked this one and they were all fans from page 1. The main character opens a jar of peanut butter and discovers a genie inside. But he's not limited to three wishes – he can have as many wishes as he wants! The only problem is that with every wish granted comes a consequence. Oh, and also? He needs to use wishes to save the world from destruction. If you have readers who love a book that's a little on the wacky side, this is the book for them! (We read the sequel, The Wishbreakers, which was also very fun).
The Phantom Tollbooth by Norton Juster
My mom did the majority of the reading aloud when I was growing up, but this one my dad read to me (and only me!) and I'll forever have fond memories of it. Plus, it's just so darn clever.

Peter and the Starcatchers by Dave Barry
This is such a fun twist on the classic story of Peter Pan. I mean, I'm already a massive fan of Dave Barry and it is just perfection! (Full review here)

Tuesdays at the Castle by Jessica Day George
5 book series
My girls started listening to this fantasy series and all three of the older girls were SUPER into them. The first in the Castle Glower series is all about Tuesdays, which is Princess Celie's favorite day. Because every Tuesday a new room appears in the Castle and Princess Celie has taken it upon herself to map out the ever-growing castle. Which will come in handy when disaster strikes the royal family. And fun fact, Jessica Day George was one of my father-in-law's students – she took Old Norse from him and mentions him in the acknowledgements of one of her books!
Ella Enchanted by Gail Levine
This clever, funny, and sweet retelling of Cinderella might be one of my top five all-time favorite books! Ella was cursed shortly after birth to obey any order given to her and there doesn't seem to be any way for her to break the curse on her own. Which means she'll need to track down the elusive fairy that cursed her in the first place and convince her to remove the curse. 

The Last of the Really Great Whangdoodles by Julie Andrews Edwards
17 book series
You probably know Julie Andrews from Mary Poppins or The Sound of Music, but she's also an author and this chapter book is delightful – we got a copy in our Bookroo box a few years ago and it's just so magically wonderful.

The Water and the Wild by K.E. Ormsbee
Only two people really seem to care about Lottie – her dearest friend, Eliot, and a mystery pen-pal who sends annual birthday presents. Life on their little island is fine until Eliot becomes very ill – so ill that the doctors have determined there is nothing more they can do –  and Lottie doesn't know what she can do help. And then a door to a magical and dangerous world opens up in an apple tree and Lottie thinks she just might be able to find a cure for her best friend in the world that lies below. This is the first book in the series; the second one is The Doorway and the Deep, and the third is The Current and the Cure.
Dead City by James Ponti
Ella is a HUGE James Ponti fan, so when we spotted this series on the library shelf, she picked it up despite her usual disinterest in zombies. And then she LOVED it. Molly Bigelow attends the Metropolitan Institute of Science and Technology but at night, she's a zombie hunter, like her mom who she's just discovered is the most famous zombie hunter in the history of New York City.

Savvy by Ingrid Law
I listened to this one more than a decade ago when it first came out and then read it to the girls a year or so ago. It's a Newbery Honor book about the Beaumont family who all get a "savvy" when they turn thirteen. A savvy is a supernatural power and they're all different (some more useful than others)". Mibs has been waiting for years for her thirteenth birthday but just before the big day, her beloved father is in a terrible accident and now Mibs only hope is that her savvy will be something that can save him. (Full review here)

The Goose Girl by Shannon Hale
4 book series
This was one of the very first books I ever wrote about on Everyday Reading and it's still one of my all-time favorites. I've been waiting for years to read this with my girls and I'm so thrilled that they are finally old enough. It's a perfect fantasy book. (Full review here) 

Maygk by Angie Sage
7 book series
Magyk begins when Septimus Heap, the seventh son of the seventh son, vanishes on the night of his birth. The midwife declares him dead . . .but that might not be the whole story. And things really get interesting when, on the same evening, Septimus' father finds a newborn baby girl abandoned outside.

And if you'd like a printable copy of this middle grade fantasy book list that you can take to your library or screenshot on your phone for easy access, just pop in your email address below and it'll come right to your inbox!
if you liked this post about the best fantasy books for kids in middle grade, you might also like these other posts: