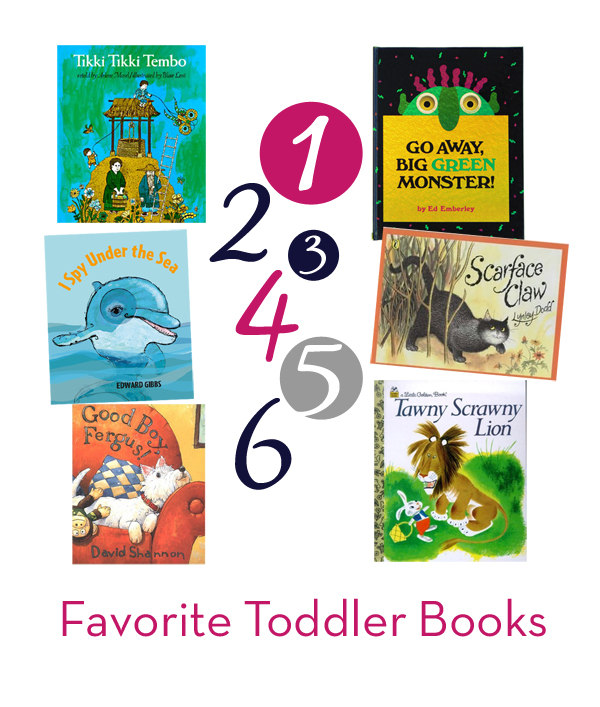 the best books for toddlers
Tikki Tikki Tembo by Arlene Mosel and illustrated by Blair Lent – I had this book as a child and now I think it's the cutest thing in the world to hear Ella carefully say, "Tikki Tikki Tembo-no Sa Rembo-chari Bari Ruchi-pip Peri Pembo." Bart's parents gave her this book for Christmas, and I'm thrilled to have it in our collection.
Go Away, Big Green Monster by Ed Emberley – Our beloved librarian, Miss Andrea, read this a few months ago at storytime, and Ella immediately was the world's biggest fan. When the library copy was checked out, we were reduced to watching videos of random strangers reading it on YouTube.
I Spy Under the Sea by Edward Gibbs – It has holes on each page to look through and features animals. Basically a perfect book in Ella's world.
Scarface Claw by Lynley Dodd – I was first introduced to Lynley Dodd by Angela Noelle who graciously sent us a copy of one of her other books. Now every time we go to the library, we have to camp out on the aisle where her books are kept and page through all of them until we find one featuring Scarface Claw. When Crawford was here a few weeks ago, he heard more than he ever wanted to know about Scarface Claw. 
The Tawny Scrawny Lion by Kathryn Jackson and Gustaf Tenggren – This was another Christmas gift from Bart's parents, which I'd never read, but now I quite love. When Ella picks this one, I am happy to read it to her (unlike the Poky Little Puppy; I bought it at Bart's request and then he read it once and said, "I didn't remember it being so long").
Good Boy, Fergus by David Shannon – Ella attends a little preschool run by a friend of mine once a week and she came home bursting to tell me all about David. This was the pre-nap/bed book for several solid weeks and she could recite the whole thing. I'm sorry, but there isn't much cuter than a two-year-old "reading" a book to you.
P.S. You can see previous favorites of Ella's here.
And if you'd like a printable copy of this list that you can take to your library or screenshot on your phone for easy access, just pop in your email address below and it'll come right to your inbox!
if you liked this list of books for toddlers, you might also like these other posts: