I am tired just from typing out that name. I probably need another one of these bars to revive me. Yes, yes, I'm sure I do.
I made these peanut butter caramel chocolate chip cookie bars for a party a couple of weeks ago and I was so happy with how they came out – less work than making cookies, but definitely more special feeling, too.
Also, my mom has this funny thing she says that always amuses me – she says she likes the chocolate glazed Krispy Kreme doughnuts better than the plain glazed because the chocolate cuts the sweetness. I think she's right, but it's also kind of hilarious to think about adding something chocolate to make something LESS sweet.
The peanut butter caramel here is the same way. Adding the peanut butter to the caramel keeps it from being just sickly sweet (and it also makes it a little thicker – these aren't bars that you can't even cut or that make an enormous mess).
Basically, they're just fantastic all around.
peanut butter caramel chocolate chip cookie bars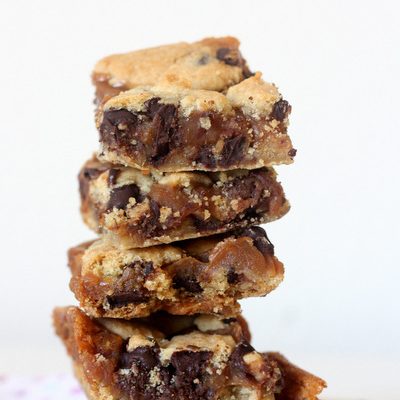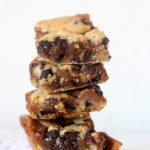 Peanut Butter Caramel Chocolate Chip Cookie Bars
These are less work than cookies and just as delicious!
Servings
1
9x13 pan (24 bars)
Ingredients
Chocolate Chip Cookie Dough
1/3

cup

butter

I use unsalted, softened

1/3

cup

shortening

1/2

cup

packed light brown sugar

1/2

cup

granulated sugar

1

teaspoon

vanilla

1

egg

2

cups

chocolate chips

1 3/4

cups

all-purpose flour

1

teaspoon

baking soda

1

teaspoon

salt

if your butter is salted, just use slightly less salt
Peanut Butter Caramel Filling
1/2

cup

4 oz evaporated milk

11

ounces

caramels

unwrapped (or, I just used one of those bags of caramel bits that you can buy near the chocolate chips).

½

cup

creamy peanut butter

1/4

cup

semi-sweet chocolate chips

Kosher Salt
Instructions
Preheat oven to 375 degrees. Line a 9x13 pan with tin foil, leaving another overhang that you can use it like handles to pull it out.

In a stand mixer, beat butter and shortening together until combined (about a minute). Add sugars and beat another minute or two. Add vanilla and egg. Beat again (I know, so much beating here. . . ).

Mix in the chocolate chips.

Add the flour, soda, and salt. Mix JUST until combined. It will look over-floured for a few seconds, but should come together fairly quickly.

Press 2/3rds of the dough into the bottom of the pan. Bake for 8-10 minutes, until it's lightly set, but not very brown.

Meanwhile, in a saucepan over medium heat, melt the

caramels

and peanut butter with the evaporated milk, stirring frequently, until smooth.

When the cookie base is finished, remove it from the oven and pour the peanut butter caramel sauce over the top. Smooth it all the way to the edges. Sprinkle the 1/4 cup of chocolate chips over the sauce.

Using the remaining cookie dough, spread evenly across the top (it doesn't need to completely cover the peanut butter caramel layer).

Sprinkle lightly with kosher salt.

Bake for 18-20 minutes, until the cookie dough on top is slightly browned.

Let cool completely before removing from pan and cutting.
Recipe Notes
(adpated from The Bite-Sized Baker)