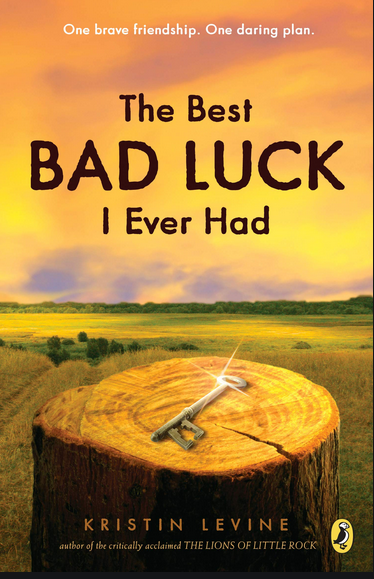 9.5 of 10: I can't say anything about The Best Bad Luck I Ever Had that will do it justice. Just trust me that it's really terrific and should definitely be read.
It's sometimes delightfully fun to read a book with no idea what it's about. It doesn't happen to me all that often, but it did last week.
I saw a review of this book on Becky's Book Reviews (I had to look it up, since I didn't remember), and put in a request for it at the library. By the time it came in, I didn't even remember why I'd requested it or what the book was about, and it languished in the library bin for several weeks. I renewed it once, but when it only had a few days left before the final due date, I figured I had better at least start it.
I was in the middle of four or five books that were doing nothing to grip me, so on Thursday night, I lay down on the couch figuring I might as well give The Best Bad Luck I Ever Had a chance. I thought it might be either fantasy or realistic fiction and I assumed, for some reason, that it was narrated by a girl. I was wrong on all counts.
the best bad luck i ever had by kristin levine
Dit is a boy and the narrator of the story. He lives in Alabama during World War I (the year is 1917), but for a 12-year-old boy, the war is almost virtually absent on his radar. What is vitally important to him is the arrival of the new postmaster who has a son, just his age. His family always rents out the house on their property to the postmaster's family, so it will be a built-in friend for Dit and an ideal replacement for his best friend who is away visiting his grandmother for the summer.
Except, the rumors were wrong and it's not a boy, it's a girl named Emma. And what's more, she's black.
It's an interesting scenario, with Emma's family being very well-educated (Emma, in particular, is extremely bright), while Dit's (white) family is reasonably poor, their house brimming with 10 children, with education a fairly low priority for them all.
Coming from Boston, Emma's family doesn't have quite the same experience with racism that go on in the deep South, but they've had enough, especially the parents, to be pretty careful about how they act around the white people in town, particularly the extremely racist sheriff, called "Big Foot." Emma is by turns furious and resigned to this change from her previous life in Boston.
At first Dit doesn't care for Emma at all, mainly because she's a girl and also because he thinks she's stuck up, what with always sitting with her nose in a book and not even knowing how to swim or play baseball, like his sisters do. But, because Dit's mom is so insistent that he be nice to Emma, eventually they become tentative friends. As the summer comes to an end, though, and his friends return, Dit starts getting a lot of grief about his black girlfriend (the other boys, frankly, seem just as horrified that she's a girl as that she's a different race from them). And watching Emma go off to a pretty pathetic and far-away school while he goes to a fairly good school he is so indifferent to, strikes Dit as just wrong.
Dit has other things to worry about, too. In a family with 10 kids, he's not even sure his father knows his name and he's desperate to win his father's approval and recognition. Watching Emma, an only child, makes him even more anxious to have his parents hanging on his every word, like Emma's parents do for her.
There is a big event that happens in the last 1/3 or so of the book, and it was gripping, but it was not one of those books were you plow through the first part of the book to get to the real action. The whole book is so well-written, that you don't even realize you're being drawn toward a climax. And even if there had been no major action in the end, I would still have loved The Best Bad Luck I Ever Had – just the development of their relationship and Dit's expanding understanding of the tensions in the South would have been plenty to mesmerize me.
It could have been such a trite story, such a "friendship rising above differences" kind of feel-good story that are all too prevalent; I could have rolled my eyes at a too-neat ending or at cheesy sentiments, but there are none of those. Instead, this book is both practically perfect and messy all at the same time. There is nothing not to love about "The Best Bad Luck I Ever Had."
If you liked this review of the best bad luck i ever had, you might also like these books: