Sometimes, it's time for a weightier read-aloud with your kids.
And sometimes, you just want something that will make you all giggle together and feel a little lighter and happier.
If that's the kind of book you're looking for (whether to read aloud to your child or to have them read on their own), this list of funny chapter books is for you!
Here are 15 funny chapter books that our whole family has loved. I hope you'll enjoy them too!
(Also, a note about humor – I personally don't find bathroom humor or overt meanness to be funny and so I try to avoid those kinds of books when I read to my girls or help them pick out books on their own. So these books steer away from those types of humor and instead rely on funny dialogue, outrageous situations and slapstick humor for hilarity).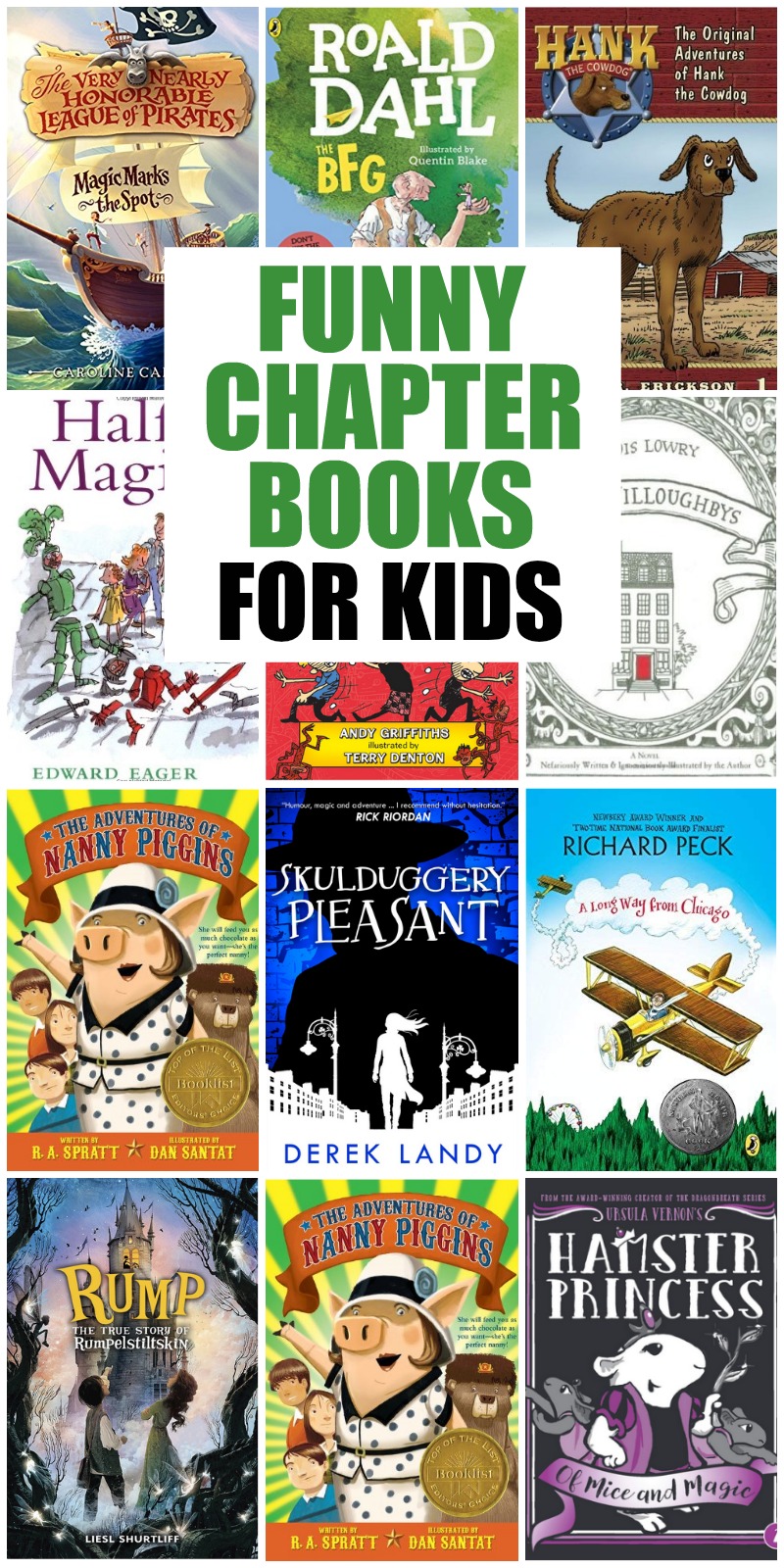 15 Funny Chapter Books for Kids
Nanny Piggins by R. Spratt, illustrated by Dan Santat
When I think of funny chapter books, Nanny Piggins (and the rest of the series) is the first book to come to mind. It is HYSTERICAL, about a single father who desperately needs a nanny for his children and so hires a pig to care for them. Naturally, this goes about as well as you'd imagine. After Ella read it and told me I HAD to read it, I loved it so much, I put it on my Summer Reading Guide that year.
Pippi Longstocking by Astrid Lundgren, illustrated by Louis S. Glanzman
I tried to read Pippi Longstocking aloud to my girls some five years ago and they were NOT interested. Then something clicked two years ago and they listened to all the books at least 10 times. It doesn't get better than Pippi's hijinks!
Wayside School by Louis Sachar, illustrated by Julie Brinckloe
I'll admit that, as a child, I found these books just too weird for me, but my sisters love them and now my girls love them too. They've listened to the original three dozens of times on Scribd and were thrilled when a fourth was released this spring.
Hank the Cowdog by John R. Erickson, illustrated by Gerald Holmes
This is a series that really should be listened to since the audio versions are truly hilarious. We discovered them when I was maybe 11 or 12 on a road trip and I woke up late at night to hear my mom listening to them as she drove through the night, laughing out loud. Hank thinks he's brilliant (and of course, handsome and charming) while the reader knows that. . . the truth is possibly a little different.
A Long Way From Chicago by Richard Peck
These books are a BIT older than some of the other books on this list, with longer chapters and a little more complex storyline, but if your kids are older than about 3rd grade, they're fantastic. My girls got such a kick out of these stories about a grandson visiting his feisty, gun-toting grandmother in a town that couldn't be more different than his life in Chicago.
Rump by Liesl Shurtliff
My girls are the biggest fans of Liesl Shurtliff and her fractured fairy tales. Ella read the whole series and now my three oldest girls re-listen to them on CD over and over again.
Half Magic by Edward Eager, illustrated by M.N. Bodecker
I adore Edward Eager's books – they're the perfect combination of regular childhood and magical adventure. Start with Half Magic and then blaze through the rest of the series.
The BFG by Roald Dahl, illustrated by Quentin Blake
I mean, how could I leave Roald Dahl off here? All his books are funny and The BFG is one of the best.
The Willoughbys by Lois Lowry
Bart and I read this one together back before we had kids and HOWLED with laughter through the whole thing. Four children are left alone with their horrible nanny and they are determined to find their own happy ending. It's a hilarious parody that riffs on classic children's literature and it's just delightful for all ages.
Mrs. Piggle Wiggle by Betty MacDonald, illustrated by Alexandra Boiger
I grew up reading Mrs. Piggle Wiggle books and now my girls adore these stories of a magical old woman who can cure any childhood bad habit, whether it's staying up too late, picky eating, or bullying, with her magical remedies.
By the Great Horn Spoon! by Sid Fleischman
Sid Fleischman writes such clever, unexpected books and this one, about a little boy and his butler who head to California as part of the Gold Rush delighted our whole family. The audio is excellent.
Skulduggery Pleasant by Derek Mandy
Bart and I listened to this together more than a decade ago when we were commuting back and forth to grad school together and we laughed our faces off listening to this tale of a small girl and her skeleton detective sidekick. I've heard the subsequent books get pretty dark, so take that as a warning if your kids are young.
The Very Nearly Honorable League of Pirates by Caroline Carlson
I will listen to ANYTHING Katherine Kellgren narrates and this one is a winner about Hilary Westfield who desperately wants to be a pirate. But she's a girl, so the Very Nearly Honorable League of Pirates won't take her. But that's not going to stop Hilary.
Hamster Princess by Ursula Vernon
This fractured fairy tale series is one of Ella's favorites and she's read and re-read them, reading aloud her favorite lines to me and . . . I have to admit, they are truly laugh-out-loud funny. Don't let the title fool you – they're great for boys and girls who love adventure and humor.
13 Story Tree House by Andy Griffiths
This series of 10 books follows Andy and Terry who live in the most amazing treehouse on earth. The only problem is that it's hard to get anything done when you live somewhere SO FUN. Ella read the first and then checked out every other book in the series from the library before it shut down.
And if you'd like a printable copy of this list that you can take to your library or screenshot on your phone for easy access, just pop in your email address below and it'll come right to your inbox!
Any other favorite funny chapter books I've left off this list? I'd love to hear – let me know in the comments!
If you liked this list of funny chapter books, you might also like these posts: