Last year, I did a post about audiobooks for kindergarteners and preschoolers and it's been WILDLY popular.
The audiobooks included on that list are short stories or short story collections topping out at about 20 minutes per story.
This list of audiobooks is the next step up with stories that run somewhere between an hour and three hours. These are audiobooks my nearly-six year old LOVES listening to and comes back to again and again.
They're perfect to listen to together as we do puzzles in the morning when the other kids are at school, in the car as a family when we have a short-ish drive or at bedtime.
I hope you'll find just the right listen for your child on this list!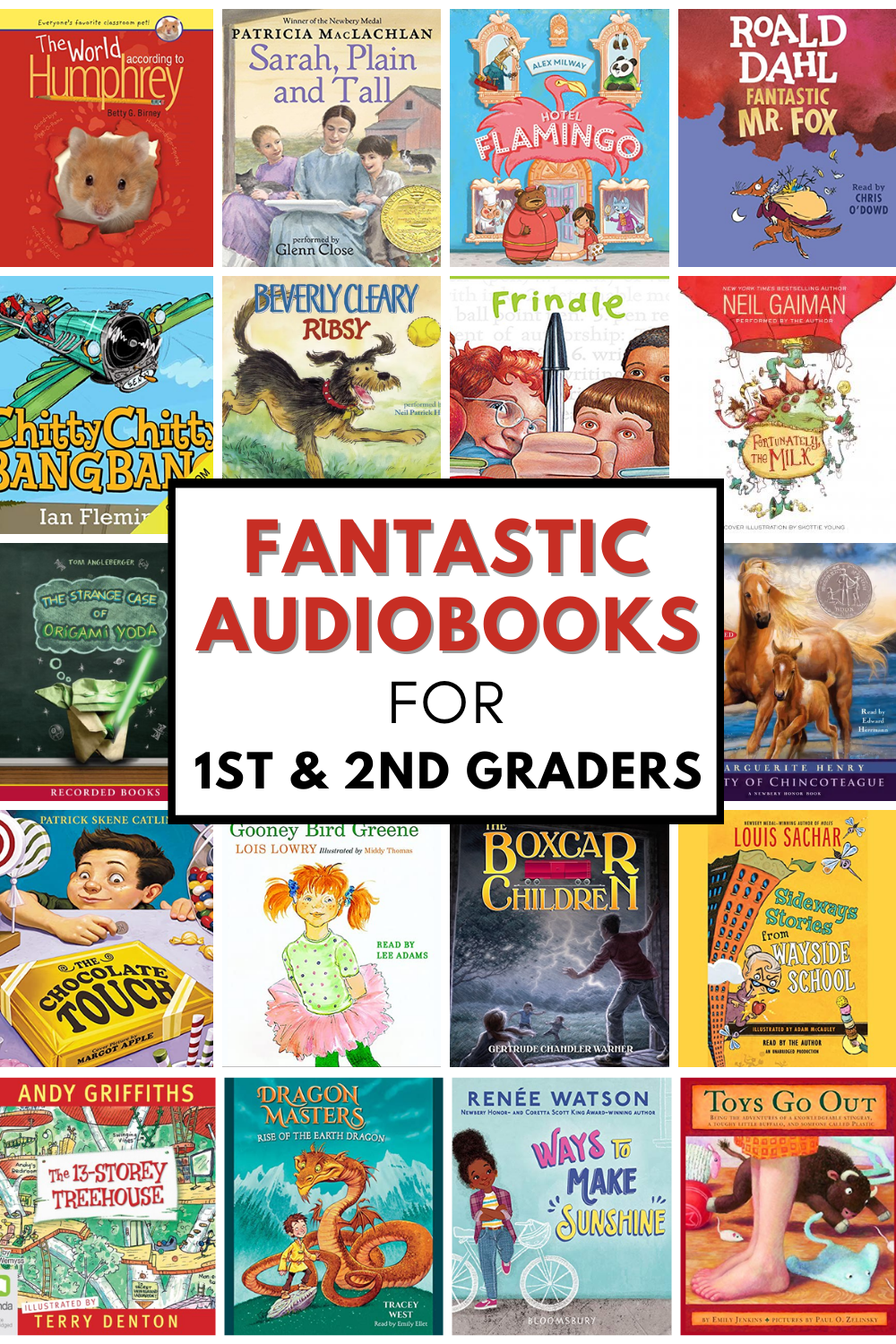 best audiobooks for young kids
Fortunately, the Milk by Neil Gaiman
1 hour
We listened to this as a family and it was so fun and quick. A father is abducted by aliens while picking up milk for his children's cereal. He finds himself on a wild adventure through time and space. It's read by the author and it's laugh-out-loud funny. 

The Boxcar Children by Gertrude Chandler Warner
1 hr 45 min
For all of my children, The Boxcar Children books have been what really cemented their love of listening to audiobooks. These mysteries are wildly popular and have been for decades, for good reason.I like that the mysteries aren't too scary and I really love that they showcase siblings that like each other, get along, and work together to solve problems. 

Sideways Stories from Wayside School by Louis Sachar
2 hrs 30 min
Both of my older girls have listened to these stories many many times on audio about Wayside School where everything is a little (okay, lot) weird. The chapters are more episodic so that's nice if you're starting and stopping a lot.
Ribsy by Beverly Cleary
2 hrs 50 min
I'm fairly sure at this point that Bart and I could recite the entire book from memory since Star listened to this on repeat the year she turned four. Beverly Clearly is a master and her audiobooks are just a delight.

Fantastic Mr. Fox by Roald Dahl
1 hr 15 min
I think Roald Dahl's books are just MADE for listening and I could have added many of his titles. Star was obsessed with Fantastic Mr. Fox and listened at least a dozen times in one year!

Dragons and Marshmallows: Zoey and Sassafras by Asia Citro
55 minutes
An early chapter book series with magical animals, science, and mystery? My girls were INSTANT fans of this book series where Zoey and her cat sidekick Sassafras help a magical animal using science.

Babe the Sheep-Pig by Dick King-Smith
1 hr 50 min
I love all his books, but this is the most well-known and, in my opinion, the best. Ella fell asleep during the last chapter on a road trip, and Bart asked me to finish reading it. It's just that good!

Dragon Masters by Tracey West
45 min
Clocking in at almost an hour, this fantasy adventure is perfect for an afternoon at home or a lot of errands around town in the car. There are more than 20 books in the series and they're included on Scribd. My girls have listened to this series a million times over the past few years. 

The Tale of Despereaux by Kate DiCamillo
3 hrs 30 min
This is a Newbery winner about three different characters – a tiny mouse, a rat who loves the light, and a little girl who wants to be a princess. (Full review here)

Hotel Flamingo by Alex Milway
1 hr 15 min
I didn't know the Hotel Flamingo books before we got them as Yoto cards, but they're listened to on repeat around here now. They follow Anna who inherits a dilapidated hotel from her great aunt and decides to restore it. The thing that makes it special? All the staff and guests are animals! 

Charlotte's Web by E. B. White
3 hrs 30 min
This is one of my favorite books to read aloud to my children when they get to the chapter book stage. It just doesn't get better. The good news is that if the audiobook reads it aloud to your children, you won't have to choke your way through the last couple of chapters, trying not to sob on the page.
Gooney Bird Greene by Lois Lowry
1 hr 40 min
Ella and I listened to one of these together when Ella was just past four, and she wasn't really into it at the time, but a year later, she rediscovered the series and blew through all of these larger-than-life stories that Gooney Bird shares with her new second-grade classroom
Frindle by Andrew Clements
1 hr 40 min
Andrew Clements is just a master of the school story, and this is his most popular one, about a boy who wants to get his whole school calling pens "frindles." If your child likes this one, keep an eye out for his other books – there are lots! 

Chitty Chitty Bang Bang by Ian Fleming
2 hrs 20 min
My girls have all listened to the audiobooks of this series on repeat for years. When we watched the movie, they kept saying, "This is not like the books!" Those are my girls.

Pippi Longstocking by Astrid Lindgren
2 hrs 40 min
This was the series that hooked Star on audiobooks when she was 4. We also listened to the audiobook as a whole family and we were completely absorbed. It's so wacky and strange but it's a classic for a reason. 

A Bear Called Paddington by Michael Bond
2 hrs 40 min
You can't go wrong with this classic about a bear found in a train station who loves orange marmalade and accidentally is always getting into scrapes. 

Misty of Chincoteague by Marguerite Henry
2 hrs 30 min
In this Newberry Award winner Paul and Maureen have their hearts set on owning Phantom, a wild mare. Once they earn the money to buy her, they learn that Phantom comes with her baby colt too. Will they have enough money to buy them both? 

The Original Adventures of Hank the Cowdog by John R. Erickson
2 hrs 30 min
This is a series that really should be listened to since the audio versions are truly hilarious. We discovered them when I was maybe 11 or 12 on a road trip and I woke up late at night to hear my mom listening to them as she drove through the night, laughing out loud. Hank thinks he's brilliant (and of course, handsome and charming) while the reader knows that. . . the truth is possibly a little different.
The Ordinary Princess by M. M. Kaye
2 hrs 50 min
Princess Amy and her six sisters receive special fairy gifts, and Princess Amy's gift? Ordinariness. When her parents try to marry her off, she decides to run away instead and takes a job as the fourteenth assistant kitchen maid at a nearby palace. Where, naturally, she meets a very ordinary prince.
Encyclopedia Brown Boy Detective by Donald J. Sobol
1 hour
The mysteries in this are very episodic, which makes them great for reading here and there, rather than having to get all the way through. And my girls love trying to solve the mystery without reading the answers in the back.

Sarah, Plain and Tall by Patricia MacLachlan
1 hour
This beloved Newbery winner is the story of Sarah Elisabeth Wheaton who comes out to the prairies from her home in Maine when Papa advertises for someone to come join their family as a wife and mother.

The Strange Case of Origami Yoda by Tom Angleberger
2 hrs 15 min
I read this when it first came out and I was working as an elementary school librarian. I knew immediately it would be a hit with my students and I'm pretty sure it never touched the shelf again for the rest of the year! The series starts out with Dwight, a sixth-grade oddball who loves origami. And when he makes an Origami Yoda finger puppet, it suddenly starts to seem that this little paper Yoda can predict the future and give great advice. How could this be!?

The 13-Storey Treehouse by Andy Griffiths
1 hr 30 min
This series of 10 books follows Andy and Terry who live in the most amazing treehouse on earth. The only problem is that it's hard to get anything done when you live somewhere SO FUN. 

All-of-a-Kind Family by Sydney Taylor
3 hrs 30 min
This was one of my FAVORITE series as a child, and one of the reasons I hoped for all girls (never mind the fact that they eventually get a brother after five girls). Reading it to Ella was a dream come true – it's so charming and makes me want to hide pennies for my girls to dust for.

Ways to Make Sunshine by Renée Watson
2 hrs 50 min
If you love the world of Ramona Quimby and the other inhabitants of Klickitat Street, you'll love this book about another ordinary family living in Portland and dealing with the ordinary issues of growing up. The stories of Ryan Hart and her family are sweet and funny and ones that children will relate to – from moving to a new house to hunting for treasures at the Portland Saturday Market with her best friend. 

The World According to Humphrey by Betty G. Birney
2 hrs 30 min
There are 12 books in this series. That being said, these books stand alone well, so you can jump right in to these classroom adventures with Humphrey, the class hamster.

Tumtum and Nutmeg by Emily Bearn
3 hours
A sweet mouse couple, Tumtum and Nutmeg find adventure when they secretly try to help cheer up two human siblings who live in a cottage with their inventor father.

Toys Go Out by Emily Jenkins
2 hours
The first one is the best, but we read all three and they are all excellent, about three beloved toys who live with a little girl. It's a fun book to start with chapter books. 

Betsy-Tacy by Maud Hart Lovelace
2 hours
I LOVED this sweet series growing up and I read the first one to Ella years ago when she was about four, so I think it's time to introduce ALL the girls to these classics.
The Chocolate Touch by Patrick Skene Catling
1 hr 15 min
I read this when I was little and I still remember it so clearly – the idea of everything you touched turning into chocolate is so exciting. Ella loved it too.

Hamster Princess by Ursula Vernon
2 hours
This fractured fairy tale series is one of Ella's favorites and she's read and re-read them, reading aloud her favorite lines to me and . . . I have to admit, they are truly laugh-out-loud funny. Don't let the title fool you – they're great for boys and girls who love adventure and humor.
And if you'd like a printable copy of this list of audiobooks for young kids that you can take to your library or screenshot on your phone for easy access, just pop in your email address below and it'll come right to your inbox!
if you liked this post about the best audiobooks for 1st grade and 2nd grade, you might also like these other posts: