There aren't many book series better known or more well-loved than the Harry Potter series.
And we all know the blues that hit when you finish a beloved series – it's like no other book or characters will ever draw you in again like that.
The good news is that there are LOTS of other great series for Harry Potter lovers out there!
Here are more than 20 that are a delight.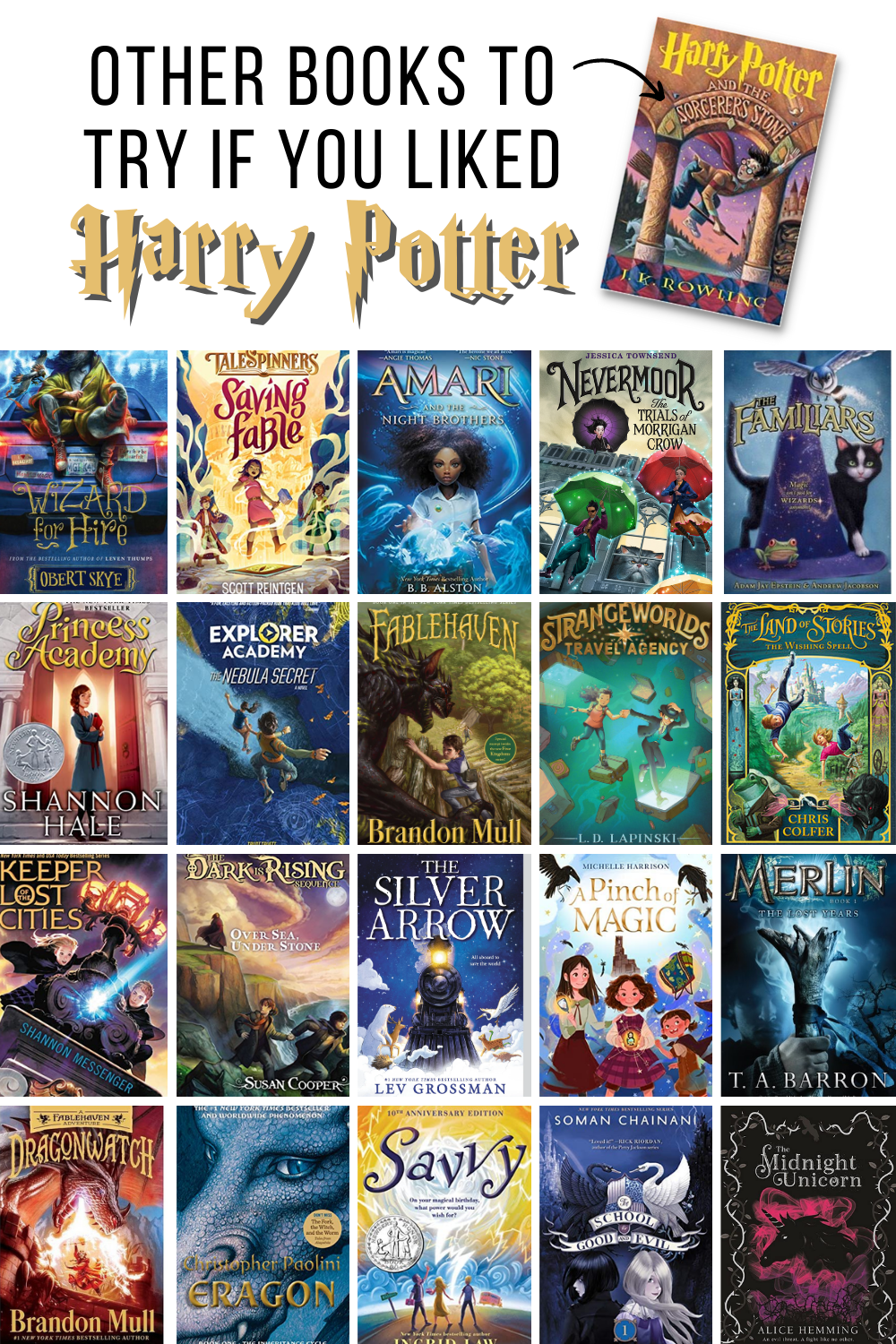 20+ Books Like Harry Potter
Amari and the Night Brothers by B.B. Alston
I've read about a million books with comparisons to Harry Potter or Percy Jackson and this was one of the first that really lived up to the hype – I read this aloud to my children and we were all completely sucked in! Amari's mourning the disappearance of her beloved older brother (the police say he's almost certainly dead), but when she gets a pre-recorded message from him, she discovers that there is a supernatural world she's known nothing about and that her brother was heavily involved before his disappearance. Joining this world isn't going to be easy, but she's willing to do whatever it takes to find out what happened to her brother. And she better mean it, because "whatever it takes" turns out to be a LOT.
Keeper of the Lost Cities by Shannon Messenger
Ella came home from school saying one of her friends was raving about this series. Happily, I happened to have a copy and Ella devoured this book about Sophie doesn't fit in at school or in her family, in part because she can read minds. Then she meets a boy who has the same powers she does and it turns out there are a lot of secrets about herself and the world around her that she doesn't know. But she's going to find out pretty quickly!
Eragon by Christopher Paolini
After finding out his destiny of a Dragon Rider, teenage Eragon and his loyal dragon must navigate a dangerous world of magic and power as they struggle to overthrow the evil King Galbatorix.
Saving Fable by Scott Reintgen
Indira is a story character and she's spent her life waiting to actually be part of a story, so it's a dream come true when she's chosen to travel to Fable and attend the famous Protagonist Preparatory, with a track record for turning out the best heroes a story could want. But things start off poorly when her audition flops and she ends up in the side character track. Is there any chance for her to become a hero? Especially when it appears that all of Fable is under attack.
Merlin by T.A. Barron
You can't have a Harry Potter list without one of the other greatest wizards we know, from the Arthurian legend! Young Merlin is on a quest to save an enchanted isle being destroyed by blight. He faces fire in many different forms and deals with the possibility of losing his own magical power.
The Strangeworlds Travel Agency by L.D. Lapinski 
This book was new to me, but the cover caught my eye and the reviews are through the roof – it's right up my girls' alley!
The School for Good and Evil by Soman Chainani, illustrated by Iacopo Bruno
I love a good book that involves familiar characters from classic fairy tales and this one does it in such a unique way. Sophie is set to go to the School for Good, just like Cinderella and the like of her did. Agatha is a shoe-in for the School for Evil with her black clothing and naughty cat. With no explanation, the girls are each put in the exact opposite schools that seem fitting for them.
Princess Academy by Shannon Hale
I read this book on paper, then Bart and I listened to it when we moved to Boston and had days of driving a U-Haul together, and the girls and I just listened to it in the car this past fall. Don't let the title fool you – this book isn't just for girls. This book is great for all ages, boys and girls alike – with as much adventure and intrigue as you could hope for. (Full review here)
The Midnight Unicorn by Alice Hemming
Alette, the daughter of a sorcerer, and Audrey, daughter of a baker, live completely separate lives in opposite parts of the kingdom but something is drawing them together. Could it be their identical pendant necklaces or the unknowns of their pasts? They embark on a magic filled adventure full of danger, mystery, and don't forget unicorns! I think my girls would really like this one.
Skandar and the Unicorn Thief by A.F. Steadman
This book just came out in 2022 and looks like the perfect book for anyone who loves unicorns and heroic quests. Thirteen-year-old Skandar Smith has always wanted to be a Unicorn rider, but when the mysterious Weaver steals the most powerful unicorn in the world, Skandar must face sky battles, ancient secrets, and bloodthirsty unicorns in order to save his island.

A Pinch of Magic by Michelle Harrison
A Pinch of Magic follows three Widdershins sisters, Fliss, Betty and Charlie, who are cursed to always live on their gloomy island. If they go beyond, they will die by the next sunset. Their incredible adventure, full of shipwrecks, smugglers, and sorcery, begins after being gifted three magical family heirlooms. It's a race against time to save their lives and each other.
Savvy by Ingrid Law
I listened to this one more than a decade ago when it first came out and then read it to the girls a year or so ago. It's a Newbery Honor book about the Beaumont family who all get a "savvy" when they turn thirteen. A savvy is a supernatural power and they're all different (some more useful than others)". Mibs has been waiting for years for her thirteenth birthday but just before the big day, her beloved father is in a terrible accident and now Mibs only hope is that her savvy will be something that can save him.
The Familiars by Adam Jay Epstein and Andrew Jacobson
This is such a fun readalike for Harry Potter lovers! When a scrappy alley cat named Aldwyn passes himself off as a magical animal companion to Jack, a young wizard in training, Aldwyn and his fellow "familiars," a know-it-all blue jay and bumbling tree frog, must save the kingdom after the evil queen kidnaps Jack and two other wizards. 

Upside Down Magic by Sarah Mlynowski, Lauren Myracle, and Emily Jenkins 
This series is perfect for your littlest Harry Potter lovers who aren't quite ready for some of the deeper themes in the later Harry Potter books. My girls listened to this series non-stop and they loved the funny stories of children with magical powers that aren't quite regular. Basically if there is magic? My kids are in.
The Silver Arrow by Lev Grossman
On her 11th birthday, Kate's uncle gifts her a massive steam locomotive, called the Silver Arrow. This will surely shake up her mundane life! Although her parents want it taken back right away, Kate and her brother Tom have different plans, they are off to distant lands on a magical rail line. With talking animals and an adventure of a lifetime, will Kate and Tom end up saving the world?
Fablehaven by Brandon Mull
This is a great series about two kids, Seth and Kendra Sorensen, who go to spend a few weeks with their grandparents on their very remote property. It doesn't take them long to figure out not everything is as it appears. The butterflies and dragonflies in the garden are actually fairies! That is only the beginning of the magical creatures that inhabit Fablehaven. I thoroughly enjoyed this series, and you know that isn't something I say often about fantasy! (Full review here)
Dragon Watch by Brandon Mull
This is the companion series to Fablehaven where the adventures of Seth and Kendra continue as they try to save the world from Dragons who want to overturn the sanctuaries and destroy the world. The two precocious teenagers really come into their own in this series and learn more about themselves and their own unique powers.
Explorer Academy by Trudi Trueit
Cruz begins training at the Explorer Academy, an elite school for explorers. But for Cruz's future could be in jeopardy after he discovers his family had a mysterious past with the organization. And the biggest question? Who is out to get him… and why? Embedded throughout the novels are puzzles and codes for the reader to solve. Since this series is an imprint from National Geographic, there is also section at the end of each book that profiles scientists from all over the world and does a compare and contrast with the science fiction in the book and the real science. It's like a Harry Potter storyline with a lot of STEM elements.
Nevermoor by Jessica Townsend
Morrigan Crow was born on Eventide, the unluckiest day for any child to be born, and thus lives a cursed life. As she awaits her fate, she is whisked away into the safety of a secret, magical city called Nevermoor. She learns that to stay in the safety of Nevermoor she has to compete in four difficult trials and discover her own extraordinary talent- or have to leave the city and face her deadly fate.
The Dark Rising by Susan Cooper
On his eleventh birthday, Will Stanton discovers that he is one of the last of the Old Ones. Meaning he is immortal, and is dedicated to keeping the world safe from the forces of evil, called the Dark. His quest is to find the six magical Signs that will aid the Old Ones in the final battle between the Dark and the Light. On the twelve days of Christmas, while the Dark is rising, life for Will is full of wonder, terror, and delight.

The Land of Stories by Chris Colfer
I'm pretty sure I didn't see Ella for a month when she blazed through this entire series. Alex and Conner, sister-brother twins, open up a beloved book of stories only to find themselves sucked into the book. In a mysterious land where magic runs rampant, they find themselves interacting with fairy tale characters they've heard about all their lives. The real question is. . . can they ever get home?
Wizard for Hire by Obert Skye
Ozzy's parents go missing after they discovered a formula that enables mind control. Their top secret work makes it difficult for Ozzy to go to the police, but he needs help from someone to find his parents. He finds an ad in the classifieds section for a "Wizard for Hire" and decides to take a chance.
And if you'd like a printable copy of this list of books like Harry Potter that you can take to your library or screenshot on your phone for easy access, just pop in your email address below and it'll come right to your inbox!
if you liked this post about books like harry potter, you might also like these other posts: