There are some series that seem to have a special knack for sparking a love for reading and Percy Jackson and the Lightning Thief is DEFINITELY one of those series.
There's just something magical about the Percy Jackson series that opens up the world of reading and the delight of a gripping story for many many readers, even those who have traditionally been reluctant readers.
So what do you hand that reader when they've finished the Percy Jackson series and you want to keep their love of reading going?
These 25 series are all phenomenal – some have the same mythology base that Percy Jackson riffs on, while others take place at unlikely schools like Camp Halfblood and others involve theft and mystery.
No matter what it is about Percy Jackson that your reader loves, I hope you'll find something equally delightful here!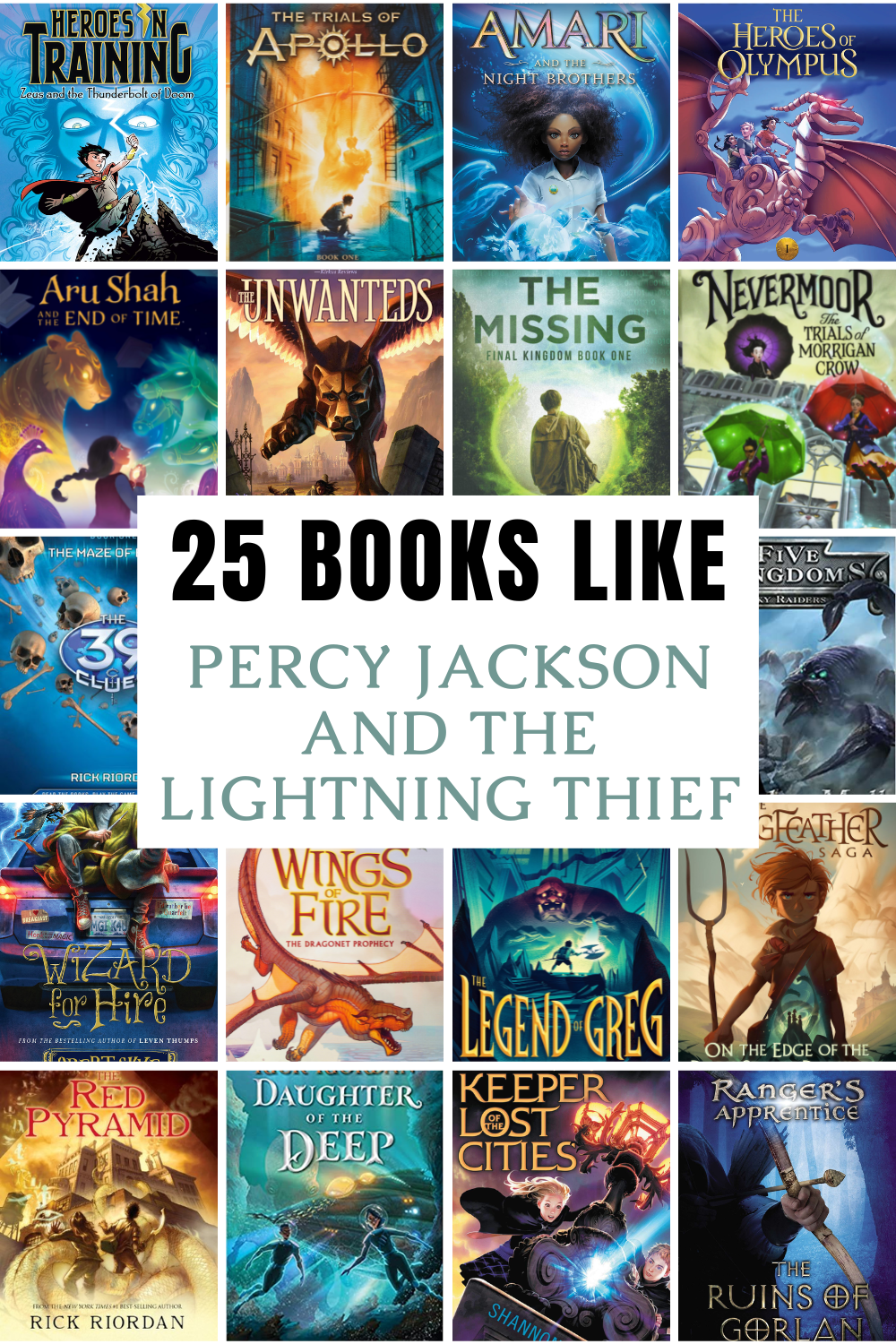 25 Books Like Percy Jackson and the Lightning Thief
Keeper of the Lost Cities by Shannon Messenger
9 book series
Ella come home from school saying one of her friends was raving about this series. Happily, I happened to have a copy and Ella devoured this book about Sophie doesn't fit in at school or in her family, in part because she can read minds. Then she meets a boy who has the same powers she does and it turns out there are a lot of secrets about herself and the world around her that she doesn't know. But she's going to find out pretty quickly!
Fablehaven by Brandon Mull
5 book series
This is a great series about two kids, Seth and Kendra Sorensen who go to spend a few weeks with their grandparents on their very remote property. It doesn't take them long to figure out not everything is as it appears. The butterflies and dragonflies in the garden are actually fairies! That is only the beginning of the magical creatures that inhabit Fablehaven. I thoroughly enjoyed this series, and you know that isn't something I say often about fantasy! (Full review here)
Wings of Fire by Tui T. Sutherland
15 book series
This new middle grade fantasy fiction is a gripping tale about seven dragon tribes that have been at war for generations. A plot is hatched to finally bring an end to the fighting but the five dragonets that are at the heart have a different plan. This series is WILDLY popular and I'm reading it to my girls next year. 

The Heroes of Olympus by Rick Riordan
5 book series
If you love Rick Riordan AND you love the Greek mythology elements of Percy Jackson, this series is an absolute home run. Like Percy Jackson, it takes place at Camp Half-Blood with a whole new cast of characters you'll love just as much. And, of course, the action is non-stop.


Aru Shah by Roshani Chokshi 
5 book series
Aru Shah, twelve year old girl, is dared by three classmates to light the museum's Lamp of Bharata to prove if it's really cursed or not. Lighting the lamp causes trouble for everyone by freeing an ancient demon and freezing Aru's mother in time. Aru sets out on an epic quest to right her wrongdoing.
39 Clues by Rick Riordan
11 book series
Grace Cahill, the last matriarch of the world's most powerful family, is on her deathbed and makes a quick decision to change her will. Those inheriting anything have to choose between taking a clue or one million dollars. The 39 clues are hidden around the world to reveal the family's secret to their source of power. Can Dan and Amy put all of the clues together or will they abandon the mission completely to discover what happened to their parents? This series has each book written by a different popular author.
Heroes in Training by Joan Holub and Suzanne Williams 
18 book series
Zeus the King of the Gods had to get his start somewhere right? This book tells the story of ten year old Zeus getting kidnapped by Titans, escaping, harnessing his power with thunderbolts and freeing his fellow Olympians from the evil Cronus.
Amari and the Night Brothers by B.B. Alston
2 book series
This is a fantasy book that snagged spots on many best of the year lists when it came out. I didn't want to miss out on this story about a girl who is determined to find her missing brother and discovers that magic is real in the process. We all loved this one! 

Dragonwatch by Brandon Mull
5 book series
This is the companion series to Fablehaven where the adventures of Seth and Kendra continue as they try to save the world from Dragons who want to overturn the sanctuaries and destroy the world. The two precocious teenagers really come into their own in this series and learn more about themselves and their own unique powers.
Five Kingdoms by Brandon Mull
5 book series
Cole was trying to have some spooky fun with his friends one Halloween, when the haunted house they were at turned out to be a portal to a mysterious world called the Outskirts. The magic of the Outskirts is starting to unravel and it's up to Cole ro rescue his friends and find a way back home.
Unwanteds by Lisa McMann
7 book series
The book starts on the day of the sorting and Alex knows he'll be an Unwanted, because of his interest in creative endeavors. He's already been reported for a number of infractions, including scratching images in the dirt with a stick, so it's no surprise to him when he's named as one who will be sent to die in the Lake of Boiling Oil. (Full review here)
Rangers Apprentice by John Flanagan
11 book series
Fifteen year old Will has been chosen as a ranger's apprentice. The Rangers practice magic that makes them invisible so they can protect the kingdom. Their enemy Morgarath is gathering power and his dark forces are soon going to need to be challenged. Bart blew through this whole series last fall!
Storm Runner by J.C. Cervantes
3 book series
This is an action packed adventure novel meets Maya mythology. Zane Obispo is a thirteen year old boy with a limp and a cane but he finds himself at the center an ancient prophecy that could infer the end of the world. He sets out on a dangerous quest encountering heroes, gods, demons, and giants and is tested to his core.
Wizard for Hire by Obert Skye
3 book series
Ozzy's parents go missing after they discovered a formula that enables mind control. Their top secret work makes it difficult for Ozzy to go to the police, but he needs help from someone to find his parents. He finds an ad in the classifieds section for a "Wizard for Hire" and decides to take a chance.
Final Kingdom by Steven K. Smith
3 book series
Zach is very confused when his older brother Bryce just left. He wouldn't do that. Zach finds a secret message hidden in their favorite video game and decides to act on it. The real world and the virtual one collide as Zach discovers the bridge between the worlds in order to bring Bryce back before it's too late.
Michael Vey by Richard Paul Evans
8 book series
Michael Vey, is a seemingly ordinary high schooler, but turns out he actually has special electric powers. It also happens that he isn't the only one at his school with these strange electric powers. Taylor, a cheerleader, also has them and they come to the attention of a powerful group who wants to gain control over these electric children.
Wingfeather Saga by Andrew Peterson
4 book series
The three gifted Igiby siblings pull together their smarts, heart, and courage to defeat the evil Fangs of Dang who have crossed the dark sea to rule the land with malice.

Legend of Greg by Chris Rylander
3 book series
Greg Belmont isn't the ordinary guy he always thought. He discovers that he is actually a dwarf after his dad brings home a gross tasting tea. When his dad is kidnapped by a troll he sets out to find his roots with the dwarves living under the streets of Chicago. This is a humorous and action packed three book series.
The Kane Chronicles by Rick Riordan
3 book series
Sadie and Carter weren't very close ever since living apart after their mother's death. Their father, a brilliant Egyptologist, brings the estranged siblings together at the British Museum. Instead of bringing the family together like he intended, he unleashes the Egyptian God Set. The siblings have to go on a dangerous quest around the world to try to put things right again.
Pendragon by D.J. MacHale
10 book series
Bobby is a pretty normal fourteen-year-old boy, except for the fact he is going to save the world. He is swept off to a different world called Denduron that is inhabited by a whole host of strange and dangerous beings. He has to figure out his place in the cosmos and figure it out quickly.
The Trials of Apollo by Rick Riordan
5 book series
Apollo made his father, Zeus, pretty mad (whoops!). As punishment he was banished from Olympus and made mortal. He has to learn to survive as a mortal teenage boy in New York City, avoid his enemies, (including gods, monsters and mortals) and find a way to regain favor from Zeus. That won't be easy!
Nevermoor by Jessica Townsend
4 book series
Morrigan Crow was born on Eventide, the unluckiest day for any child to be born, and thus lives a cursed life. As she awaits her fate, she is whisked away into the safety of a secret, magical city called Nevermoor. She learns that to stay in the safety of Nevermoor she has to compete in four difficult trials and discover her own extraordinary talent- or have to leave the city and face her deadly fate.

Framed! by James Ponti
3 book series
This book follows Florian Bates who is the only kid that the FBI Director has on speed dial (and a kid that a whole lot of criminals want taken care of). After a move to DC, Florian and his new friend Margaret uncover a mystery that involves a major crime ring, the FBI and the National Gallery. It's up to them to solve the mystery AND get their homework done. This is one of Ella's all-time favorite series.
Daughter of the Deep by Rick Riordan
1 book series
You can't go wrong with an adventure story by Rick Riordan and this one has similar vibes to Percy Jackson except set underwater at the Harding-Pencroft Academy which trains the next generation of naval warriors and underwater explorers. 

Spy School by Stuart Gibbs
10 book series
Ben Ripley's dream job is to work for the CIA, but since he's only a middle schooler, it's going to be a tough sell.  Then he is recruited for a special STEM school program, but to his shock and delight the program is actually a front for a junior CIA! Which sounds terrific until he realizes how dangerous spy school really is!
And if you'd like a printable copy of this list of books like Percy Jackson that you can take to your library or screenshot on your phone for easy access, just pop in your email address below and it'll come right to your inbox!
if you liked this post about Books Like Percy Jackson, you might also like these other posts: