September might be my favorite month and not just because I have a September birthday (okay, maybe a lot because I have a September birthday).
But it's also the beginning of fall and cooler weather and it's not quite madness with the holidays yet – what's not to love?
Here are some of my current favorite things this month: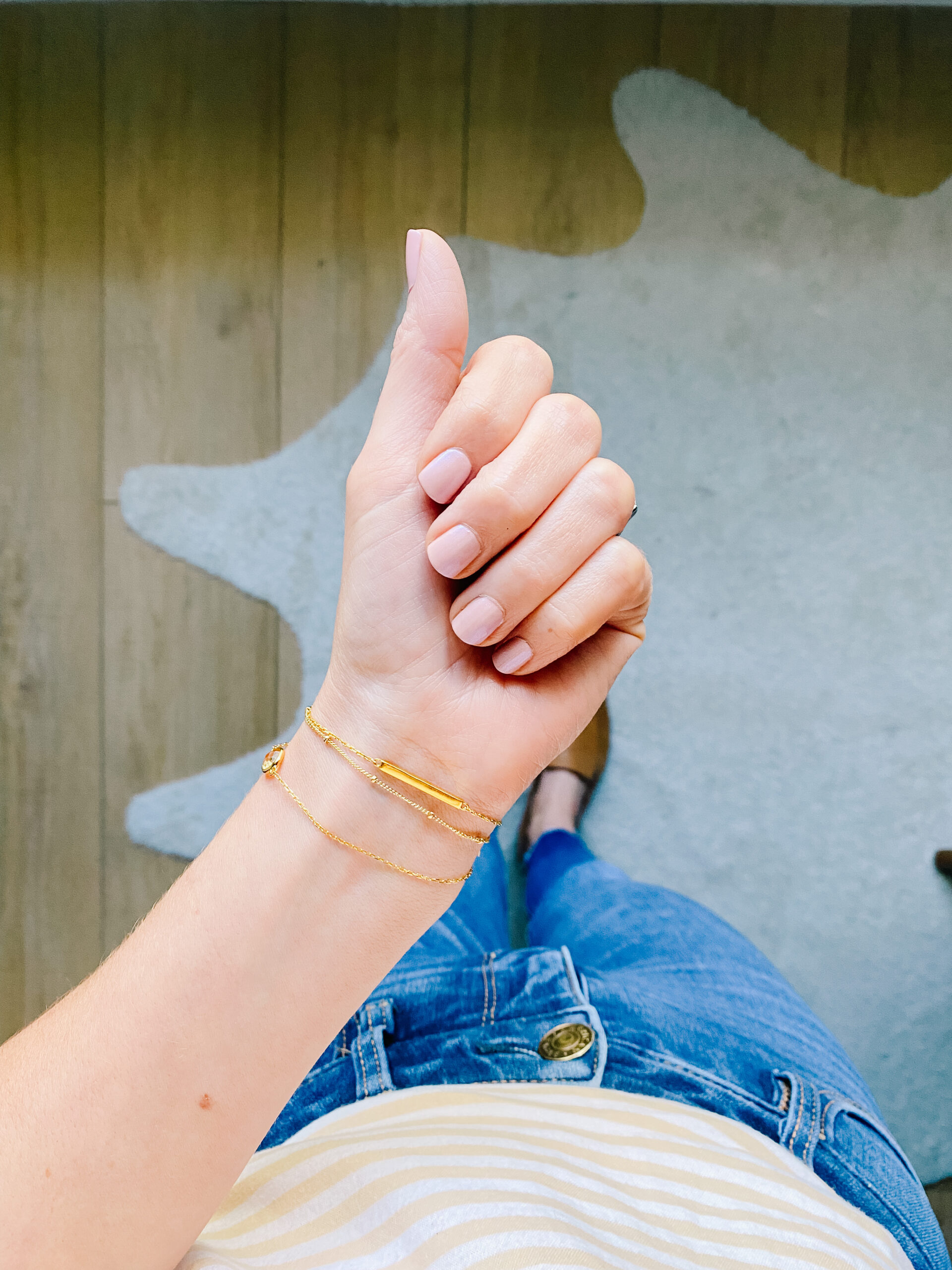 4 Favorites Things for SeptembeR
PINK GOLDFISH NAIL POLISH
I have a somewhat embarrassing number of Olive & June nail polishes, but my current favorite is Pink Goldfish. It's a shimmery pink sheer that you can layer over other colors and it gives any polish a great little iridescent something special. It came out this summer and sold out almost immediately and when I finally got an email that it'd been restocked, I ordered it within 5 minutes. It's hard to see how awesome it is in the photo above, but I promise, it's a winner. (I have it layered over Study Hall in that photo which is a great color on its own or with Pink Goldfish).
BROOKLINEN SUPER PLUSH BATH SHEETS
We'd had our bath towels for years and they were definitely starting to look and feel old. After Jessica Turner raved about her Brooklinen ones for months, I finally ordered a set and. . . she was not wrong. They are so enormous and so plush and I am delighted with them every single time I get out of the shower. I find white towels hard to keep looking pristine (even with bleach) so we went with Ocean Blue and they are just a delight. (I think my code, reading20 for $20 off orders over $100, is still active).
SENITA CARAMEL HOODIE
There always seems to be one sweatshirt that calls to me each fall and this is definitely this year's. I wore it all through August whenever we went boating in the cool early morning and it's so cute with joggers or jeans or leggings. I really love the subtle herringbone pattern and the contrasting drawstring. Overall, just a huge win! Use the code JANSSEN for 15% off.
HAIR TIE BRACELETS
I gave Ella a pack of these the week that school started and she's worn them non-stop ever since. They're hair ties that look more like a bracelet so you can wear a bunch of them on your wrist and then if you need a hair tie, you're all set to go! They're so darling and a perfect stocking stuffer if you've already got your eye on the holidays. Use the code JANSSEN.
And here are the things the Everyday Reading team are loving this month:
analese
Thymes All-Purpose Cleaner
I saw this spray floating around the Instagram world, thought it was a bit pricey, but justified it last Christmas season because we don't buy a real Christmas tree. I'm SO glad I tried it! It doesn't smell exactly like a Christmas tree, just more holiday-ish. All I know is it smells so good and I end up using it all year round. This month we had a new neighbor come over after dinner and I had just cleaned the counters with this stuff. She said our house smelled like a brand new home and it's these little things that make me really happy. So when my bottle ran out this week, I immediately ordered a new one.
JENNIFER
Mini Mixer/ Milk Frother
This is one of those kitchen gadgets that I've wanted for a long time but just never purchased- until recently. I snagged it on Amazon for under $10 and I think I've used it every day since then. I love this little battery operated mixer for mixing my protein shake, mixing up marinades for dinner and my husband even loves it for mixing his pre workout every morning. It's especially helpful for blending my favorite Just Ingredients protein powder. The ingredients are so clean, but that means it doesn't have extra emulsifiers. Having a little extra power to blend it makes it so smooth and delicious!
KELSEY
Artwork Frame
We have these frames up in our playroom and my preschooler loves to display any artwork he has made in them. Now that school is up and running, I know we won't be in short supply of new masterpieces. The front of the frame opens and closes via magnetic closure, so you can easily change out art and store past pieces in the back of the frame. When it gets full we sort through all the artwork and keep our favorites in a keepsake box. These art frames also come highly rated if you are looking for an Amazon option.
if you liked this post about September favorites, You might also like these other posts: