Dime Beauty is my favorite skin care line that doesn't break the bank. Use the code BRADSHAW20 for 20% off any item on their site.
You may be familiar with Dime Beauty Co – they've made a big name for themselves over the past couple of years as a clean luxury skincare brand at an affordable price.
I've been working with them on sponsored Instagram stories since the beginning of 2021 but I thought it'd be nice to have everything in one place here, including the answers to a bunch of questions readers have sent in on Instagram.
They're not paying me for this post, but you can still use my affiliate code BRADSHAW20 for 20% off any item on their site (and they have free shipping over $65).
Are you looking for the best way to grow your eyelashes? Pop in your email and I'll send you my favorite eyelash products!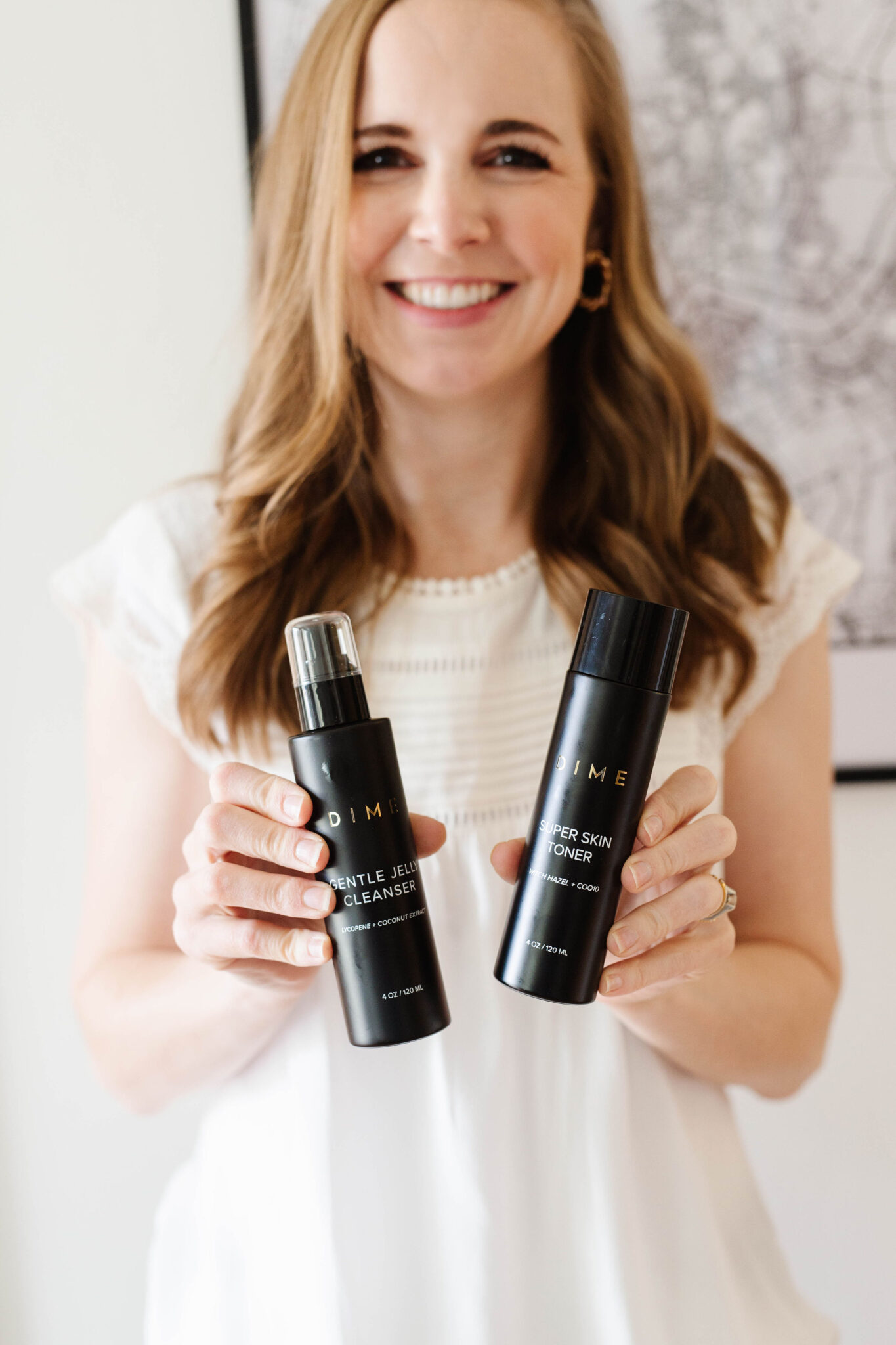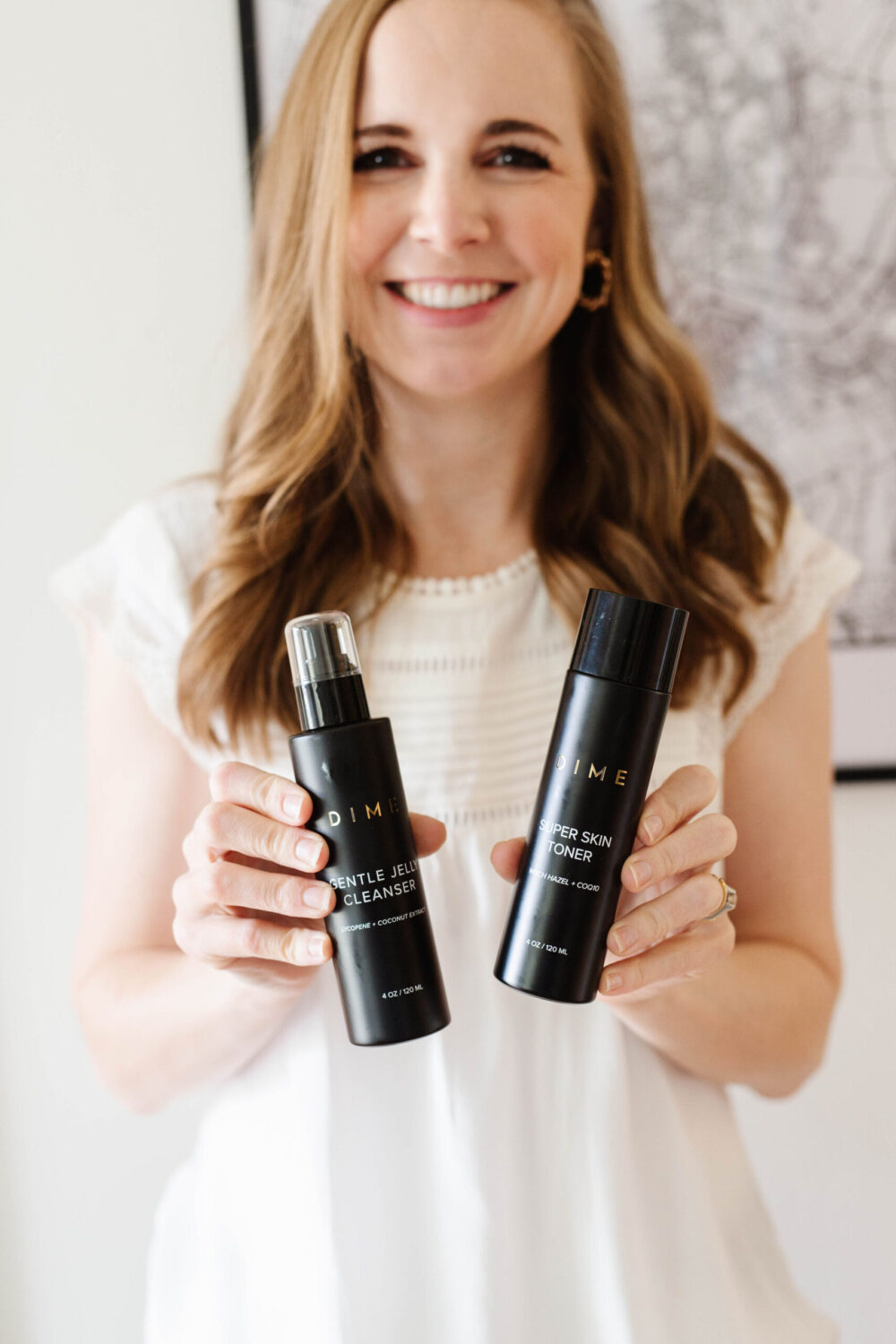 An Unpaid Dime Beauty Review
I've been using THE WORKS bundle for more than a year, and I'm VERY impressed.
Here's how THE WORKS bundle is set up: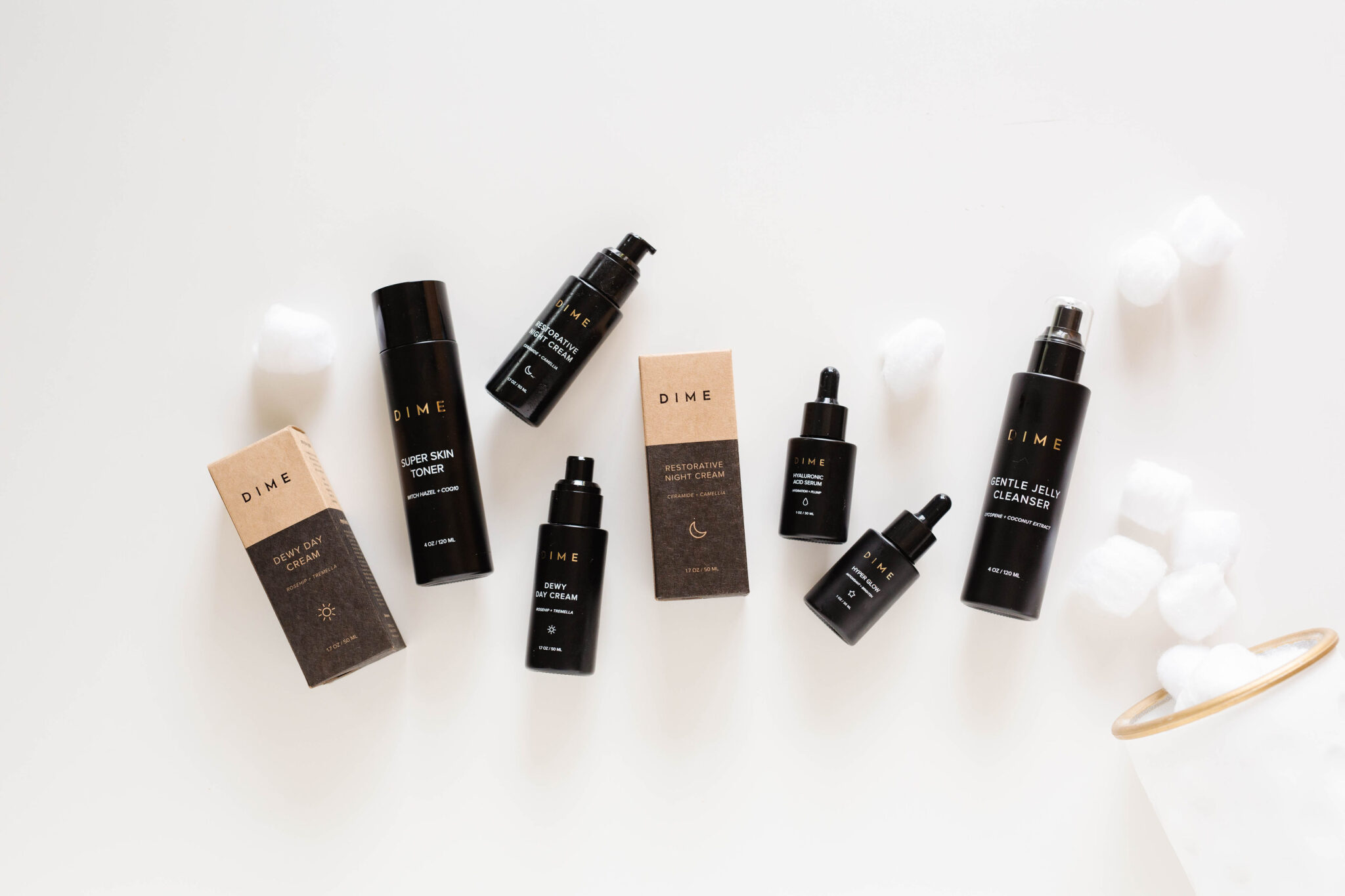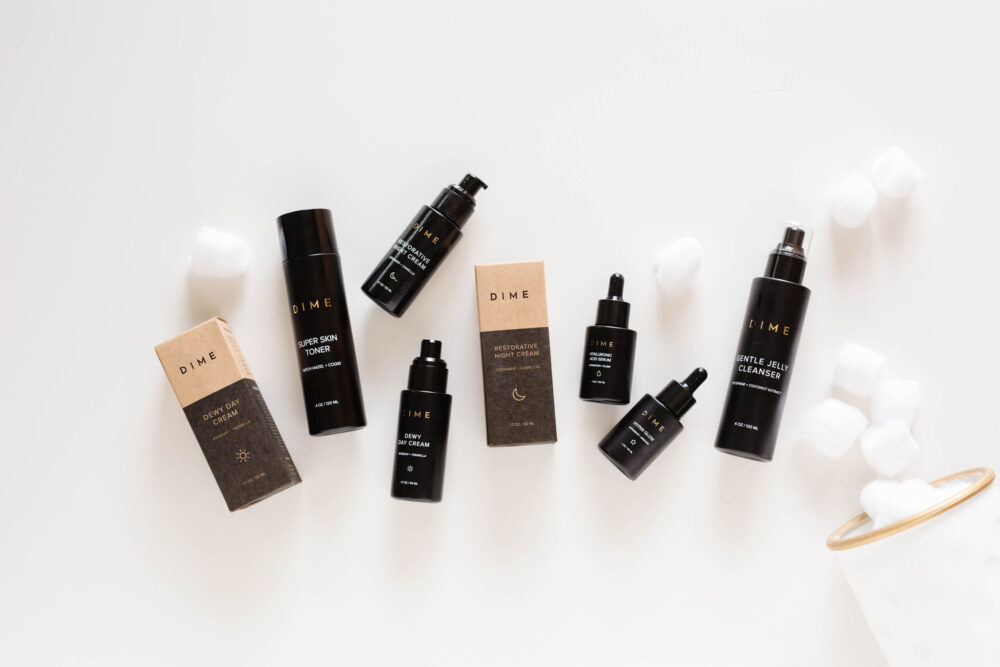 You get six products:
Here's the order you use them in, morning and evening:
MORNING:
Gentle Jelly Cleanser
Super Skin Toner
Hyper Glow Serum
Dewy Day Cream
EVENING:
Gentle Jelly Cleanser
Super Skin Toner
Hyaluronic Acid Serum
Restorative Night Cream
I've always been put off by skincare because it felt so complicated, but this was so straightforward and easy, that I felt a little silly that I'd been overwhelmed before.
The whole thing takes me about 3 minutes in the morning and another 3 minutes in the evening.
My other two favorite Dime Beauty products are the Blue Facial Oil which I put on after The Works routine at night and it is MAGICAL and the Eyebrow Gel which I use every morning when I do my makeup.
I've also gotten hooked on the Super Firm Serum which is absolutely incredible – it's the only product I've ever used where I truly notice a difference in my fine lines and forehead wrinkles within 24 hours. I use it in place of the Hyaluronic Acid Serum a few nights a week.
Here's the main thing you need to know, though. I only have my skin – lot of the questions on Instagram asked about how it is for very sensitive skin or super acne-prone skin or really oily skin, and I can't really answer those questions.
Like any skin care products, it might work AMAZINGLY well for you or not be the right fit for your exact skin. It's just not possible to make a single skin care line that addresses every possible problem or will work for every single person.
I'd say overall, my skin is pretty good and runs on the pretty dry side (oily skin is NOT my problem). Even as a teenager, I didn't have major acne outbreaks and the same has carried through for me as an adult.
Because I wasn't dealing with major breakouts, the changes that I noticed were more subtle and I really started to see improvement after about a month of consistent use.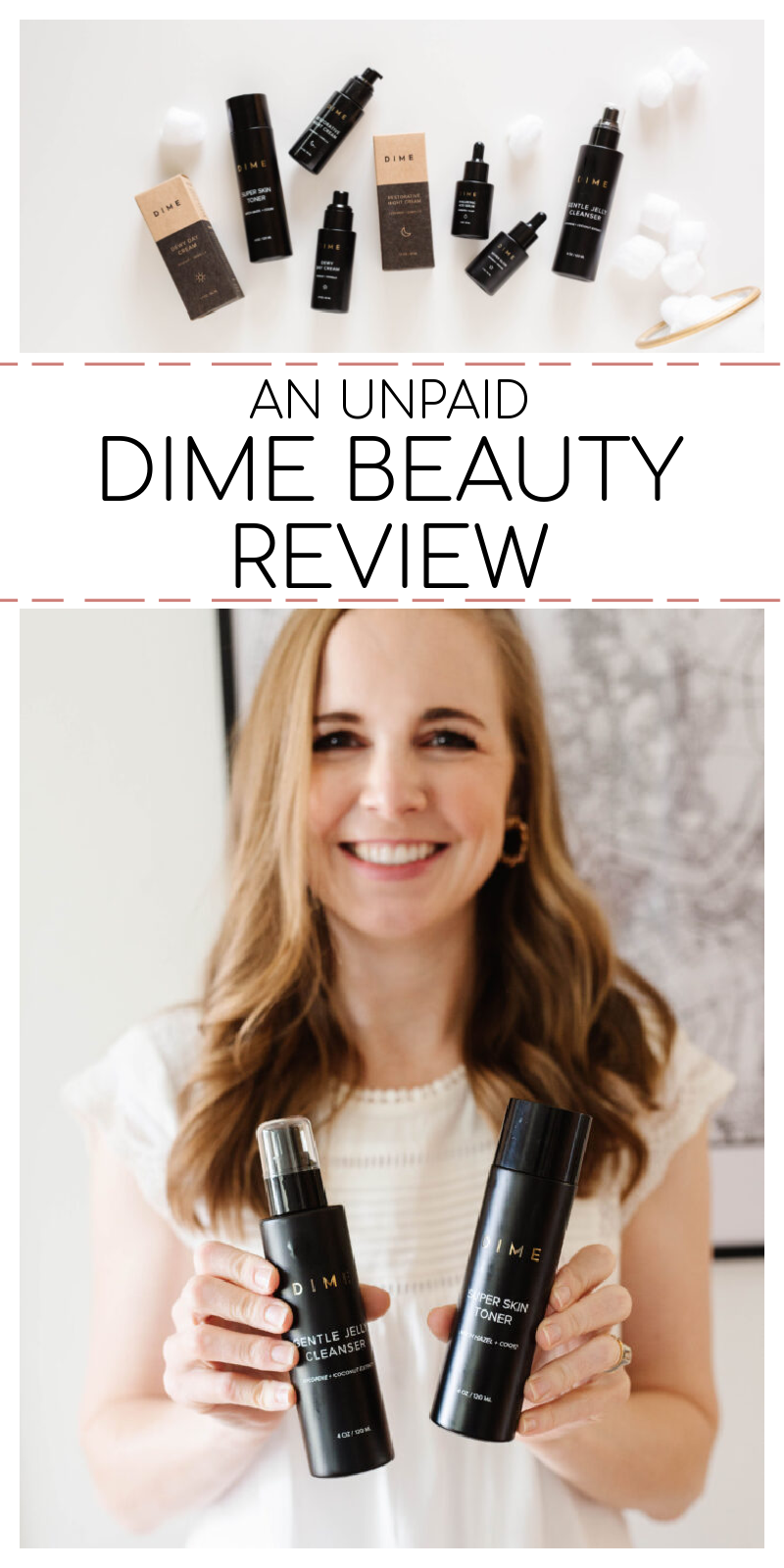 Here are the results I've noticed most:
My skin tone really evened out. For the first time in a long time, I didn't feel like my BB cream was so necessary to even out my coloring. It was much less blotchy.
A definite reduction in fine lines. I have a very wrinkly face (Bart is 5 years older than me and has a fraction of the wrinkles I do) and I've noticed that the fine lines on my face are much less obvious now than they were when I first started using them.
My dryness has improved. Especially between my eyebrows and around my nose.
Reduced acne. Like I said, I've never struggled with major acne, but after the first month, it's dropped to virtually zero. I'm a big fan.
Here are some of the questions about Dime Beauty products sent in on Instagram – hopefully this will answer questions you might have about it too!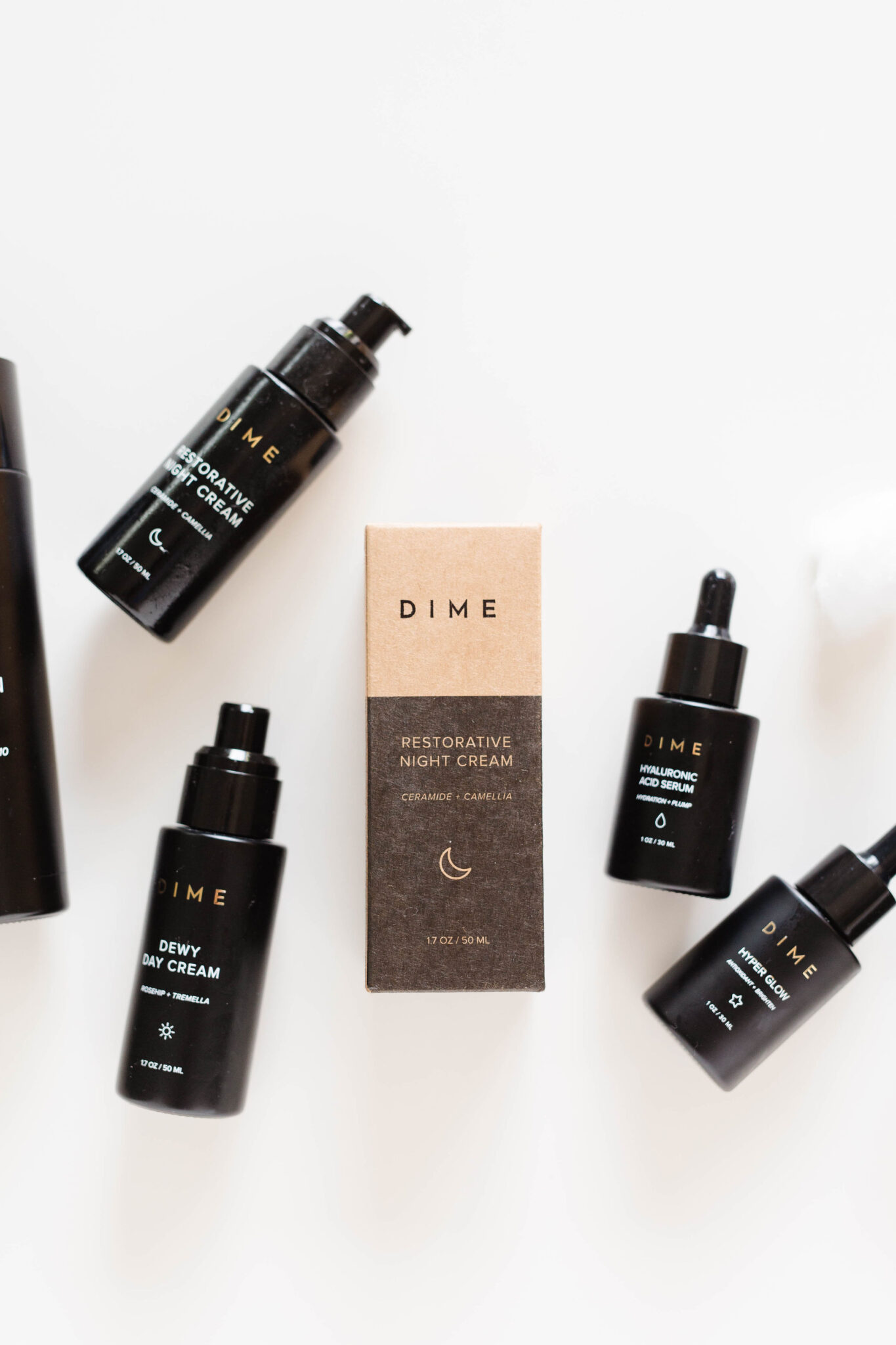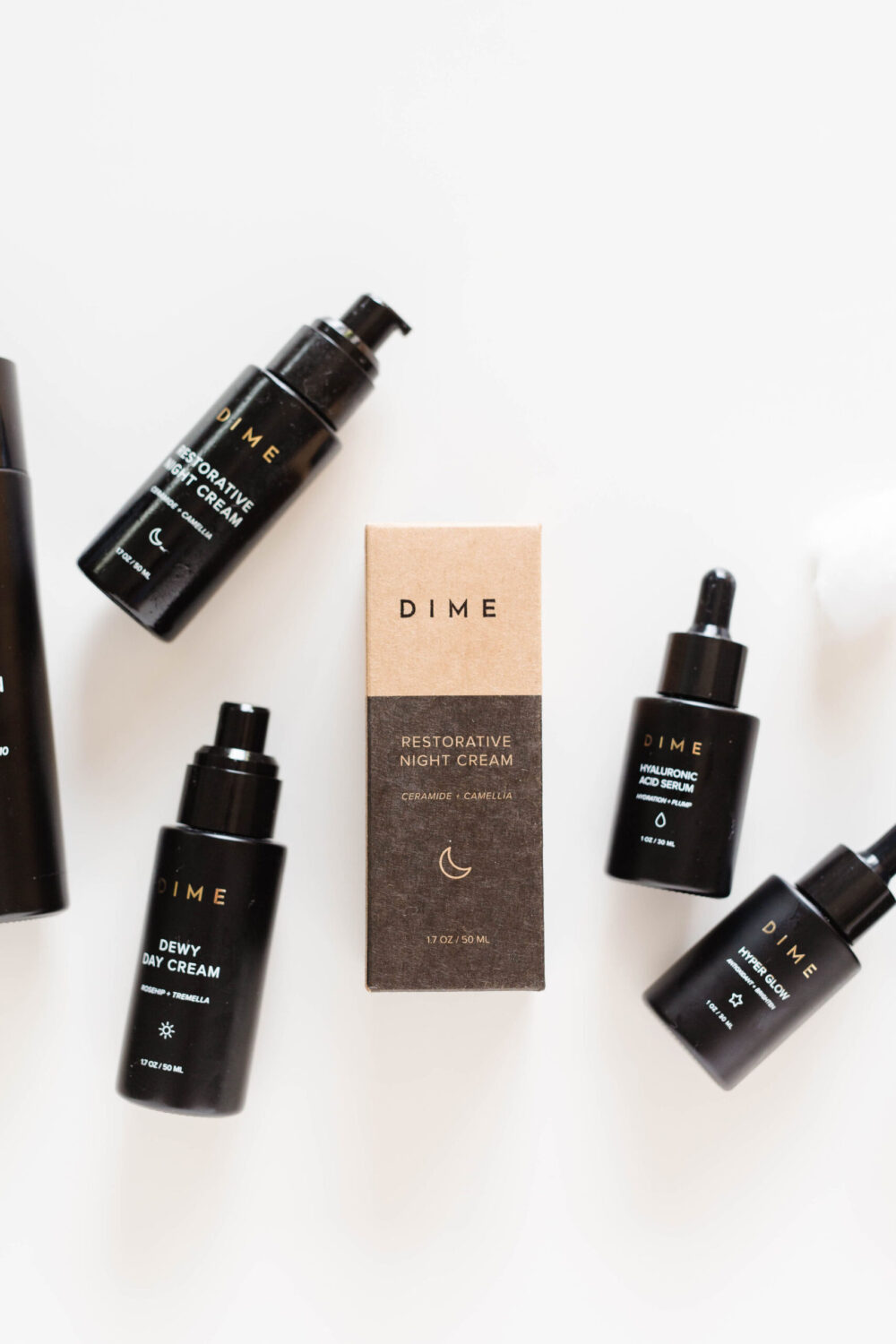 Were you using another skincare product before DIME?
I've been using the Walmart or Target brand of Cetaphil Face Wash for the past almost 20 years. I didn't use any toners or serums and I was using the Cetaphil Face Lotion.
Are the products oil free?
No. You can see a full list of the ingredients of each of the six products here (it's at the very bottom of the page – just scroll all the way down).
Do you find the moisturizers greasy?
Not at all!
How expensive is it?
If you use my affiliate coupon code BRADSHAW20, THE WORKS package is $123.80. You can also buy just the parts you want (say, just the Cleanser and Toner, which would be $37.88).
Is it a subscription? 
Nope! But there are subscription options that provide an additional discount. You can choose the subscription period (30 day, 45 day, etc.)
Does the day moisturizer have an SPF?
It doesn't, which is my one complaint. I use the Hero Cosmetics Sunscreen under my makeup and my BB cream also has SPF in it.
Have you used their Eyelash Boost Serum? 
I haven't! I use the Babe Lash serum and I've been really happy with it, so I haven't tried out the Dime Eyelash boost serum, but I've heard it's incredible too!
How long till you noticed a difference with your face?
I'd say 4-6 weeks was when I really started noticing a difference.
Any other DIME products you'd recommend?
They do really great lip glosses – just be warned that they are super pigmented! So if it looks bright on the website, it will be bright in real life!
Can you use it if pregnant or breastfeeding?
Their website says yes!
How long does it last?
My cleanser and toner both lasted about three months, my moisturizers are still going at the four month mark, and the serums both lasted about 2.5 months.
How does it compare to Rodan & Fields or Tula?
I've never used either of them, so I can't say!
Any other questions about Dime Beauty products? Happy to try to answer!
If you liked this Dime Beauty Review, you might like these posts: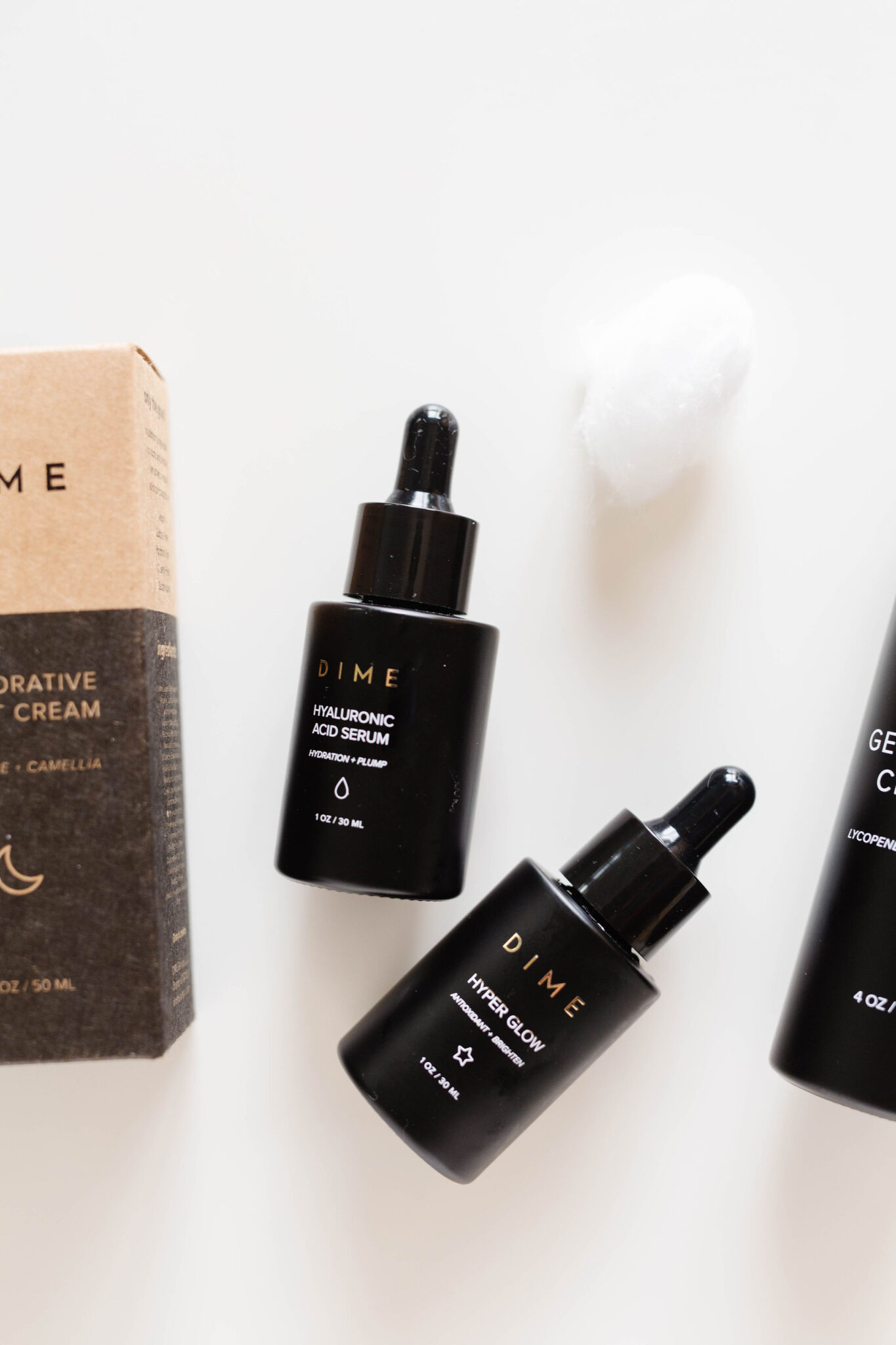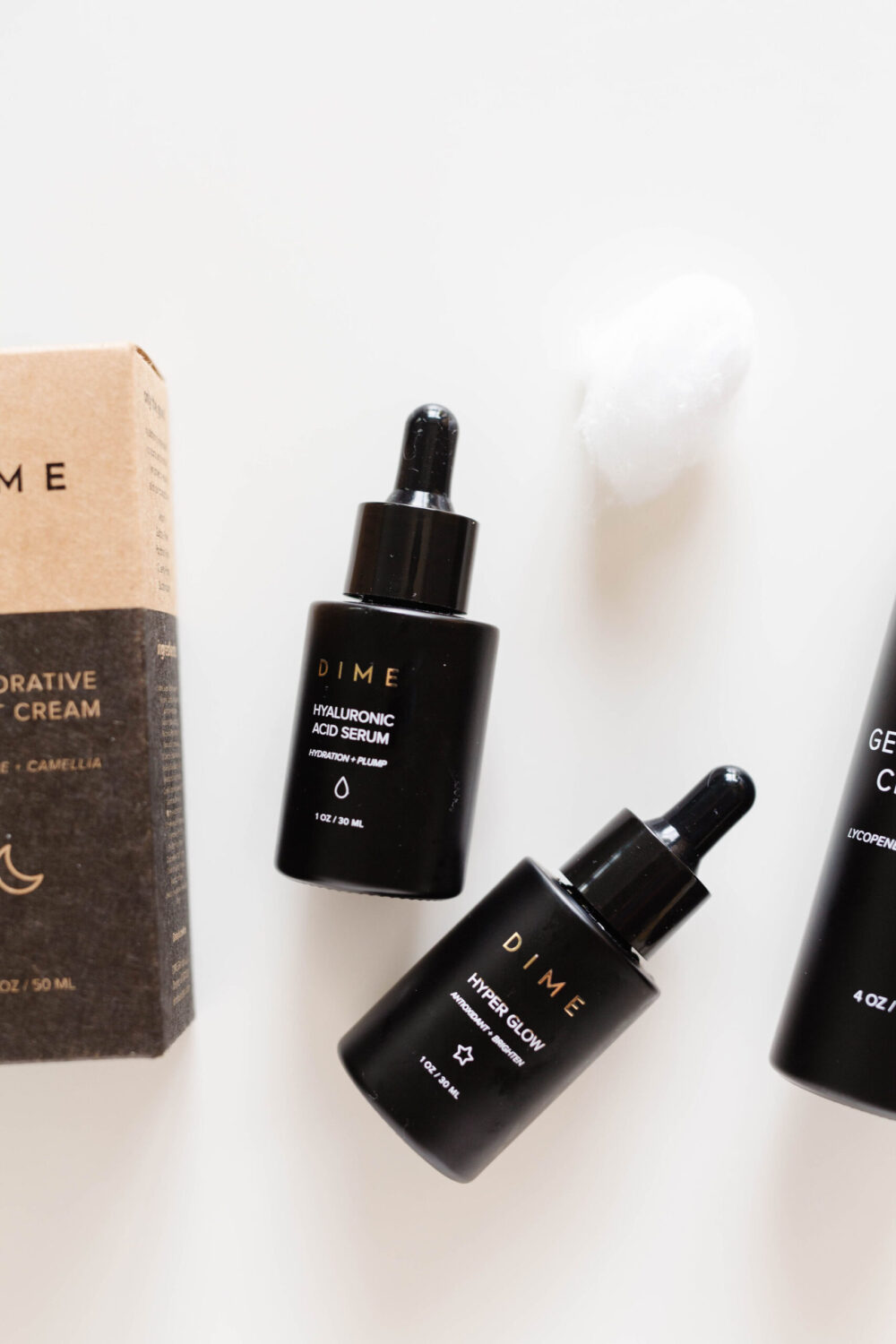 Photos by Heather Mildenstein