Do you have a child or student who loves the Dog Man books by Dav Pilkey?
They're wildly popular with young readers (although there are plenty of parents who could live without the bathroom humor) and have helped many elementary schoolers catch a love for reading for the first time.
If you're looking for more books like Dog Man, I hope you'll find this list helpful!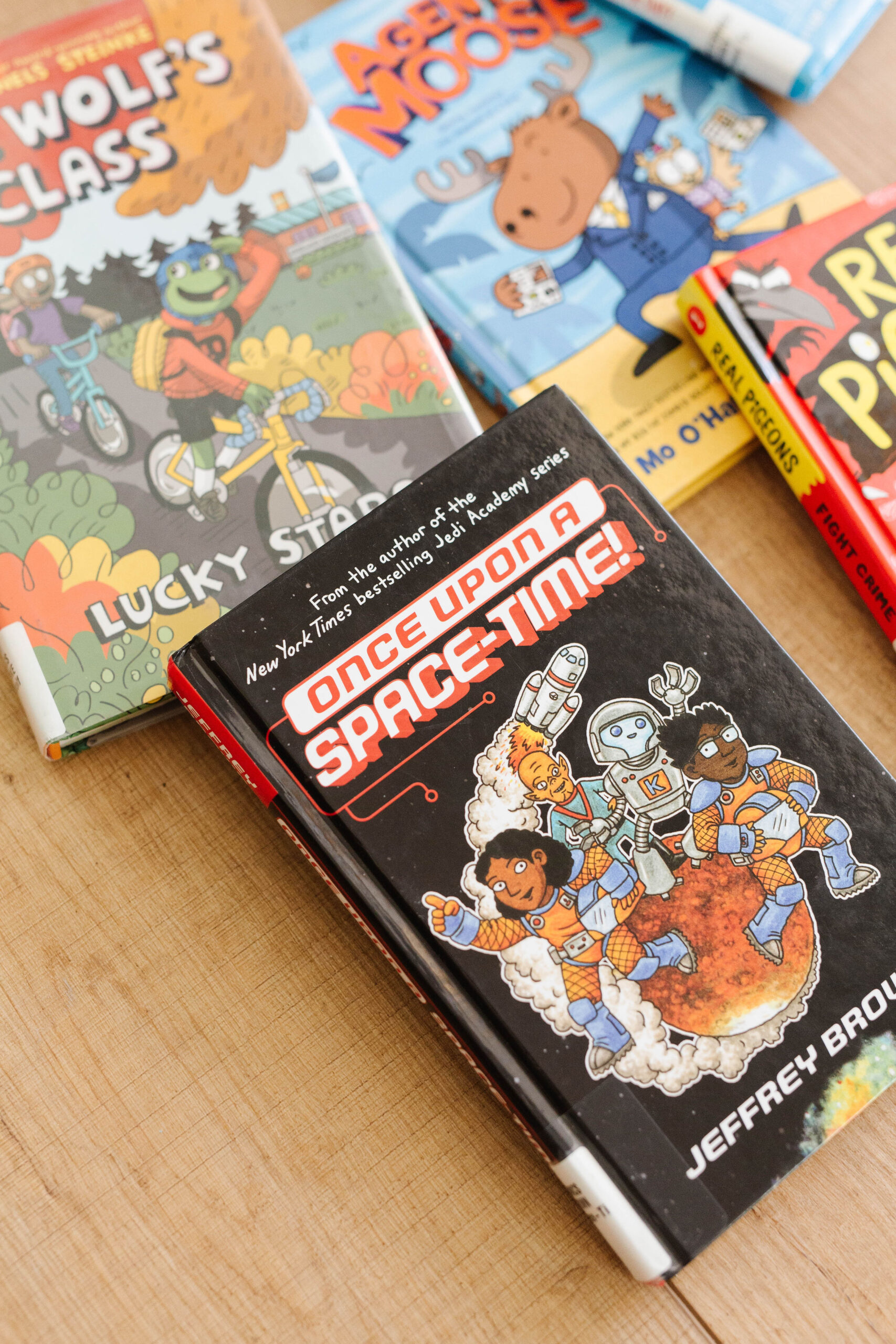 25 Books Like Dog man
Origami Yoda by Tom Angleberger
208 pages // 8 book series
I read the first book in this series back when it first came out and I was working as an elementary school librarian. I knew immediately it would be a hit with my students and I'm pretty sure it never touched the shelf again for the rest of the year! The series starts out with Dwight, a sixth-grade oddball who loves origami. And when he makes an Origami Yoda finger puppet, it suddenly starts to seem that this little paper Yoda can predict the future and give great advice. How could this be!?
Mac B Kid Spy by Mac Barnett, illustrated by Mike Lowry
160 pages // 5 book series
You may know Mac Barnett as an author but before that? He was a spy for the Queen of England in this series that the publisher calls James Bond meets Diary of a Wimpy Kid. It's filled with full-color illustrations plus a nice dose of historical facts. Smart and funny, this is a winner series.
CatWad by Jim Benton
128 pages // 6 book series
This series has many of the same elements that readers love about Dog Man – full color graphic novel, animals, and lots of hijinks.
Bad Guys by Aaron Blabey
144 pages // 16 books series
Ella LOVES this series about a crew of traditionally "bad" animals (shark, wolf, snake, etc) that decide they now want to be good instead. Funny and LOTS of black and white illustrations.
Catstronauts by Drew Brockington
160 pages // 7 book series
In this graphic novel series, the world is populated entirely by felines. Now that world is suffering a global energy crisis and the best solution is a power plant on the moon. Which means the CatStronauts are called upon to man, er, cat, the mission to space!
Jedi Academy by Jeffrey Brown
160 pages // 6 book series
The Star Wars nerd in me wishes this popular series had been around when I was 9 or 10! This fun novel is made up of comics, journal entries, doodles, letters and more, so if your child loves that format, this series is sure to be a hit. And life at the Jedi Academy? Well, there is never a dull moment. Also, check out his Once Upon a Space-Time series!
The Dodgeball Chronicles by Frank Cammuso
144 pages // 3 book series
This graphic novel series has all the school stories that many kids love with a hefty dose of inspiration taken from the classic tales of Camelot.
Cat Ninja by Matthew Cody, illustrated by Yehudi Mercado
160 pages // 3 book series
If you love Dog Man, you'll love Cat Ninja – another pet turned superhero – just as much! Claude was raised by a kindly old ninja master but then became a house cat. Until trouble in Metro City requires him to don a mask and save his city!
The Flying Beaver Brothers by Maxwell Eaton III
96 pages // 6 books in the series
This is one of the shortest books on the list (for reference, Dog Man clocks in at about 240 pages) but it's just so fun! It's a delightful story of Ace and Bub, the flying beaver brothers. One of them loves extreme sports while the other mostly loves napping.
Two Dogs in a Trenchcoat by Julie Falatko, illustrated by Colin Jack
192 pages // 4 book series
Sassy and Waldo are determined to be good dogs. And when it's clear that their boy, Stewart, is having a rough time at school, they want to help. Except dogs aren't allowed at school. Well, that's not going to stop these two resourceful canines!
Max Meows by John Gallagher
240 pages // 3 books in the series
Full color graphic novel, laugh out loud funny and an animal crusader? This is just right for Dog Man fans. Max is a normal kitty until he eats a radioactive space meatball in a secret science lab and now. . . he's got all the super powers you could want.
InvestiGators by John Patrick Green
208 pages // 5 book series
 This might be one of the most popular graphic novel series I've ever suggested (Ella included it in an episode of Ella Enjoyed a couple of years ago) and for good reason. It's just so fun and engaging with two clever gators working to solve some mysteries with their very cool spy gear.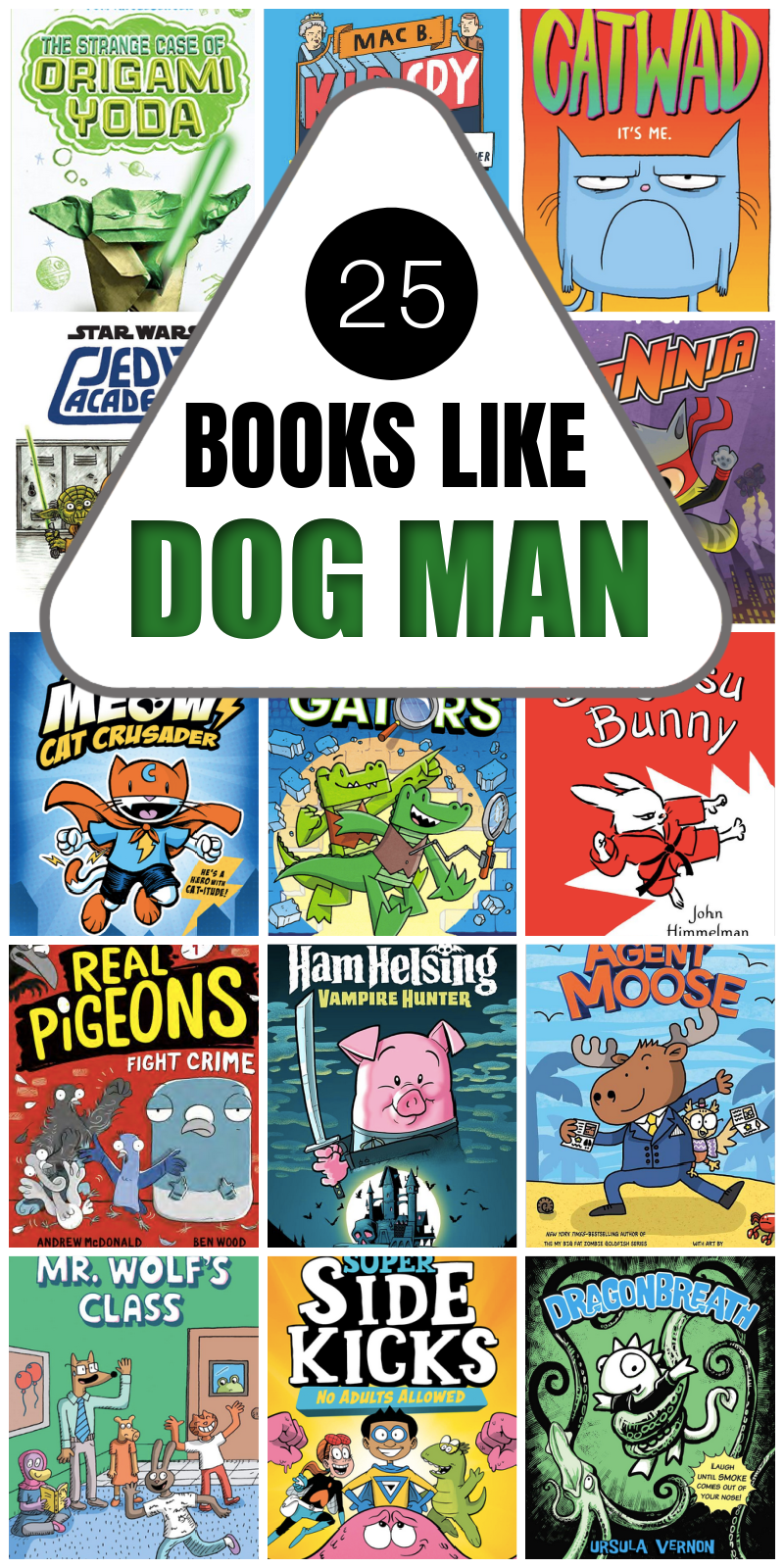 Tales of Bunjitsu Bunny by John Himmelman
144 pages // 4 books in the series
Some may call her Isabel but she prefers to go by Bunjitsu Bunny! She is the BEST bunjitsu artist in her class but she never uses her skills to hurt anyone else. Unless she absolutely has to.
Super Turbo by Lee Kirby, illustrated by George O'Connor
128 pages // 9 book series
Ani read this book aloud to me last year and it was so fun. Turbo is a crime-fighting hamster and he's out to save the classroom where he is a pet, along with a bunch of other superpets from the other classrooms!
Lunch Lady by Jared J. Krosoczka
96 pages // 10 book series
This was the first graphic novel series I ever read (I still remember reading it on the train in Boston) and I immediately knew why so many people love them. This hilarious series follows a mild-mannered lunch lady who moonlights as a crime fighter, using special tools from her cafeteria arsenal.
Real Pigeons by Andrew McDonald, illustrated by Ben Wood
208 pages // 4 book series
Pigeons might like harmless (and maybe like they don't do much of anything), but REAL pigeons are crime fighting geniuses, protecting your town even when you don't know it!
Ham Helsing by Rich Moyer
240 pages // 2 book series
Ham Helsing descends from a long line of monster hunters, but he'd rather paint or write poetry. Catching monsters sounds pretty dangerous. But when his daredevil brother dies, it's up to Ham to take up the family legacy.
Agent Moose by Mo O'Hara, illustrated by Jess Bradley
128 pages // 2 book series
Is Agent Moose the best or the worst secret agent around? Read the book and make your own decision in this hilarious full color graphic novel series with lots of mysteries to be solved.
Red Panda and Moon Bear by Jared Rosello
192 pages // 2 book series
Full of magic and science, this delightful graphic novel series features Red Panda and Moon Bear, siblings who protect their neighborhood, solve mysteries, and help lost pets, all before their parents get home from work.
Mayor Good Boy by Dave Scheidt, illustrated by Miranda Harmon
224 pages // 1 book series
My only complaint about this series? That it only has one book! Let's cross our fingers for more stories about Mayor Good Boy who successful campaigned for office in his town and now has to make good on his promises to the voters! This one is full of silliness.
Mr. Wolf's Class by Aron Nels Steinke
160 pages // 5 book series
Ani (who is in third grade) DEVOURED this full-color graphic novel series last year about Mr. Wolf who has just started a new job as an elementary school but finds that managing his class is going to take some effort. The class is full of big personalities and perfectly captures the normal ups and downs of an elementary classroom.
Super Sidekicks by Gavin Aung Than
144 pages // 2 book series
Both Ani (3rd grade) and Star (1st grade) have been very into this series lately, including reading it aloud to Tally (who is 4). After cleaning up after their superheroes, the sidekicks have decided they've had enough. They're going to make their own superhero team!
Dragonbreath by Ursula Vernon
146 pages // 11 book series
This series is a perfect combo of text and comic-book panels that make them great for graphic novel lovers. In this series, Danny Dragonbreath is a dragon who . . .can't breath fire. But that's fine. He has other skills!
Stick Dog by Tom Watson
192 pages // 12 books series
The format of these books reminds me strongly of Diary of a Wimpy Kid, with black and white doodles on each page that make it fun for even more reluctant readers. In this series, Stick Dog is the hero that will make you laugh out loud.
Hilo by Judd Winick
209 pages // 9 books in the series
D.J. and Gina are normal kids, but things get weird when Hilo falls out of the sky with no clue where he came from or why he's here. It's going to be up to the three of them to solve the mystery of Hilo's past (and future!) in this delightful graphic novel series.
And if you'd like a printable copy of this list that you can take to your library or screenshot on your phone for easy access, just pop in your email address below and it'll come right to your inbox!
Any other favorite books like Dog Man? I'd love to hear!
If you liked this post about books like Dog man, you might like these posts too: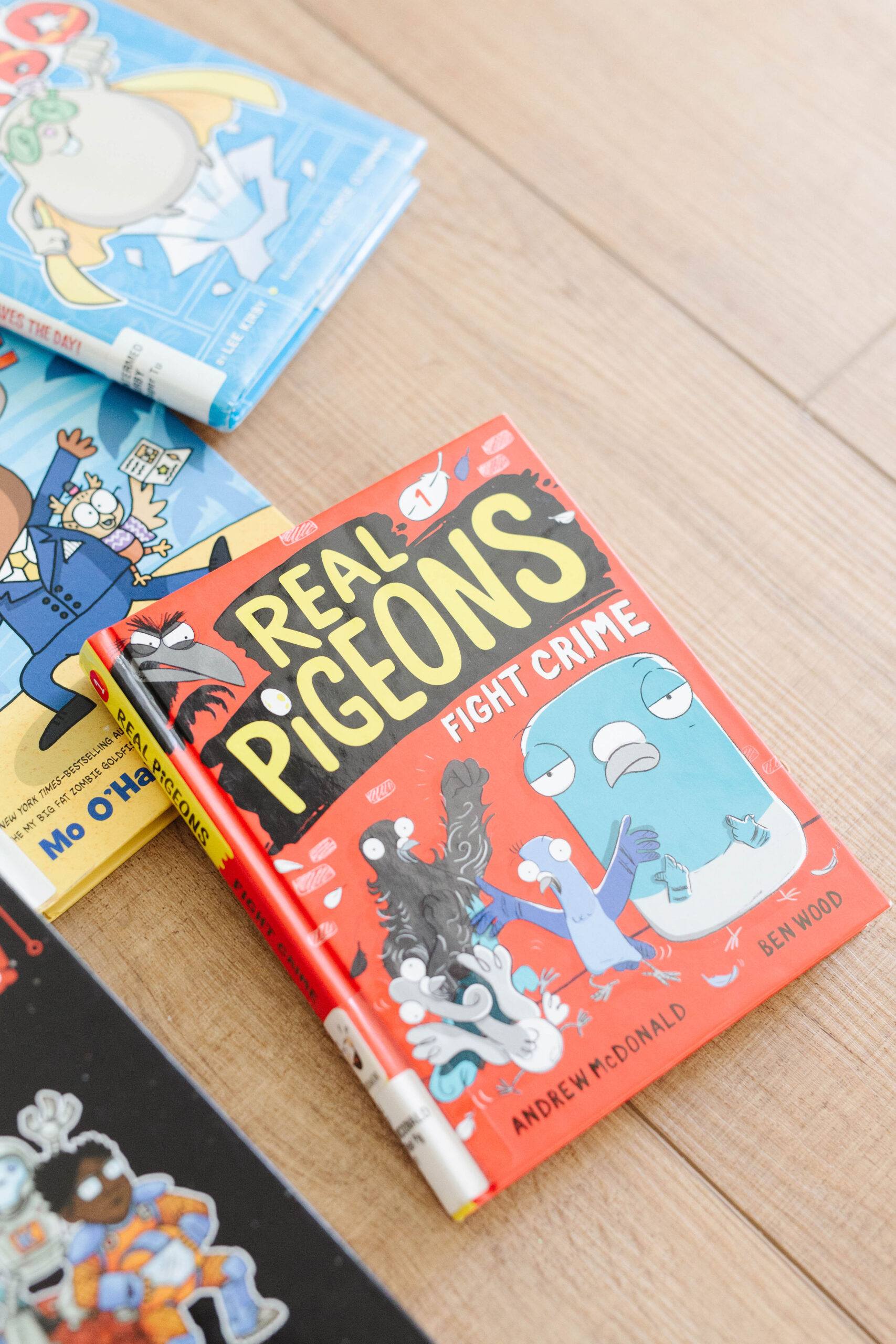 Photos by Heather Mildenstein