Have you played cooperative board games before?
If you have someone really competitive in your group (ahem, it's me. . . it's always been me), sometimes a cooperative board game is JUST the ticket where you can all play together but you're working as a team to beat the game instead of to beat each other.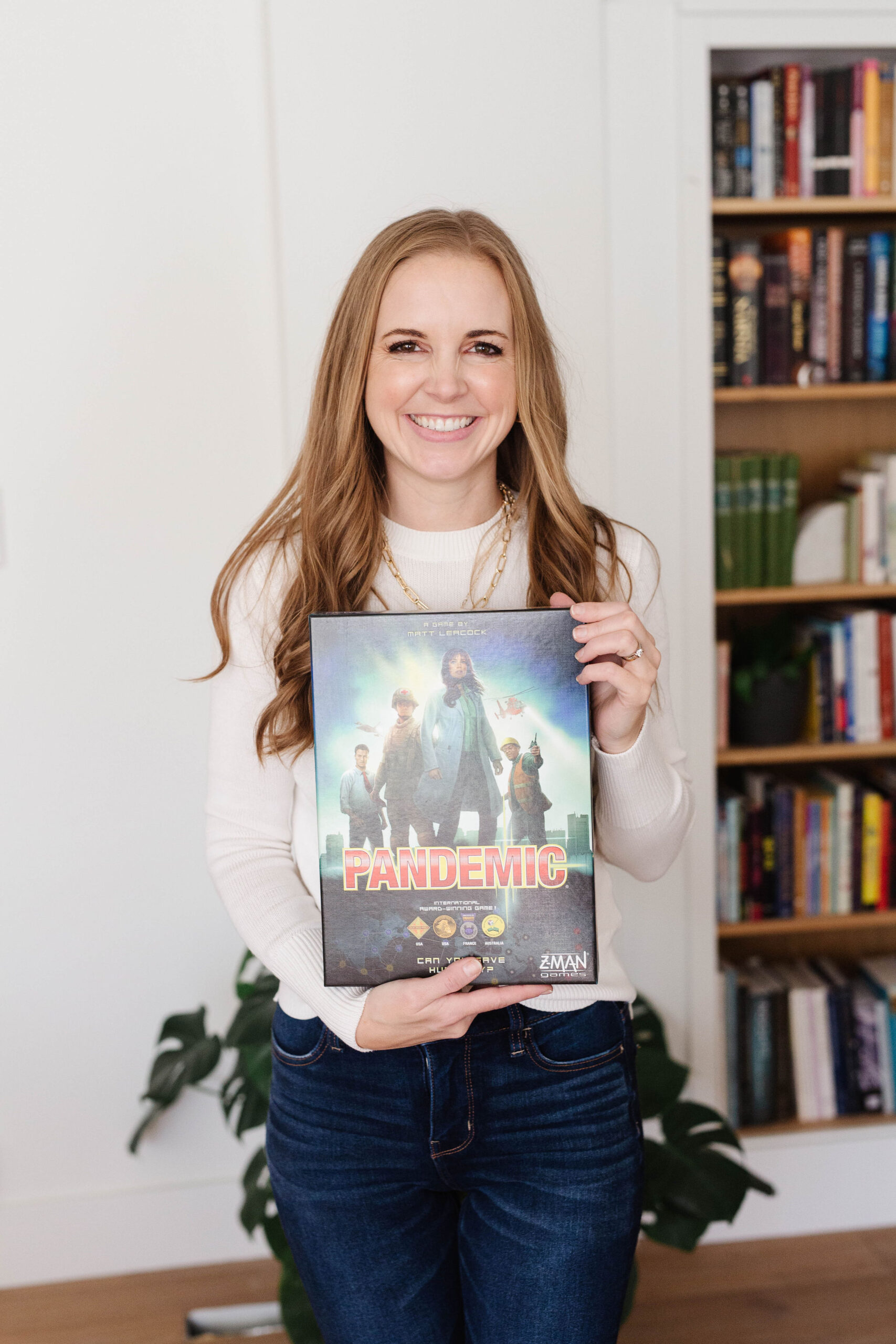 Plus, there are so many fun options these days!
Whether you're playing with small children or an all-adult group, these are some of the best cooperative board games out there!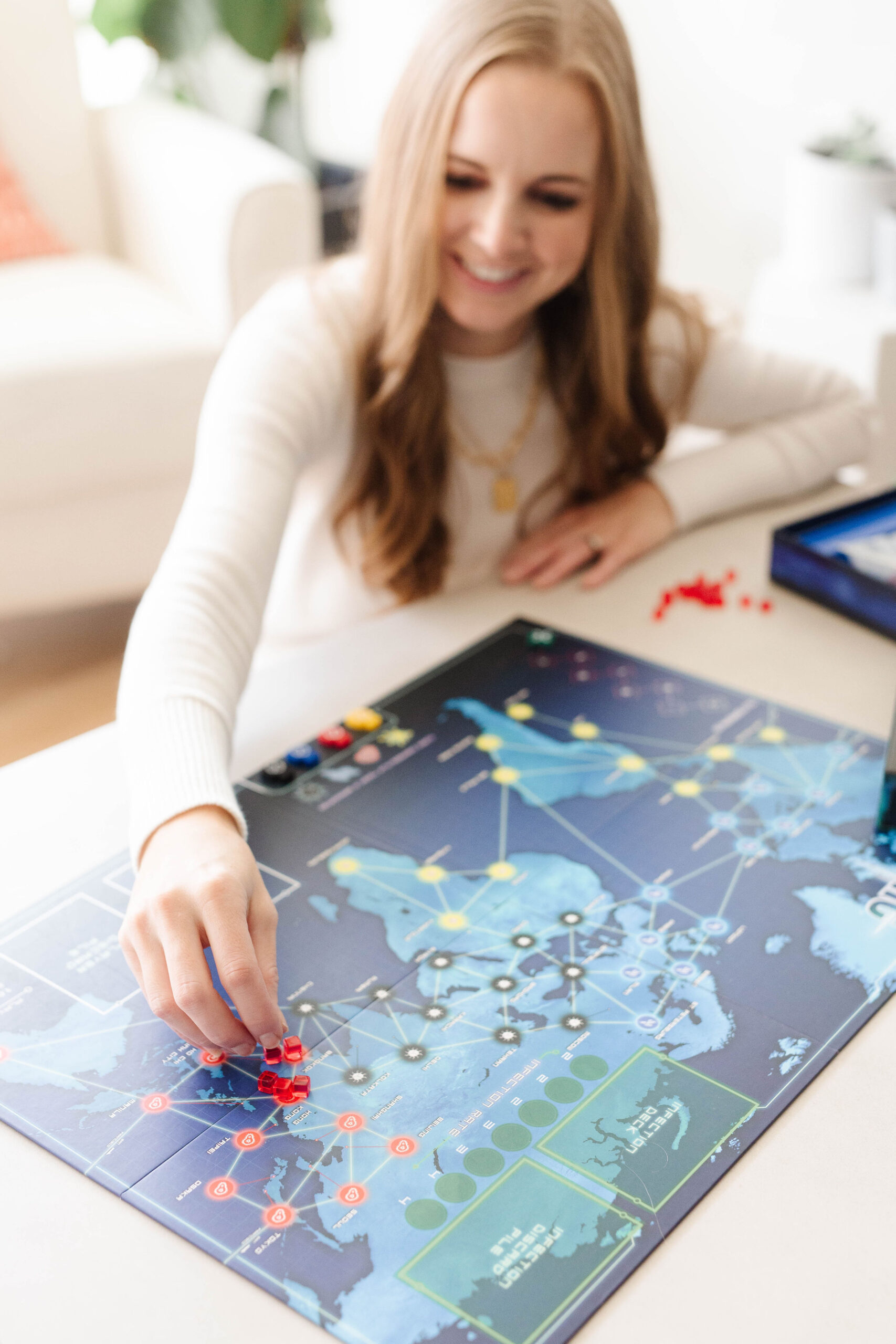 17 Terrific Cooperative Board Games
HOOT OWL HOOT 
This was one of the first cooperative games for kids we ever got and it's been a favorite for years. Your goal is to get all the owls home to their nest before the sun rises and you can adjust the game to make it easier or harder. Right now, Tally and I probably play this at least 10 times a week. I think I enjoy it as much as she does (it's simple, but just fun and engaging). It's perfect for about 3 years and up.
BUSY TOWN
This cooperative game is really fun because the board is so big (six feet long!) and it's got an I Spy element that my girls LOVE. We've had and loved this one for years – all four of my girls have been very into it around the ages of 3-5.
OUTFOXED
We're giving this one to Star for Christmas and I cannot wait (the reviews are so good with over 3500 five star ratings!). in this one, a pot pie has gone missing and now you all zip around the board trying to rule out suspects before the guilty fox escapes.
RACE TO THE TREASURE
This is a fun collaborative game for younger players where you build a path as a team, collecting keys along the way and work to beat the ogre to the treasure at the game's end. It's also a great early strategy game, which makes it more fun for adults too.
CAULDRON QUEST
I just think all of Peaceable Kingdom games are so good. In this one, you work together to beat the wizard and save the kingdom from a dark spell by making a magical potion.
SHADOWS OVER CAMELOT
This is a Days of Wonder game (the same company that makes one of my all-time favorite games, Ticket to Ride) and it's . . .surprise, surprise, a Camelot themed game. This one is for up to seven players, so it's a great game for a little bit bigger of a group.
CASTLE PANIC
I'd never even heard of this game until I started looking into cooperative games, but this one is wildly popular. It's for up to six players and you work together to defend the castle from attacking monsters (this one is a little bit of a variation on the cooperative theme because everyone wins or loses together, but the player with the most victory points is crowned the Master Slayer. If you want an absolutely 100% cooperative game, this may not be the one for you). There are also several expansion packs, plus a younger version that doesn't require any reading.
FORBIDDEN ISLAND
I mentioned that we were getting this one for Ella for Christmas and I've never gotten so many gushy reviews about a game. So many people said this was their #1 favorite family game and I'm so excited to be adding it to our collection. This one is for up to four players and you race to locate the Earth Stone, the Statue of the Wind, the Crystal of Fire, and the Ocean's Chalice before the island floods (and kills you all).
SPACE ESCAPE
I love Peaceable Kingdom games and this one is great for a little bit older kids (many of their games are focused more on young players). In it, a group of snakes infiltrate the space station and the players have to work together to help the mole rats escape before they're bitten by the snakes.
HANABI
This is another one I'd never heard of until now, but I was hooked the moment I read the description where every player has a hand of cards but can't see them (what they CAN see is everyone ELSE's cards!) This one requires concentration and a sharp memory to make sure you get the cards in the right sequence to create a beautiful fireworks display.
THE CREW
I mentioned this one a few weeks ago when it was on super sale (it's still discounted!) and people went bananas for it. It's a perfect cooperative card game to pop in a stocking and play when you don't have tons of time because the rounds are short. And if you love strategy? This game is for you.
CAHOOTS
This clever game has cards of different colors and you work to make sets of colors or numbers without telling your team members what card are in your hand. The game says 10+ but LOTS of families said their 4 and 5 year olds play this well too! We are giving this one to Ani for Christmas and I anticipate playing a whole bunch of it over Christmas break.
PANDEMIC
I'll admit that living through an actual global pandemic made this game SLIGHTLY less appealing, but it really is a fun game and was Ella's number one pick for many months. If you love a game that's a bit more complicated (like a Ticket to Ride style game), this one is for you as you work to quell outbreaks before they spread and become out of control.
THE MIND
This is a really clever card game where you need to meld minds with your teammates (or, at least communicate non-verbally) to guess the cards being played. This one is definitely better for older kids – the concept is easy, but playing well is harder than you might guess!
5 MINUTE MARVEL
When you want a quick game, this five minute cooperative card game is just the ticket. Work together as a superheroes to combine your powers and win together.
FLASH POINT
In this fire-fighting game, everyone works together to control the blaze. I love that this game is only 30 minutes, plus it can be played with up to 6 players AND with two rule sets and three levels of difficult, the game is easily adjusted for whatever your group looks like.
THE GAME
Are you good at reading people and figuring out how other people think? This smash hit game is for you! (One other fun thing? You can play this game solo!).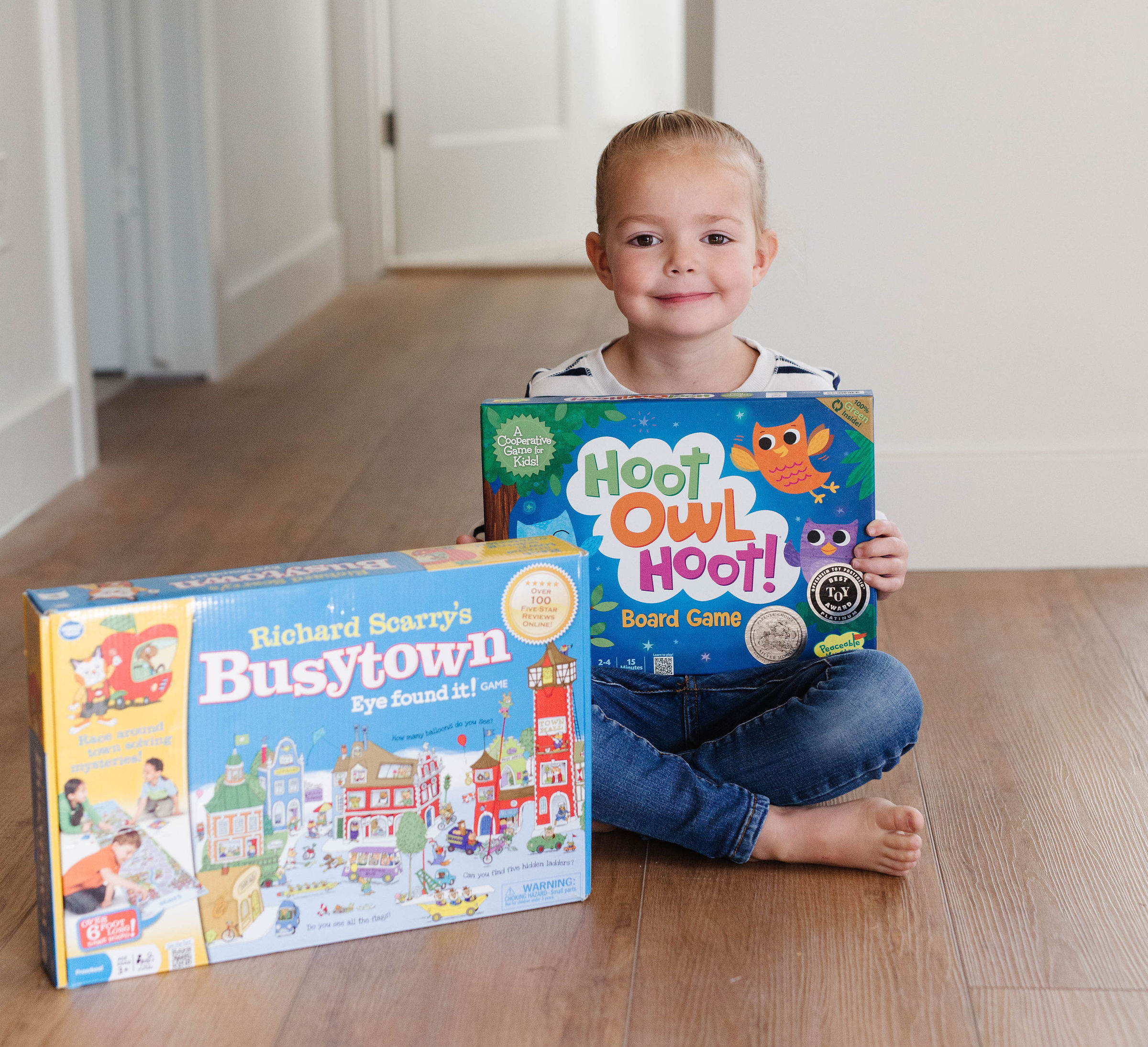 Any other favorite cooperative games I've missed? I'd love to hear – leave them in the comments!
If you liked this post about
cooperative board games, you might like these posts too:
Photos by Heather Mildenstein