Sometimes, it feels REALLY good to get a long long audiobook – if you're using an Audible or Libro.fm credit, it can feel like a better deal to get 25 hours for that credit instead of a quarter that many hours.
But. . . sometimes, a short audiobook is just the ticket and it feels great to blow through a book in just a few hours!
All the books on this list are under 5 hours (or, you know, close to it – sometimes I can't keep my own rules) and perfect for a short road trip or listening to in a single day or weekend.
And if you're trying to find a few books to hit your end of year goals, these short audiobooks are just the ticket!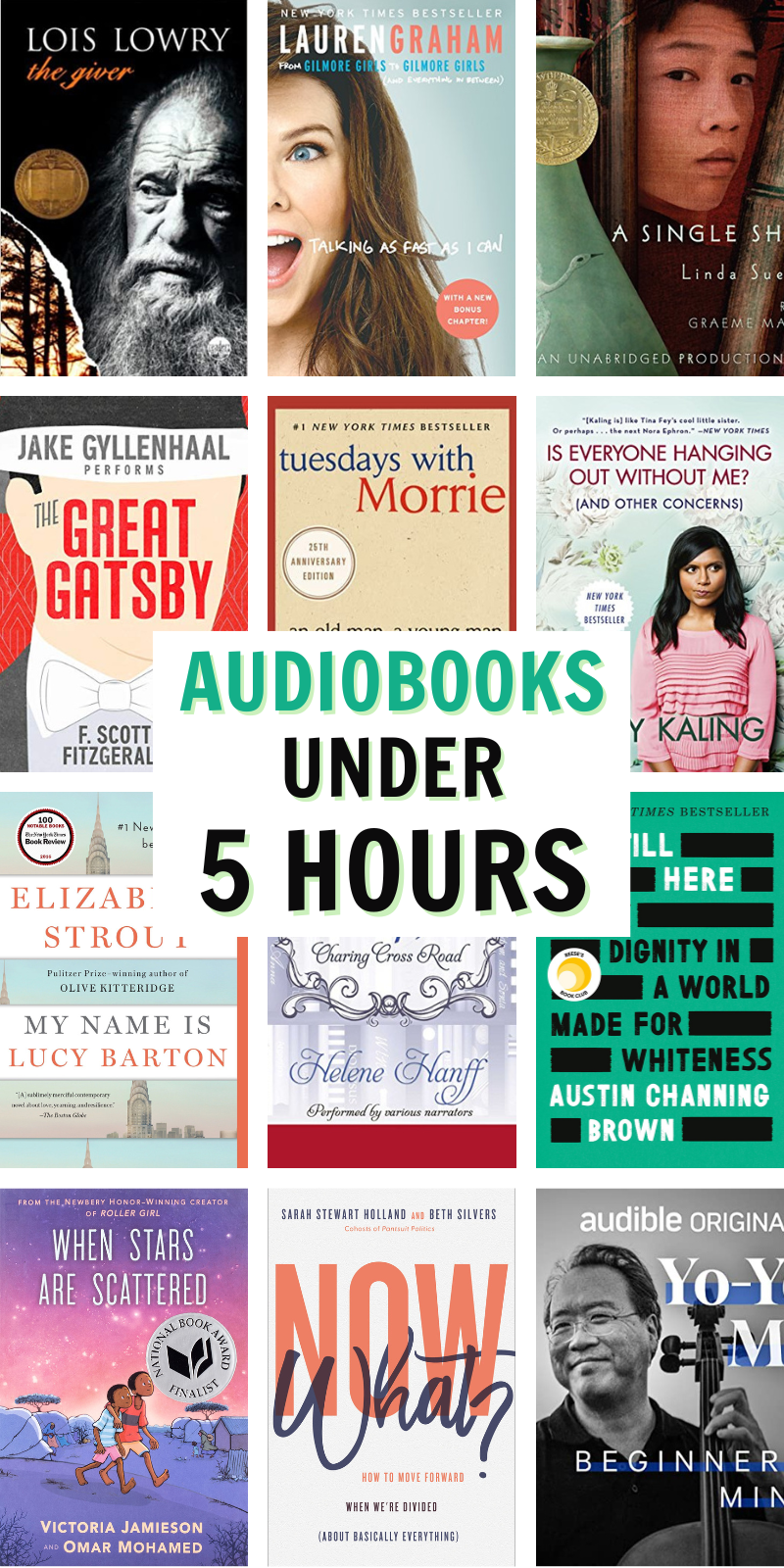 Best short audiobooks under 5 hours
Dad is Fat by Jim Gaffigan
5 hours 26 minutes
This book just made me laugh so much and you ABSOLUTELY must listen to this one since Jim Gaffigan narrates it and it's basically stand-up comedy in book form. It may actually be unsafe to listen to this while driving unless you can control your hysterical outbursts. 

The Year of Less: How I Stopped Shopping, Gave Away My Belongings, and Discovered Life Is Worth More Than Anything You Can Buy in a Store by Cait Flanders
5 hours 23 minutes
How much stuff do we really need? In this book, the author shares her experience of breaking the consumerism cycle. For an entire year, Cait challenged herself to not buy any non-consumable goods. She went beyond her shopping fast and decluttered her apartment, made an effort to fix things rather than throw them away and completed a television ban. Through this exercise she found that living with less actually helped her feel fulfilled and happy.
When Breath Becomes Air by Paul Kalanithi
5 hours 35 minutes
This was one of the runaway bestsellers of 2016 for good reason. It is THAT good. Paul Kalanithi was a neurosurgeon, just finishing up his training, when he was diagnosed with lung cancer. This book, written in his last year or so and published after his death is funny, smart, and heartbreaking. Pair it with a box of Kleenex. (Full review here)
Call Me Maybe by Cara Bastone
5 hours 55 minutes
Told in alternating points of view, Vera has spent the last three hours on hold with customer service trying to get her website ready to launch her new business. Kal is the guy who finally picks up and thinks he can help her. As they spend hours together on the phone. . . it's possible that her website won't be the only thing that launches. This one is an Audible Original, meaning it's only available from Audible – if you're an Audible Member, it's included free with your membership (and you can sign up for a free month trial here!) AND there is a sequel, Sweet Talk,  which is also free with an Audible membership. I had this one on the 2021 Summer Reading Guide.
The Giver by Lois Lowry
4 hours 49 minutes
This Newbery Winner is a classic (which makes me feel old because I remember when it came out), and it's included on many school reading lists. I didn't read this one until I was in college and then loved it so much I read it aloud to Bart a few years later.  If you haven't read the dystopian middle grade novel, it's definitely worth a listen.
My Name is Lucy Barton by Elizabeth Strout
4 hours 11 minutes
I listened to this one years ago! It's the tender story about the power of family relationships. Lucy Barton is recovering from an operation in her hospital room when her mother, whom she hasn't seen in years, comes to see her. It's definitely more character driven than plot driven, so if you're looking for something fast paced, this one might not be for you.
A Single Shard by Linda Sue Park
3 hours 12 minutes
When I was working more seriously on reading all the Newbery winners, I picked this one up, knowing exactly nothing about it. A story about potters in 12th century Korea might not sound thrilling but this book is PHENOMENAL. I listened to it again with my girls this and we all were entranced. I may have gotten teary in the driver's seat multiple times. Her book, A Long Walk to Water, is less than three hours long too!  (Full review here).

Ghost by Jason Reynolds
3 hours 29 minutes
Ghost is a very fast runner – starting with a run from his dangerous father when he was a little boy. Now, he mostly runs away from his problems until an Olympic-runner-turned-coach sees Ghost's incredible raw talent and wants to help him harness it for the Junior Olympics. But Ghost will have to stop running from his past in order for that to happen and that might be the hardest thing he's ever done. This is the first book in a four-book series, each of which focuses on a different member of the track team. Jason Reynolds is a big name in the world of children's literature for good reason – this book is FIRE.
Delancey: A Man, a Woman, a Restaurant, a Marriage by Molly Wizenberg
6 hours 20 minutes
Molly's food blog was one of the early ones I read and I love her cooking and her writing so much. This book, about opening a restaurant and not killing your spouse, was just so fantastic. This one pushes the limit timewise, but what's the point of having a book blog if you can't break your own rules? (Full review here). 
When Stars Are Scattered by Victoria Jamieson
3 hours 42 minutes
You might think a graphic novel is really best enjoyed when you can see the . . . you know, graphics. But the audio version of this stunning book is out to prove you wrong with a full-cast narration that brings this true story of a young boy living in a refugee camp in Kenya, caring for his non-verbal younger brother and trying to attend school to life in the most stunning way. In fact, people who have listened to this audiobook tell me they feel sorry for people who read it on paper instead of getting to experience the audio version. This short audiobook is a terrific one for both children (probably about 8+) and adults!
The Great Gatsby by F. Scott Fitzgerald
4 hours 49 minutes
The Great Gatsby is a classic and if you didn't read it as part of reading assignment in school, it's definitely worth reading now, especially with Jake Gyllenhaal reading it to you! It would especially be great to read before watching the movie that came out a few years ago.
The Importance of Being Earnest by Oscar Wilde
1 hour 58 minutes
This book is another classic. It's filled with delightful dialogue and witty characters. It's a short listen clocking in at just over two hours on normal speed. This one is also a full-cast recording and it's just really good fun.
Rich Dad Poor Dad by Robert T. Kiyosaki
6 hours 9 minutes
I remember Bart telling me about this book shortly after we started dating (clearly, money has been a topic of interest for us both since the beginning). I read it back then, but now I feel like I need to give it a listen it because I hardly remember it at all!
Atomic Habits by James Clear
5 hours 35 minutes
Bart and I both listened to this short audiobook when it first came out and couldn't stop talking about it for months. It can feel so overwhelming and impossible to change your habits, but this really helps you understand how to make it happen and why the littlest habits make the biggest difference. (Full review here)

Talking as Fast as I Can: From Gilmore Girls to Gilmore Girls (and Everything in Between) by Lauren Graham
4 hours 35 minutes
I loved Gilmore Girls back in the day and this was just so delightful to listen to (the audiobook is for sure the way to go since she reads it herself).
The Checklist Manifesto by Atul Gawande
6 hours 9 minutes
One of the best books I've read in the past decade was Atul Gawande's Being Mortal. I still think about that book at least weekly. This is another of his books with phenomenal reviews and I've been meaning to read it for literally years.
Gift from the Sea by Anne Morrow Lindbergh
2 hours 26 minutes
Originally published in 1955, this book has stayed relevant and continues to speak to readers decades later. Anne Morrow Lindbergh shares her thoughts on a myriad of topics including youth, love, marriage, peace, solitude and contentment. She encourages readers to think creatively and contemplate their own lives.
Funny in Farsi: A Memoir of Growing Up Iranian in America by Firoozeh Dumas
5 hours 40 minutes
This is one of those books that was recommended to me about one million times before I finally picked it up and then I couldn't stop wondering what the heck took me so long.  I downloaded it to my Kindle on a whim and then read the whole thing in two days, laughing my face off all the way. Her experiences and stories are the perfect mix of the universal experiences of childhood and growing up and those that are more specific to an immigrant family. I feel like there's no way to do this book justice except to say, "go read it and love every page." And then read the sequel immediately afterward. (Full review here of this short audiobook)
Before the Ever After by Jacqueline Woodson
2 hours 14 minutes
I often struggle with novels in verse, so listening to them makes them much easier for me to appreciate. This one is TERRIFIC – it follows a young boy who's father is a professional football player and hugely beloved. And now he's starting to act strangely with angry outbursts followed by long periods of silence. I won't lie – I sobbed through the end of this one.
The Poet X by Elizabeth Acevedo
3 hours 30 minutes
Ximoara Batista wants to say a lot of things, but not only does she feel unheard, she feels like she can't say the things she wants. She pours all her feelings and frustrations out onto the pages of a leather notebook, but can't let her Mami find out and keeps her thoughts to herself. When she is invited to join her school's slam poetry club, she tries to find a way to attend without her Mami finding out. This is a book in verse, so it really lends itself to an audio edition. She also has another book in verse, Clap When You Land, if you want more Elizabeth Acevedo when you finish The Poet X. 
Tuesdays With Morrie by Mitch Albom
3 hours 42 minutes
Mitch Albom had the opportunity to reconnect, after many years, with his college professor, and mentor, Morrie Schwartz in the last few months of Morrie's life. They visited in his study every Tuesday during those months, even they both knew Morrie's death was imminent. Morrie imparted all his wisdom and life lessons to Mitch who collected them into this very impactful book.
Dear Martin by Nic Stone
4 hours 32 minutes
I LOVED Nic Stone's book Jackpot (it's on the 2020 Summer Reading Guide!) but this is her best known title and I've been meaning to read it forever. 

And Then There Were None by Agatha Christie
6 hours 1 minute
No one does a suspenseful mystery like Agatha Christie and this one, where ten strangers arrive at a deserted mansion and then begin to die off one at a time, is probably her most famous. It's six hours, but totally worth that extra hour!
Is Everyone Hanging Out Without Me? (And Other Concerns) by Mindy Kaling
4 hours 37 minutes
Mindy Kaling, famed comedy writer and actress, shares her thoughts on a whole bunch of topics you never knew you wanted to know about. From what makes a terrific best friend, to the characteristics of a great guy, and what is the perfect amount of fame, it's all laugh out loud funny.
84, Charing Cross Road by Helene Hanff
1 hour 55 minutes
Helene Hanff unintentionally begins a 20-year love affair with Frank Doel when she sends off an innocent inquiry about purchasing hard-to-find books through Marks and Co., Booksellers. She is a cranky Jewish New Yorker living in a messy apartment and he is a courteous middle-class Englishman in London. They are very unlikely correspondents, but their letters written from 1949 – 1969 capture their unlikely love story.
Big Magic: Creative Living Beyond Fear by Elizabeth Gilbert
5 hours 6 minutes
Big Magic really was such a tremendously good book that I found incredibly inspiring – it made me feel optimistic, light-hearted, and ready to put in the time to accomplish things that are meaningful to me. (Full review here)
Beginner's Mind: Words + Music by Yo-Yo Ma
1 hour 32 minutes
Yo-Yo Ma is basically a household name when it comes to classical musicians. He shares his journey through decades of musical exploration and self-discovery in this unique audiobook that blends both audiobook and exclusive musical performances. Ma encourages listeners to be open to new questions, connections, explorations and unexpected answers. This is a part of Audible's Words + Music series that helps musicians share their experiences in an innovative and new way that encompasses both storytelling and music.
The Crossover by Kwame Alexander
2 hours 16 minutes
I'm sort of trying to read all the Newbery winners (not fast or on any sort of timeline), so I read this one a couple of years ago, despite the fact that it's both about basketball and a novel-in-verse, two things I'm not particularly into. And then, predictably, I LOVED it. So well done and a great pick by the Newbery Committee (who likely cares very deeply about my opinion!). 

Now What? How to Move Forward When We're Divided About Basically Everything by Sarah Stewart Holland and Beth Silvers
5 hours 1 minute
I'm reading this one right now and I'm loving this book that helps readers understand the connection they have with other people on a personal, community-based, national and even international level. The authors show how to engage your family in conversation, listen to your friends, explore shared values in your community and understand your role as a citizen in a diverse country. This is such an uplifting book that aims to help people become a positive influence in their individual spheres.
The One and Only Ivan by Katherine Applegate
3 hours 46 minutes
I pretty much don't care for animals (I know) and I STILL think this is one of the best kids books ever, Newbery winner or not. When a book is this sweet, funny, and well-written, who cares if it's narrated by a gorilla? Not me. (Full review here)

I'm Still Here: Black Dignity in a World Made for Whiteness by Austin Channing Brown
3 hours 54 minutes
This book isn't long but it's powerful and gripping.  I read this book a few years ago and still think about it nearly daily. I loved that she shares both her own experiences as well as concrete ideas for how we can do better at making our communities, schools, churches and workplaces more equitable places. It's beautifully written, incredibly personal, and full of hope for all of us. (I especially loved hearing her share her stories in her own voice).
And if you'd like a printable copy of this list that you can take to your library or screenshot on your phone for easy access, just pop in your email address below and it'll come right to your inbox!
And if you have any other favorite suggestions for short audiobooks, I'd love to hear them (and not just because I'm nearly 50 books behind my reading goal for this year!).
If you liked this post about short audiobooks, you might like these posts too: