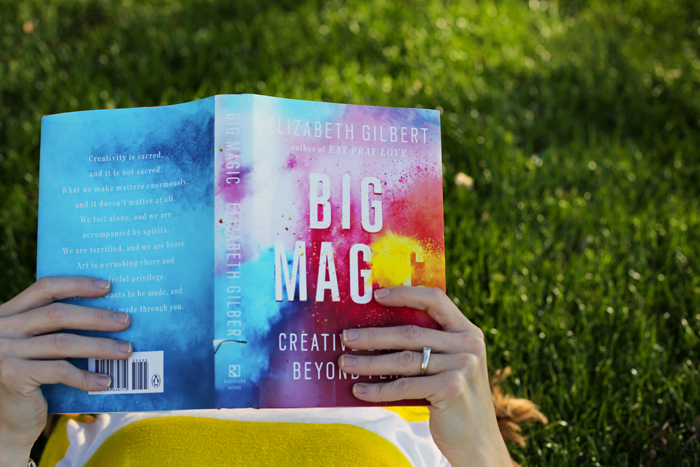 I had ZERO interest in reading Big Magic since the last (and only) book I've read of Elizabeth Gilbert's was Eat Pray Love and eight years later, I still haven't gotten over how much I disliked that book.
Then within a few days of each other, two of my favorite bloggers, Miranda and Emily, both posted independently about how incredible this book was.
You guys! This book is incredible. You heard it here first (or last).
big magic by elizabeth gilbert
I don't self-identify as a creative, and a lot of the time, I feel like books about creative living totally  miss the mark for me, but Big Magic is more about making creativity, in whatever form that looks like for you, part of your life. She discusses early on a friend in her 40s who realized that the most alive she'd ever felt in her life was as a young teenager taking ice skating lessons. And so now, decades later, took it back up. She wasn't trying to become a professional ice skater, she didn't quit her job or divorce her husband or move across the world – she just started skating a few mornings a week before work and that brought a new sense of joy to her life.
That kind of creativity? I can get behind. (But if you're a maker of some sort or actually ARE a creative, there's a lot in this book for you too).
When Modern Mrs. Darcy mentioned it, she said she'd been warned that the book was "equal parts tough talk and woo-woo." I was about half-way through the book when I read her post, and that description made me laugh out loud because it's totally true.
Of course, because Elizabeth Gilbert is a writer, a lot of her examples of creative living have to do with being a writer, but most of her themes are totally applicable to whatever kind of creative life you want to have.
The book is over 250 pages, but it's a totally easy and engaging read, almost like chatting with a friend for a few hours, and I loved every page of it (which, again, I kept looking up and thinking, "I can't believe I'm loving this book by Elizabeth Gilbert so much").
Mainly, I loved her light-hearted approach to creativity. She totally rejects the idea that creativity has to be dark and painful – creating something should bring you joy, even if it's hard work, and it definitely shouldn't destroy your soul or your life or your relationships in the process.
And I appreciate her reassurance that "you are not required to save the world with your creativity. . . it also doesn't have to be important."
She had a great section where she talked about doing all the hard work between the amazing highs of wonderful creation and how that's not an interruption. That hard work IS the process. I like that, even in Big Magic, as she terms it, there is just a whole lot of serious work that goes into making anything happen.
She says, "how you manage yourself between those bright moments, when things aren't going so great, is a measure of how devoted you are and how equipped you are for the weird demands of creative living."
Big Magic really was such a tremendously good book that I found incredibly inspiring – it was the perfect thing to read as the year wound down and I started thinking about what I want to do in the new year. It made me feel optimistic, light-hearted, and ready to put in the time to accomplish things that are meaningful to me.
And it's the kind of book where you'll probably want to own your own copy, because there is so much good stuff to mark up as you read.
If you've read it, I'd love to hear what you thought!


If you liked this review of big magic, you might also like these books: