Generally, I think about reading as a pretty quiet, couch-centered activity.
But it doesn't have to be!
For little kids who have a lot of energy, movement books can be a lifesaver.
No reason to make them sit still – these books practically demand that your littles get up and move while you read!
Grab one of these books and prepare yourself for plenty of jumping, clapping, and skipping, plus some very delighted little bookworms.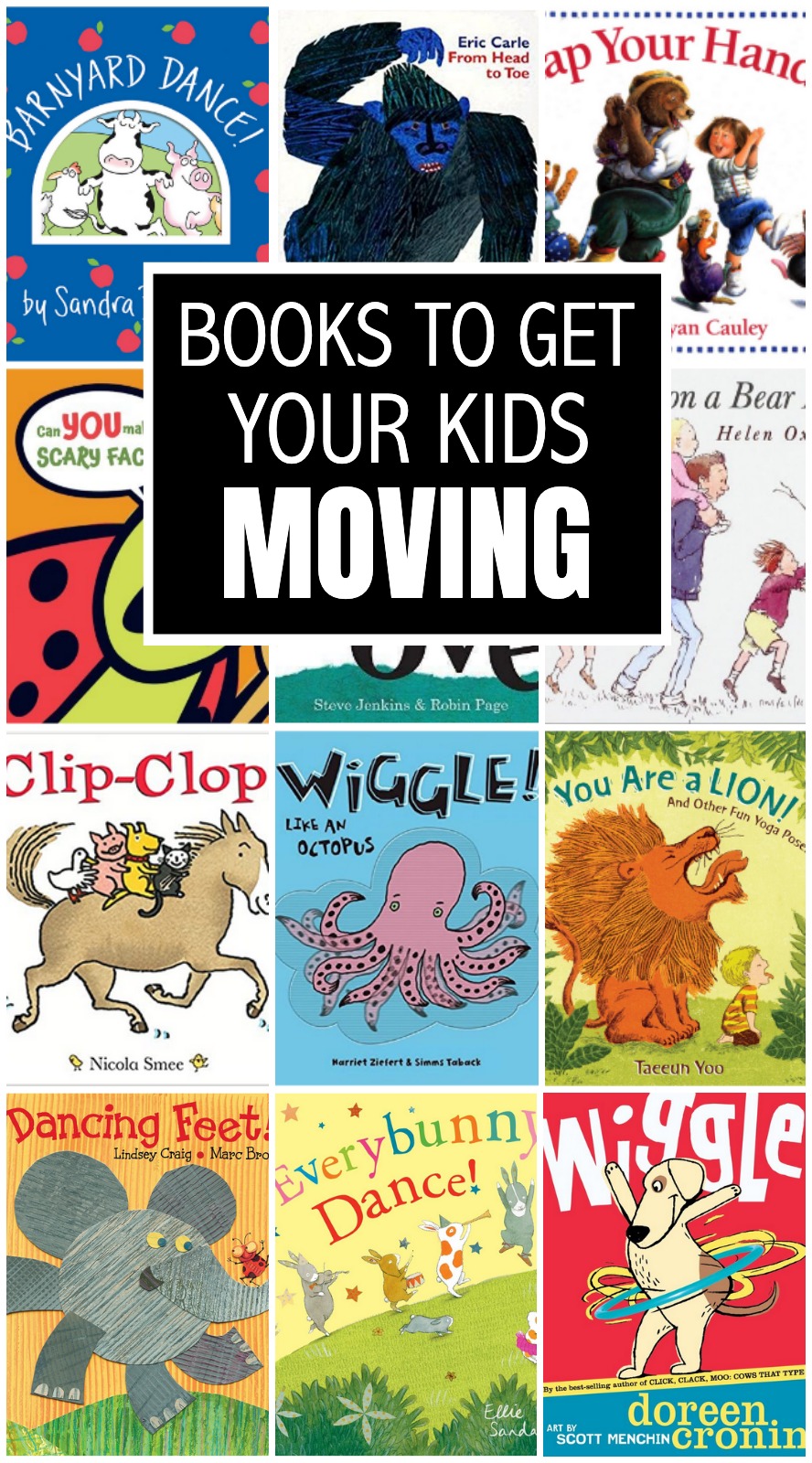 12 Movement Books for Little Readers
Dancing Feet! by Lindsey Craig, illustrated by Marc Brown
Each page shows a set of footprints and your little can guess which animal they belong to before turning the page to find out. It's absolutely perfect for reading to little ones as they tiptoe, creep and thump alongside the menagerie of animals. (Farmyard Beat by this duo is also fab!)
Wiggle like an Octopus by Harriet Ziefert, illustrated by Simms Taback
This is an older one but it's such a delight to watch your child wiggle and swim and sway like an underwater animal.
We're Going on a Bear Hunt by Michael Rosen, illustrated by Helen Oxenbury
I grew up with this gorgeous book and now I love reading this childhood classic to my girls – it is perfect for adventuring through your family room in search of that elusive bear.
Barnyard Dance! by Sandra Boynton
If I had to choose a single Sandra Boynton book, it might be this one. I love it so much with Boynton's trademark high-energy rhythm and plenty of instructions for how to move as you read!
From Head to Toe by Eric Carle
This delightful book from the beloved Eric Carle introduces little ones to general body parts and then gives them a whole hoard of ideas to move those body parts like popular animals do.
Everybunny Dance! by Ellie Sandall
Nobody is watching so this is the PERFECT moment for a dance! These little bunnies love to move until a fox shows up. But maybe the fox just wants to dance too!
Move! by Robin Page, illustrated by Steve Jenkins
How do animals get around? This book, filled with gorgeous collage art, is just plain fun, as well as being educational.
Wiggle by Doreen Cronin, illustrated by Scott Menchin
A dog wiggles his way through the day, with bouncy rhythms that invite readers to wiggle along with him. And if you love this one, try Bounce and Stretch, too.
Did you know yoga for preschoolers could be this fun? The animal poses are accompanied by animal actions and noises that make this book a terrific mix of exuberant and relaxing.
Can You Make a Scary Face by Jan Thomas
Jan Thomas is the MASTER of hilarious picture books, and this book is no exception. A bossy little ladybug asks readers what they would do if a bug were on their nose. Or in their shirt. Your kids might need to lay down for a little rest after this one.
Clap Your Hands by Lorinda Bryan Cauley
Ready to get loud? Join a menagerie of rambunctious animals who roar, growl, crawl, and slither their way through this rhyming book.
Clip-Clop! by Nicola Smee
Every animal wants a ride on Mr. Horse's back. But he's going way too slowly! Mr. Horse tries to keep them safe but the other animals insist on speed, so there is a lot of starting, stopping, and flying off! It's especially delightful if there is another adult around to act as Mr. Horse while you read.
And if you'd like a printable copy of this list that you can take to your library or screenshot on your phone for easy access, just pop in your email address below and it'll come right to your inbox!
If you liked these movement books, you might like these posts too:
Reader Interactions