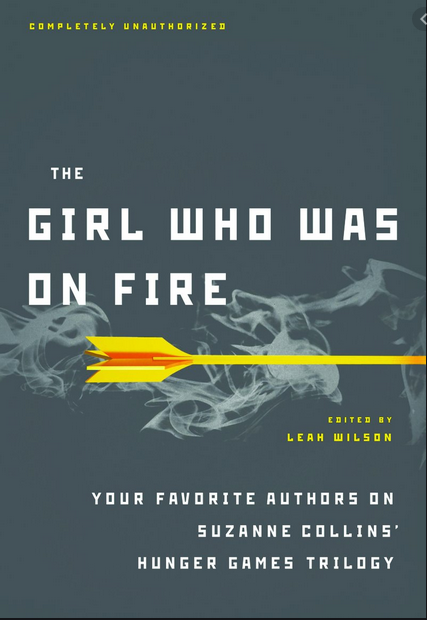 The Girl who was on Fire is not my normal kind of read. But this book was so fantastically terrific. If you're a Hunger Games fan, this is worth a read.
Look, I am not the kind of person who wants to read endlessly about books I like (well, okay, I love reading blog posts about books I like, but I don't want to read an entire book about people who have clearly thought way too deeply about something I read, enjoyed, and do not want to read a dissertation on).
So, I thought there was a distinct possibility I would not actually love this The Girl Who Was On Fire.
And then I read the first essay and it was so ludicrously smart and engaging and I had to read whole paragraphs to Bart after he got home from work reeeeeeeally late and probably wanted only to go to sleep. But no! He must listen. (Good soul that he is, he totally listened. And acted interested).
the girl who was on fire edited by leah wilson
There are thirteen essays in this book, each written by a different YA author, and each one is fantastic. The first one is about why the Hunger Games has been so insanely popular. I know, sounds cliche. But it's anything but. For instance, this paragraph:
Another things that kept me reading compulsively was sheer interest in how the novel is structured: how does Suzanne Collins allay the very bleak premise of the Hunger Games enough so that we are not all carted, weeping softly, off to a lunatic asylum in the middle of Catching Fire, and how does she keep her characters sympathetic even when they are almost all, by necessity, murderers?
Why indeed? And that's just the beginning. The chapter about Team Katniss – why she is such a fascinating character independent of the two boys vying for her love. Or the one about love as a political act. Or how fashion is used in the books (I was sure this would be the one I yawned through. I did not. Not even for a moment). How surveillance keeps people in check (or doesn't). How Katniss' world is one of smoke and mirrors, where it is incredibly difficult for people to tell what is real and what is not.
Reading this book is like going to an English class where your professor suddenly starts pointing out all the symbolism and themes and you think, "wow, I didn't even like this book and now I want to reread it." Imagine that happening with a book you actually loved. You could talk for ages about this.
I only read Mockingjay back in August when it came out, but now that I'm itching to read the entire series straight through. I generally wouldn't be the person recommending a book of essays about another book, but here I am. Seriously, this is fascinating stuff.
Also, this book did what the three original books failed to do – it turned me to Team Peeta.
And. . . when I emailed the publisher to tell them how much I LOVED The Girl Who Was on Fire, they offered to give a copy away to a reader. So, if you'd like your own copy, leave a comment (one per person, only if you live in the USA or Canada, tragically (that is, it's tragic that it's only open to those readers, not tragic if you live in one of those two countries)). I'll close entries at midnight on Sunday night and announce a winner Monday morning. Ta-da!
Advance copy received from publisher
If you liked this review of the girl who was on fire, you might also like these books: