With the US presidential election on everyone's mind(and especially one as heated as this one), it's no surprise that lots of families want to talk with their children about how the elections work and what it means to vote.
These pictures books about voting and elections are a perfect place to open the conversation. I hope they'll help your family like they've helped ours!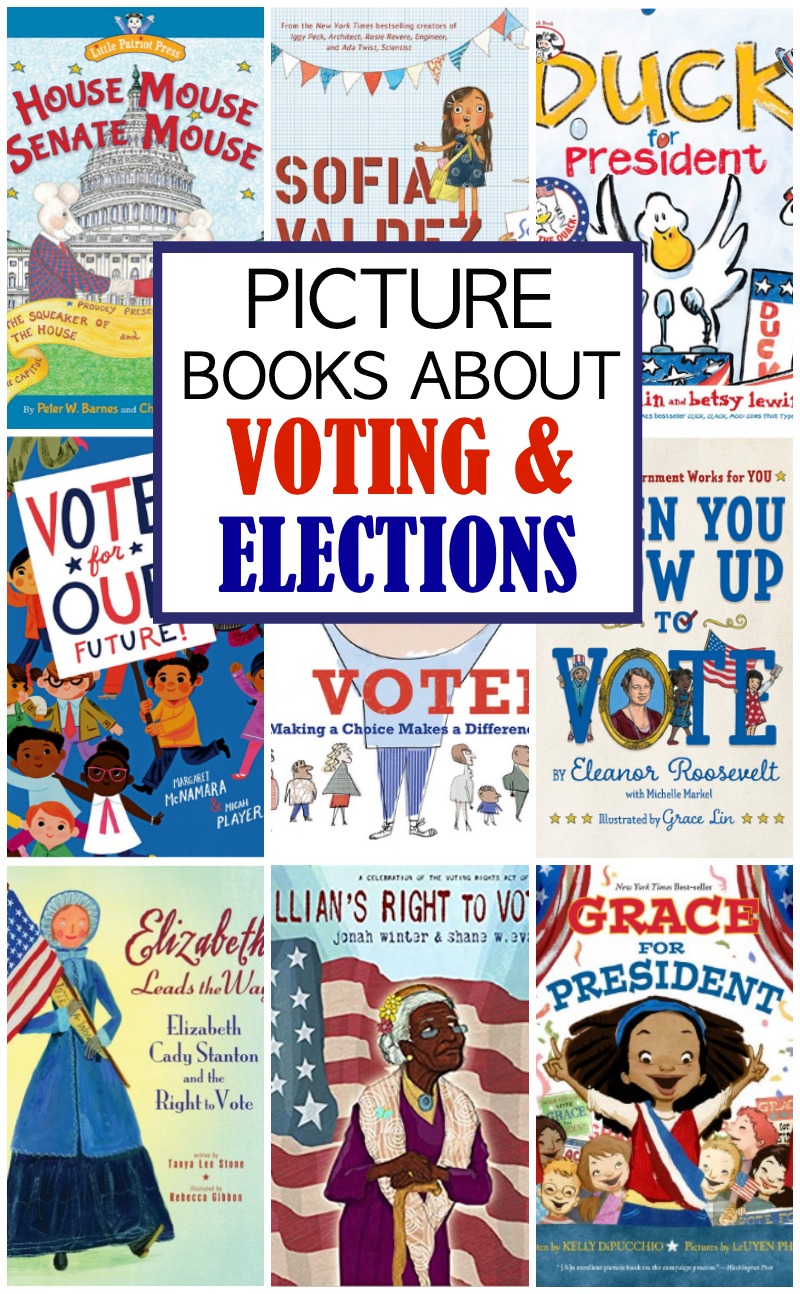 10 Picture Books about Voting and Elections
Grace for President by Kelly DiPucchio, illustrated by LeUyen Pham
When Grace discovers that there has never been a woman president in the United States, Grace is determined to be the first. And while she's currently too young to run for national office, it's the perfect time to participate in her class's election. Can she beat her popular classmate who is certain he's the best man for the job?
I Voted: Making a Choice Makes a Difference by Mark Shulman, illustrated by Serge Bloch
This non-fiction picture book about voting is new this year (it came out in January) and is a perfect way to help kids understand what voting means and how it works with examples that they'll understand like class pets and favorite foods. Bonus points for a section at the back with simple explanations of how the American government is set up and how voting in the US works.
Sophia Valdez, Future Prez by Andrea Beaty, illustrated by David Roberts
You'll recognize this book as part of the super popular STEM series featuring Iggy Peck, Architect and Ada Twist, Scientist, among others. In this one, Sofia Valdez sees a problem in her community and approaches City Hall about fixing it. But will anyone listen to a kid? This is a great books about the importance of local issues, not just federal ones.
Duck for President by Doreen Cronin, illustrated by Betsy Lewin
You already know that if one of the farm animals in Farmer Brown's barn is going to run for president, it's going to be Duck. And what's more, Duck wants to take over from Farmer Brown. But when he wins, he realizes that running a farm is way too much work. Better to be governor and then president instead. This one is laugh-out-loud funny as well as a good intro to the basics of elections.
House Mouse, Senate Mouse by Peter W. Barnes, illustrated by Cheryl Shaw Barnes
Of course, the presidential race always garners the most attention, but if you want your child to understand a little bit about the senators and representatives that are also being voted in and what they do, this book gives a great look at the legislative process, including how a bill goes from idea to signed into law and the negotiation and compromise required along the way.
Vote for Our Future by Margaret McNamara, illustrated Micah Player
Every other year, Stanton Elementary School is out of session for a day. It's not for a holiday or a teacher training day – it's so that the school can be a polling station! From voting for national leaders to local policies, voting is what changes the future and even if the students at the school can't vote themselves yet, they get to see the whole process up close and encourage those who are old enough to cast a ballot.
Elizabeth Leads the Way: Elizabeth Cady Stanton and the Right to Vote by Tanya Lee Stone, illustrated by Rebecca Gibbon
Elizabeth Cady Stanton realized early on that as a girl, she didn't have the same rights as a man. And the first step toward more equality was getting the right to vote for women. This is her story of fighting for the right to vote against enormous odds and millions of people telling her no.
When Penny Met POTUS by Rachel Ruiz, illustrated by Melissa Ann Manwell
Penny is spending the day at the office with her mom and keeps hearing the term POTUS tossed around. But what does that even mean – she has so many imaginative ideas for what it could be, but are any of the right? At the end of the day, she discovers what POTUS means . . . and the surprise ending is that the POTUS is her mom!
Lilian's Right to Vote by Jonah Winter, illustrated by Shane W Evans
This gorgeous picture book follows Lillian, a one-hundred-year-old African American woman, who is headed up a steep hill to cast her vote on election day. Along the way, she remembers the history of voting in her own family history, from the first time her great-grandfather voted after the Fifteenth Amendment passed to her own marching in the protest that went from Selma to Montgomery.
When You Grow Up to Vote: How Our Government Works for You by Eleanor Roosevelt and Michelle Markel, illustrated by Grace Lin
I had no idea this book even existed it until a reader suggested it to me! First written the year her husband was elected as US President, this book by Eleanor Roosevelt beautifully explains all the parts of government, from local to federal, are all in service of the American people.
And if you'd like a printable copy of this list that you can take to your library or screenshot on your phone for easy access, just pop in your email address below and it'll come right to your inbox!
Any other picture books about voting and elections I've missed? Let me know in the comments!
If you liked this list of picture books about voting, you might like these posts too:
Reader Interactions