Looking for some fun books about presidents to read on President's Day? These are informational and delightful, whether you're reading them aloud to a classroom or with your own children!
What librarian doesn't like a holiday (especially because if you work in a public library or school, you pretty much always get the day off)? In addition to a chance to sleep in, it's also a great excuse to put together a little list of books you love. Hurrah for President's Day.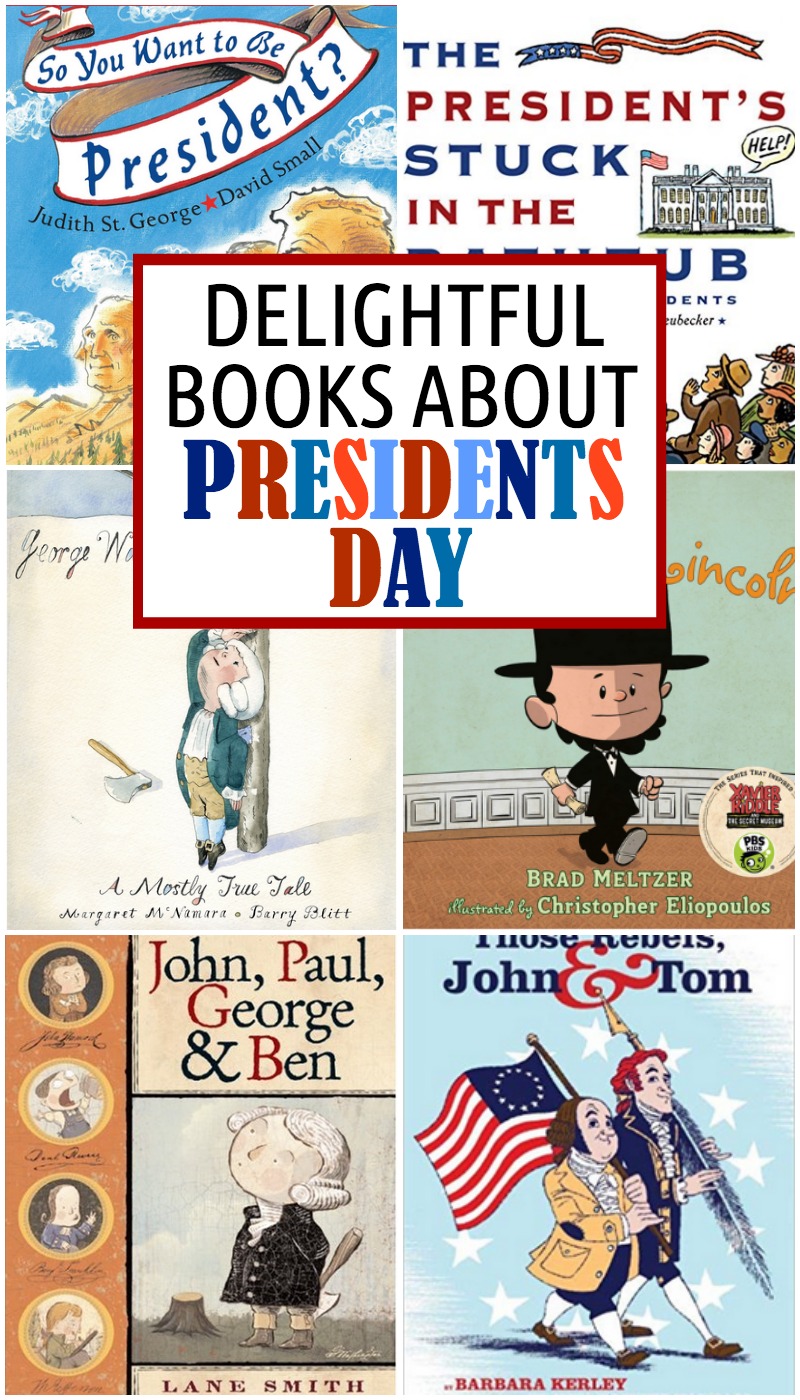 books about presidents for President's Day
So You Want to Be President by Judith St. George, illustrated by David Small
This is probably my favorite book about the US presidents of all time.  It's funny and clever and one of the only books that takes around 20 minutes to read aloud that would hold the interest of even 2nd graders. It talks about things that presidents have in common (for instance, it helps to be born in certain states or a log cabin. Having siblings helps and being male REALLY helps) and things that sets certain presidents apart. If you're only picking one book up for President's Day, it should be this one.
The President's Stuck in the Bathtub by Susan Katz, illustrated by Robert Neubecker
This book of poems has one entry for each president, about something unusual, funny or interesting about them. Each poem is fairly short and most of them were about things I didn't know.
Those Rebels, John and Tom by Barbara Kerley, illustrated by Edwin Fotheringham
I love this duo's work; everything they do is fun, interesting, and clever. This one about the rocky friendship and extreme differences of John Adams and Thomas Jefferson is a complete winner.
Abe's Honest Words by Dorreen Rappaport, illustrated by Kadir Nelson
This book is a lovely overview of Lincoln's life with his own words from various letters, speeches, etc sprinkled in (some you'll know, others you might not). The illustrations, of course, are breathtaking because it's Kadir Nelson.
Ordinary People Change the World by Brad Meltzer, illustrated by Christopher Eliopoulos
I LOVE this series and the George Washington and Abraham Lincoln ones are perfect for getting a good little overview of their lives in a super kid-friendly way (but I love these books as much as my kids do!).
John, Paul, George and Ben by Lane Smith
If you've been paying close attention, you may have noticed that I love Lane Smith. I find his wacky sense of humor and slightly off-beat drawings so fun. And this is probably my favorite of his books. Bart and I discovered this when we were at a bookstore in  and visited Books of Wonder. We laughed so hard we cried. It takes things about these famous presidents (and Sons of Liberty) and makes these hilarious little spoofs on them (with a nice section at the back to set the record right). I dare you to read this one with a straight face.
George Washington's Birthday by Margaret McNamara, illustrated by Barry Blitt
This amusing little book is set on George Washington's seventh birthday and presents many of the myths about him (the wig, the cherry tree, etc) with little fact boxes that tell the real story in the corners. The day ends with a surprise dinner for George, thrown by his family, and then the book concludes with an afterword told from George's point of view explaining more about some of the myths that surround him. A cute, fun story. I love the winter-y looking illustrations.
And if you'd like a printable copy of this President's Day book list that you can take to your library or screenshot on your phone for easy access, just pop in your email address below and it'll come right to your inbox!
Any other books about the presidents that you love? I'd love to hear!
If you liked this list of books for Presidents Day, you might also like these lists:
Reader Interactions