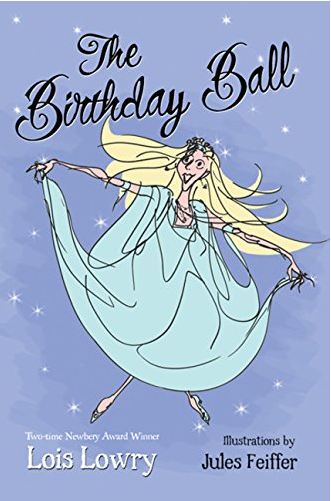 8 of 10: Lois Lowry is such a master of writing in virtually every genre and this is no exception. The Birthday Ball is a non-magical princess book that I suspect even most boys will enjoy.
I have always had a soft spot in my heart for Lois Lowry books. Her first Newbery-winning title, Number the Stars, was the first chapter book I read on my own. And later, the summer before I was married, I finally read The Giver and fell completely in love with it, so much so that I read it aloud to Bart the next summer.
When Houghton Mifflin Harcourt invited me to an author's dinner at ALA Midwinter in January, and I saw that she was one of the authors who would be speaking, well, I was just really excited.
Because the authors spoke in alphabetical order by last name (the librarian in me was pleased), Lois Lowry was the second to last speaker. Bringing up the rear was Linda Urban, a first-time author, who stood up at the podium and said, "I know I only have five minutes to speak, but could you allow me just five seconds to stand here and breathe in the same air that Lois Lowry was just breathing?" I felt exactly the same way (except, you know, I was sitting in a chair halfway across the room, rather than at the same podium).
the birthday ball by lois lowry
The Birthday Ball starts out with a fairly standard premise: Princess Patricia Priscilla is turning sixteen and must, at the ball held in her honor, choose a husband. But if you know anything about Lois Lowry, you know this book won't be exactly as you expect.
She borrows some clothing from her maid and enrolls herself at the local school, where, surprise, surprise, the teacher is new and young and. . . well, quite handsome and kind. Who would have thought?
Her parents (who are full of their own hilarious quirks) have, of course, chosen three potential suitors to come to the ball, each more horrible than the last, and as I read it, I could just imagine the children at my elementary schools laughing themselves sick over these fellows (the one who will not look in any mirror and even has servents who walk ahead of him to smash mirrors and stir up lakes lest he see how truly hideous he is, the twins joined at the hip who can't agree on anything except their determination to marry Princess Pat, and the one who smears his hair with oil and murmers loving words to his biceps, spitting when he speaks).
The Birthday Ball is a fairy tale-ish kind of book (despite the absence of magic), after all, so things wrap themselves up nicely, of course. And who would want it any other way?
And as if the idea of a new Lois Lowry book wasn't enough for you, the illustrations are done by Jules Feiffer, whom I have loved since my dad first read The Phantom Tollbooth to me. The drawings perfectly match the storyline, making the good guys even more lovable and the bad guys even more heinously awful. This book would make an excellent read-aloud. Just delightful and funny.
It reminded me a bit of a Roald Dahl book. And that's a good thing.
Advance Reader Copy obtained from publisher at the ALA 2010 Conference
If you liked this review of the birthday ball, you might also like these books: