Because I read a lot, it's always a delight when I find a unique book where the format or spin on a topic feels totally unique and interesting.
Those books are the ones that I remember even years later and love to recommend!
Here are some of my favorite unique books (plus there are a whole bunch of suggestions from my Instagram community at the bottom of this post!).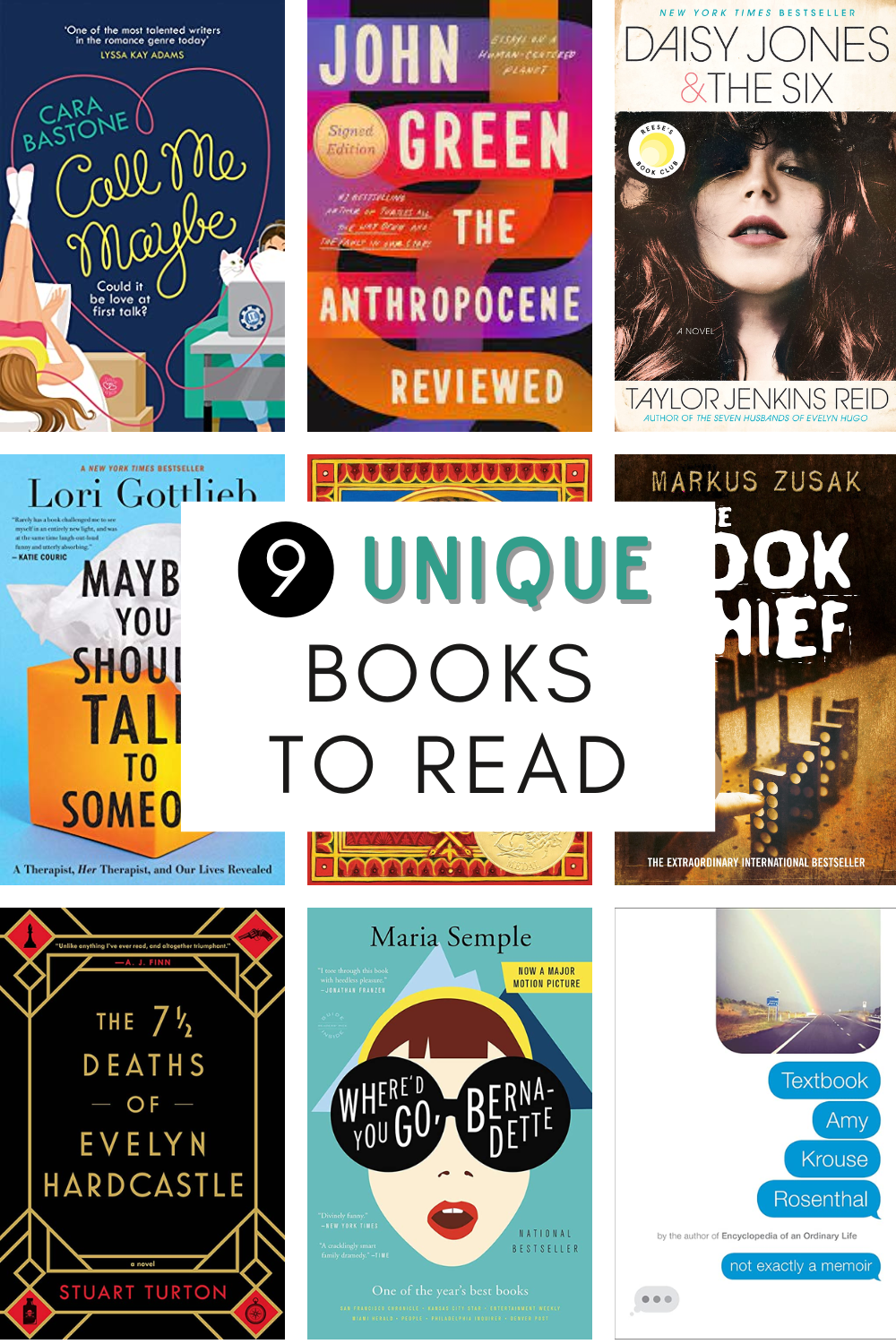 my favorite unique books
Textbook Amy Krouse Rosenthal by Amy Krouse Rosenthal
I'm still pretty broken-hearted over her death, and this book, written before her diagnosis with terminal cancer, was a little hard to read when you know (but she didn't) that her life was almost at its end. It was so sweet, full of life and happiness, and so different from anything else I've ever read. It's a quick read – you could probably get through it in a few hours or less, but it's delightful. (Her first memoir Encyclopedia of an Ordinary Life is another truly unique book).
The Anthropocene Reviewed by John Green
I just read this last month and really liked it! Green reflects on the human experience and reviews many aspects of our existence including anything from teddy bears, Kentucky bluegrass, whispering, Diet Dr. Pepper, sunsets, and so much more. This is his first nonfiction book and I think it's useful to go in knowing a little about John Green and his style.
7 1/2 Deaths of Evelyn Hardcastle by Stuart Turton
This was part of the 2021 Everyday Reading Book Club and one my mom RAVED about. Plus, any storyline that messes around with a timeline is an easy sell for me. This one follows Aiden Bishop who wakes up every day in the body of a different guest at the Manor where Evelyn Hardcastle was killed. And that cycle will continue until he can identify who the murderer is. (Full review here)
The Book Thief by Markus Zusak
This book is absolutely stunning – it's a young adult book about an orphan girl who teaches herself how to read from stolen books and the story is brilliantly narrated by Death (I know it sounds weird but it works incredibly well). One of the best books I've read. (Full review here)

Maybe You Should Talk to Someone by Lori Gottlieb
I discovered this book on Modern Mrs. Darcy's 2019 Summer Reading List and then saw it EVERYWHERE. I devoured this one – it was so fascinating about a therapist and her patients, plus her own experience in therapy. Pretty much made me certain we ALL need to go to a therapist.
Call Me Maybe by Cara Bastone
Told in alternating points of view, Vera has spent the last three hours on hold with customer service trying to get her website ready to launch her new business. Kal is the guy who finally picks up and thinks he can help her. As they spend hours together on the phone. . . it's possible that her website won't be the only thing that launches. This is an Audible Original audiobook and a part of the Audible Plus Catalog.

Daisy Jones and the Six by Taylor Jenkins Reid
Within 10 minutes of turning on the audiobook, I was ALL IN and basically started running at night just so I could listen to another 30 minutes. It's the story of a rock music band in the seventies, and it's hard to remember that it's a novel, not non-fiction. It feels THAT real. It's told through interviews with Daisy and Billy and other members of the band, family members and friends. It could be wildly confusing, but somehow it just WORKS. And the audio version is incredible!
Where'd You Go, Bernadette by Maria Semple
This was so different than other books I've read. Funny and tragic and, once I got a feel for it, really engaging. Teenage Bee embarks on a trip that takes her to the ends of the Earth to find her hilarious, talented, troubled, and agoraphobic mother that went missing.

The Invention of Hugo Cabret by Brian Selznick
This Caldecott winner is a wildly unique book that's more than 500 pages long, but about 70% illustrations (stunning illustrations, I might add). It follows Hugo Cabret, a young orphan who lives in a little apartment inside the walls of a Paris train station and he keeps all the clocks in the station running smoothly and on time. In his spare time, he is also working on a secret project, for which he must steal parts from the mechanical toy shop in the train station. But when he's caught by the grumpy toy shop owner and loses his notebook full of instructions for his secret project, he joins forces with the owner's goddaughter, Isabelle, to get it back and complete his project. (Full Review here)
Suggestions from Instagram:
If You Tell: A True Story of Murder, Family Secrets, and the Unbreakable Bond of Sisterhood by Gregg Olsen
This is in the top 20 books on Amazon Charts right now. And just the title and subtitle of the book sound very revealing. (Warning that this one is graphic with scenes of abuse.)

Ella Minnow Pea by Mark Dunn
Ella Minnow Pea lives in the same town as Nevin Nollop, the creator of the pangram "The quick brown fox jumped over the lazy dog.". When letters start falling off the statue of Nevin Nollop, the letters are also cut from the book you are reading, making it harder and harder to read. Such an interesting concept and fun story.
Everything Sad is Untrue by Daniel Nayeri
Khosrou (aka Daniel) tells his classmates all about being an Iranian refugee. It all began with his mother's boldness about her Christianity in a country that wouldn't allow such religion. It led to secret flights out of the country time and time again and they always led to the same place – sad refugee camps. The book is filled to the brim with fantastic stories of an Iranian family.

A Ghost in the Throat by Doireann Ni Ghriofa
This book is a mix of literary essay and autoficiton all about motherhood. The narrator is a mother and poet, and becomes obsessed with an 18th century poet who wrote what is described as the greatest poem written in Ireland.
84 Charing Cross Road by Helen Hanff
Helene Hanff unintentionally begins a 20-year love affair with Frank Doel when she sends off an innocent inquiry about purchasing hard-to-find books through Marks and Co. Booksellers. She is a cranky Jewish New Yorker living in a messy apartment and he is a courteous middle-class Englishman in London. They are very unlikely correspondents, but their letters written from 1949 – 1969 capture their unlikely love story.

The Illuminae by Amie Kaufman and Jay Kristoff
This is part of a sci-fi series called the Illuminae Files. Set in 2575, this book follows Kady as her home planet Kerenza is seized and invaded. It is up to her to find a way to acquire both the truth and justice for those around her. The book is written in a series of documents like text files, medical files, maps, and emails.
Love and Saffron by Kim Fay
This epistolary novel (all written in letters) is set in the 1960s about two women who connect over a shared interest in cooking. They become fast friends after exchanging letters about food, troubles, and triumphs in their personal lives. 
Trust by Hernan Diaz 
This story about New York City's elite in the Roaring Twenties and Great Depression received countless awards in 2022. In Trust the same story is told by four different people, but which version is the truth?


Killers of a Certain Age by Deanna Raybourn
Billie, Helen, Mary Alice, and Natalie are 60 year old women who have been assassins for the last 40 years. After all their time killing bad people they are going on a cruise to celebrate their retirement. But when someone made them targets for elimination, the four set off to find out who's setting them up, all the while sporting bad knees and menopause.
Twenty-one Truths About Love by Matthew Dicks
This novel, all about Dan, a struggling and obsessive list maker, has such a unique narrative style. It is constructed completely out of lists. As you can imagine, it is also a pretty quick read.
The Woman in the Library by Sulari Gentill
A murder happens in the reading room at the Boston Public Library. When everyone is instructed to stay in the library while the investigation is underway, four strangers start to form friendships. They all had their own reasons to the be there that morning, but one of them is the murderer.
Homegoing by Yea Gyasi
Homecoming starts with two half-sisters in Ghana who are split up, one dragged across the Atlantic in chains, and the other living a life of luxury. This book spans eight generations and major events in history including the Middle Passage, Civil War, and segregation in America. It is split into chapter pairs, one for each descendant and his/her counterpart across the ocean.
The Midnight Library by Matt Haig
The hold lines for this one seem to still be FOREVER long, so it might be a bit until I get to this one, but nearly 220,000 reviews on Amazon AND the promise of time travel? How could I not read this one? This was a highly recommended title and I'm hoping to get to it soon!
Up the Down Staircase by Bel Kaufman
This is a timeless bestseller (written in the 1960s) about a young teacher in a New York City high school navigating between the needs of her students and the education system. It's full of dialogue snippets, memos, and letters, giving a feel for what actually goes on inside the classroom.
And if you'd like a printable copy of this list of unique books that you can take to your library or screenshot on your phone for easy access, just pop in your email address below and it'll come right to your inbox!
if you liked this post about unique books, you might also like these other posts: