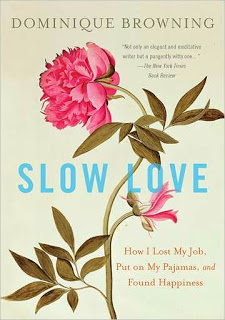 Slow Love got billed as a similar memoir to Eat, Pray, Love. I couldn't stand Eat, Pray, Love, though, so I was hopeful that this book would be more  up my alley (or, you know, not drive me to throwing things across the room – I don't ask for much).
Happily, this book was a far better read for me than the book-that-must-not-be-named.
slow love by dominique browning
Dominique Browning was the editor of a lifestyle magazine until it folded, leaving her unemployed. Divorced, with grown children, she has to reinvent her life without work to give it meaning and direction.
Her life is drastically different than mine, but the contemplation of how she spends her time, who she associates with, how her possessions figure into her life all are things I've thought about at length in the last months.
A few lines I loved:
"I have absolutely zero experience in filling my days with activity of my own choosing."
"I am deciding not only where home is going to be, but also how I am going to live there."
"If [a recipe] has the ingredients you like, you will enjoy the combination of them. If some of them are suspect, they will only be made worse in the aggregate."
"Why, at this time in my life, would I want to be around anyone who does not turn his face to joy and sunlight when there is a choice?"
Slow Love has a leisurely feel to it, but I read it in about two days (the last chapter, though, a whole introspection while boating on a pond? Skim City. I'm just saying).
I read this as part of the BlogHer bookclub – you can read a few essays by the author and other reviews at BlogHer.
I am paid for participating in the BlogHer bookclub (hello, a dream come true – getting paid to read!), but I choose the books that I want to read and I can write whatever I want. 
If you liked this review of slow love, you might also like these books: