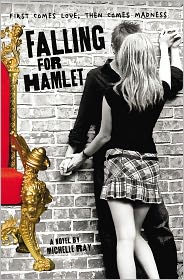 I love the idea of retellings of classic stories. But then I read the much-hyped Jane and. . . .people. I could not get behind it. It was a retelling of Jane Eyre (one of my favorite classics) and it was so ludicrous, I couldn't stand it. It had no personality of its own – it was like lifting Jane Eyre and sticking it right in modern times (and making Mr. Rochester a rock star. I cringe even writing those words).
Also, when a man in 2011 keeps his wife locked in the attic instead of divorcing her? You don't feel bad for a man caught in horrible circumstances. You feel more like he is a completely crazy loon.
Whoops, I may have forgotten which book I was reviewing here. The point of this is to say that I was a little worried that this Hamlet retelling might be more of the same.
Happily, it was not.
I've been waiting for Falling for Hamlet since I saw a display copy of it at TLA in April, but when I finally got a copy of it, I kept thinking I ought to read the real version of Hamlet before jumping into this one (especially since I am trying to meet my goal of reading four classics this year).
I ended up listening to the 1948 radio version of it, which was quite good (also, I restrained myself from listening to it at double speed). And I think having just heard the original made it much more fun to read Falling for Hamlet.
Falling for Hamlet does just what I want a retelling to do – stay true to the original, while putting a new, interesting spin on it.
falling for hamlet by michelle ray
This one takes place in modern times in Denmark. Hamlet is the prince (the names of the characters are consistent with Shakespeare, which was nice) and Ophelia is his on-again, off-again girlfriend. Her dad, Polonius, is an adviser to the king, which means he lives in the palace, as does his family. Ophelia and Hamlet have been friends for years, before their romantic relationship begins.
Their relationship (which Polonius deeply disapproves of) makes Ophelia the subject of much media fodder and she can't help but think about what it will mean for her life if she continues to date Hamlet. After all, someday he will be the king. Does she want to be queen? Does she want all the media attention that will bring? She's seen the cost to her own family of living in the public spotlight because of her dad's job, and she knows it's nothing compared to what being the royal family would be.
One of the biggest changes from the original story is that Ophelia doesn't die. She fakes her own death to escape the madness that is enveloping the palace. Of course, after everyone else ends up dead and she reappears, you can imagine the media storm that envelops her and also how suspicious the government is about one person on the inside still being alive while everyone else is getting buried.
Speaking of which, Ophelia is such a fantastic character. She's smart, but she also does foolish things, sometimes knowing it's dumb and sometimes realizing after the fact when she's made a mistake. She loves Hamlet, but she also is horrified by how quickly he's dissolved into a depressed, ghost-seeing guy. She thinks their relationship needs to come to an end, but she also keeps wanting to go back to him. She acts the way you'd imagine a high school senior would, when presented with this set of circumstances.
I think Falling for Hamlet does a great job with the media aspect of the story – you can just imagine how nuts the media would be if the royal family started behaving the way (and how paranoid the people in the middle of the whole debacle would be about word of this getting out). It didn't feel over the top – not if you've ever looked at a tabloid magazine or seen a talk show – and I thought it added a nice dimension to the story (although I could see it bothering some readers. I just wasn't one of them).
The author's note in the back talks about how she saw a modern version of Hamlet performed and it was the first time she'd felt real sympathy for Hamlet. I loved that about this story – Hamlet's doing some incredibly horrible things, but wow. You can't help but just feel so sorry for him and how quickly his life has fallen apart. And Ophelia? How could you even move on with your life when everyone you love has died in the most heartbreaking ways possible.
Falling for Hamlet emphasized for me how tragic the story of Hamlet really is. It's one thing to have it happen in medieval Denmark. It's another to see it from a first-person perspective in modern times. I just ached for both Hamlet and Ophelia.
I particularly love how the author's goal is to get people to recognize what a marvelous storyteller Shakespeare is. Reading this in connection with the original text was just such a fun reading experience – I haven't enjoyed a YA book so much all summer. I've been thinking about it non-stop. I hope she writes more.


Copy received from publisher
If you liked this review of falling for hamlet, you might also like these books: