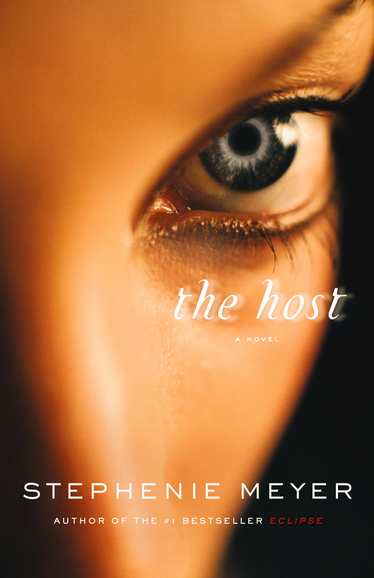 Has everyone read The Host by Stephenie Meyer now? Yes? What do you think – better or worse than the Twilight books? I'm so curious because I can't decide, still, where I fall.
the host
In case you don't know the story line, here is the world's shortest recap for The Host by Stephenie Meyer: aliens take over the Earth and put their souls into human bodies. Most humans submit, but a few fight back like crazy to maintain their own soul. The main alien in The Host is Wanda and the original soul in her new body, Melanie, is constantly talking to her in her head. Wanda finds out that Melanie's boyfriend, Jared, and her brother, . . . um, Jamie (sorry, had to go check Wikipedia for that) are in hiding. Because Wanda still feels Melanie's emotions, she is invested in these two people and Melanie convinces her to go find them. So, off they trek to the Arizona wilderness where they find Jamie and Jared. Jared wants nothing to do with Wanda, because she's now in his lover's body and also, Wanda is too scared to tell him that Melanie still exists somewhere inside.
Stephenie Meyer has kept touting it as the first love triangle with only two bodies, but really, there is sort of a love quartet, because one of the other guys hanging out in the middle of Arizona falls in love with Wanda. But Melanie isn't okay with someone besides Jared kissing her (she's not really okay with Jared kissing her either, since Wanda controls the body).
I think the writing was a little better than the Twilight books, although that made the romantic mushy kissing scenes even a little more jarring than in Twilight. On the other hand, it took me longer to get into this book than it did with Twilight (probably all the descriptions of driving in the Arizona desert. Snore).
Also, I thought the love interests were a bazillion times better because they seemed so much more realistic than Edward (I know, I know, Edward is a vampire and therefore not realistic at all. Also, I am totally 100% Team Jacob these days, so feel free to discount my opinion and wax rhapsodic about how lovely and marble-chested Edward is and how Jacob is the scum of the earth (seriously, do, my female family members have already told me how silly I am to like Jacob more, so I can take it)). I thought that they reacted to the whole crazy situation like normal people probably would.
The thing that surprised me about The Host was that there was no major action/drama climax. In the Twilight books, there has always been a death-defying action sequence toward the end of the book, and I was sure this one was setting up for one too, what with the crazed alien tracker coming after everyone. Except, nothing really happened. A little bit of worry on Wanda's part and then voila! Everything got resolved.
And, while I'd love to pretend that I'm so sophisticated and above silly Stephenie Meyer books, I really do love reading them. She's got a gift for story-telling, even if the writing style occasionally gets in the way.
So, votes = Better, Worse, Same, or "I really am above Stephenie Meyer Books and haven't read anything by her and now I won't, just on principle, because they're so popular."
If you liked this review of the host by stephenie meyer, you might also like these books: