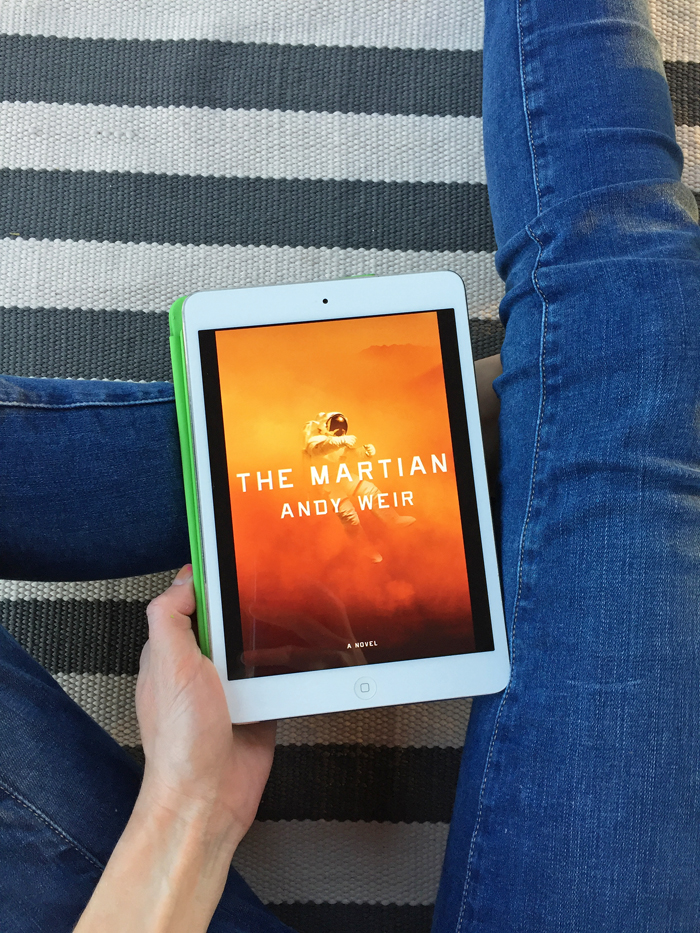 After I picked The Martian for October's Tell Me What to Read, I couldn't find a copy ANYWHERE. The library wait lists were forever long and I knew it'd be well past October (you are probably looking at the calendar and thinking, "lady, it already is well past October!") before I got my hands on a copy.
So after stalling for weeks, I finally just bought a Kindle copy (happily, it was only about $8). I opened it up and in one page, I was completely sucked in.
I'll admit that I struggle with starting new books almost every time. In most books, I find the first ten pages to be pretty rough and I just have to force myself to push through that curve of figuring out new characters, setting, and style.
But this one had none of that. It's a pretty good-size book at nearly 400 pages and there is so much science, and yet I never lost steam for a moment. I wanted to spend all my time reading (and last week, when Bart was out of town, I stayed up way too late one night because I just couldn't force myself to put it down and turn off the light).
the martian by andy weir
The Martian is Mark Watney who was part of the third U.S. manned mission to Mars. His crew was supposed to spend 31 sols (days) on Mars but on Sol 6, an enormous storm aborted the mission. In the walk from the Hab (the main shelter where the crew lives during the month on Mars) to the ship that will take them back to earth, Mark is hit by some flying debris and knocked out of sight. In the pretty much zero-visiblity, the rest of the crew can't find him and all his computer readouts flatline, so they are forced to assume he's dead and they takeoff with out him (which devastates them all, of course).
But, obviously, he isn't dead. The debris punctured his computer so it gives no readouts but he is, in fact, very much alive.
He's also now stuck, alone, on Mars with the entire world assuming he's dead.
Mark's a resourceful guy (his twin jobs on the crew were botanist and mechanical engineer which are two good skills to have if you're going to get stuck alone on an inhospitable planet) and he decides that if he can hang on four years, when the next Mars landing is scheduled, he can hitch a ride home.
Of course, that all hinges on 1) that the Mars landing doesn't get canceled on account of Mark's supposed death and 2) that he can figure out how to not starve to death in that four years.
And so begins his insane struggle to stay alive against all odds, let NASA somehow know that he's alive, and not let Mars kill him, despite its best and continued efforts.
There's a dang lot of science in this book, but it's written so well that I felt like I could basically follow what was going on and not just start skimming over his calculations about how to produce food or make water or deal with the lack of atmosphere on Mars.
The Martian was so funny too – there was one hilarious line after another and my Kindle copy was yellow with highlights.
Here are just a few (and please know how much restraint it took to limit myself to six quotes here):
In high school, I played a lot of Dungeons and Dragons. (You may not have guessed this botanist/mechanical engineer was a bit of a nerd in high school, but indeed I was.)
As you can see, this plan provides many opportunities for me to die in a fiery explosion.
Half-ration for dinner. All I accomplished today was thinking up a plan that'll kill me, and that doesn't take much energy.
One thing I have in abundance here are bags. They're not much different from kitchen trash bags, though I'm sure they cost $50,000 because of NASA. Also, I have duct tape. Ordinary duct tape, like you buy at a hardware store. Turns out even NASA can't improve on duct tape.
After a search of everyone's personal items (hey, if they wanted privacy, they shouldn't have abandoned me on Mars with their stuff) I found my answer.
Who knows how far south the storm goes? Well, NASA probably knows. And the news stations back on Earth are probably showing it. And there's probably a website like www.watch-mark-watney-die.com. So there's like a hundred million people or so who know exactly how far south it goes. But I'm not one of them.
I was warned that there was a lot of language in the book, and then there was the f-word twice in the first nine words, so . . . it's true. But I find that for me swearing falls into one of two camps – in some cases it's gritty and dark and in others, it's mostly used in a light-hearted way. I'm totally turned off to books with heavy swearing that falls into the first category. If it's more of the second category, I can deal with it (especially in print versus an audiobook). And this was definitely the second kind of swearing.
After I finished The Martian book, there was a part about the author and his writing of the book in the back. He is a true and total nerd who was thinking about how the best way to do a manned Mars mission was (as you do for fun) and then when he was running through disaster scenarios, he stumbled on this idea. The science is as accurate as it's possible to be, so much so that he wrote his own software to track constant-thrust trajectories to calculate the orbital paths in the story. I am in awe of his nerdiness.
Also, he just published the book for free, chapter by chapter, on his website, until people started asking him to make a Kindle version because it'd be easier to read. He set the price at 99 cents (that's the minimum price) and then sold 35,000 copies and the film rights and publishing rights deals came the same week. So. . . he's having a good year.


Speaking of which, you probably already know that there is a movie version of it (with Mark Watney played by Matt Damon), and Bart and I went to see it last weekend. It was AWESOME. An hour into the movie, Bart leaned over and whispered, "This is a movie for nerds." I guess we are both big nerds. I totally want to see it again already.
It's pretty true to The Martian book (although there are several major mishaps that they leave out entirely due to time-constraints), except for the finale, which plays out a little differently. I enjoyed every second of it, even though we were sitting on the second row, which isn't exactly ideal.
So to all you people who told me I HAD to read this one? You were absolutely right. Since it's mid-November, I feel pretty confident saying The Martian will go in my top ten books for the year.
Also, I might celebrate Christmas vacation by re-reading it. I just loved it that much.


If you liked this review of the martian book, you might also like these books: