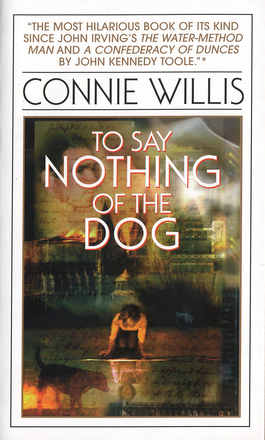 My in-laws sent me To Say Nothing of the Dog for my birthday last year, along with The Goose Girl, which, as I mentioned before, took me months to read. This one took me over a year to finally get to. Fortunately, our DC trip included several long train/metro/bus rides, so I succeeded in finishing it last weekend.
I've been curious about the book since it arrived; the back cover touted it as a "time-traveling book" and, well, I'm a sucker for time travel (except for "The Time Machine" which I found horrendously dull).
to say nothing of the dog
Anyway, Ned Henry is a time-traveler in 2057. Time travel was invented in around 2018 by some bad guys (is there any phrase more awesome than "bad guys"? No.) who wanted to go back in time to steal priceless artifacts, bring them back, and sell them. Unfortunately, the net will not allow anything from the past to come back to the present, seeing as it could disrupt the whole time-space continuum, etc. So they sold all their research to historians and philosophers and other folks who are interested in it for less nefarious purposes.
A lady named Lady Schrapnell has gotten her hands on the extensive set of diaries kept by her great-great-great-great grandmother who talked about how she went to Coventry Cathedral, saw the "bishop's bird stump" (a horrendous Victorian vase ornamented with the most hideous of carvings) and had her life changed. Coventry Cathedral was hit by Nazi bombs in WWII and eventually torn down and turned into a shopping mall when it couldn't support itself by tourism any longer. Lady Schrapnell, who is disgustingly wealthy, has determined that she will rebuild Coventry Cathedral in the exact location and she wants it as accurate as possible. She begins recruiting time travelers to travel to various different times to see how Coventry Cathedral looked and to note all the details about it so she can have it just right. Ned Henry is one of these time travelers and she's running him into the ground, having him determine what happened to the Bishop's Bird Stump (it's lost and she wants to know when it disappeared or was destroyed).
To Say Nothing of the Dog begins with Ned Henry in 1940 with a few other time travelers searching through the bombed ruins of the church for the Bishop's Bird Stump. They want to see if it was there in the church when it was bombed, but they can't get to the day of the actual bombing, just a few days after.
The system, of course, is equipped with default protections to keep people from screwing up history. "Slippage" keeps time travelers from going to crisis points where even a small action could majorly revise history. No historian, for example, can get within weeks of the battle of Waterloo. Coventry Cathedral turns out to be a crisis point because the Allies had recently acquired the key to decrypting the Axis codes and if the cathedral had somehow been saved, the Nazis would have realized that their code had been compromised and they might have won the war. So no historians are going to be let in to tamper with anything too near the bombing.
Lady Schrapnell, who thinks "rules are made to be broken," keeps trying to get the time travelers in there and poor Ned has made 12-14 drops in the last few days. He's getting severely time-lagged which makes it difficult for him to understand what is being said, makes him wax poetic, and so he needs two weeks of rest.
The head of Time Travel realizes Ned isn't safe in 2057, because if Lady Schrapnell finds out he's back, she'll be sending him on drops without regard for his disorientation. The solution, they decide, is to send him back to the Victorian Era where he can laze about and rest for a few weeks and then return when he's recovered.
Oh, and by the way? Another time traveler has, for the first time ever, brought something BACK through the net with her. And Ned needs to return it to the Victorian Era before he can get on with his napping. Unfortunately, he's so disoriented, he can't understand what it was that was brought back, who he's supposed to return it to, and where he's supposed to meet them.
When he does get back to the Victorian Era, he manages to find the fellow time traveler, who turns out to be a spectacularly gorgeous woman named Verity (of course, he can't tell if she's really beautiful or if the time-lag is just making him a bit crazy). The object she brought back was a cat which, after she saved it from drowning, followed her back into the net.
Ned came back three days after the cat came through, though, so Tossie (the great-great-great-great grandmother of Lady Schrapnell) has been looking for her lost cat all this time now. Her journals say she went to Coventry Cathedral in June of that year and she hasn't gone yet and hasn't said anything about visiting it, so they need to get her there on some pretense so she can see the Bishop's Bird Stump, have her life changed, and write about it for Lady Schrapnell to see some 200 years later. Also, they find out she got married that spring to a Mr. C, but they can't find a "Mr. C" anywhere and then she goes off and gets engaged to the young man that Ned came up the river with (and who he also managed to make miss his meeting with the girl he should have married, according to the church records).
So, Ned and Verity are trying to fix the problems they've caused, get Tossie to the cathedral, find Mr. C, all while hopping back and forth between 1880 and 2057 to check their progress. And, of course, it'd be very handy if they could find the Bishop's Bird Stump, since Lady Schrapnell is still breathing down their necks.
I just scrolled up and was a bit appalled at how long it took me to describe the basic premise of the story. There is a good reason for this – To Say Nothing of the Dog is complex. I felt like I was suffering from time-lag the first 50 or 60 pages because I was so unsure of what was actually going on. After those difficult first pages, though, the story really picks up, and I very much enjoyed it. Frankly, though, if it hadn't been from the Tates', whose good taste I trust, I probably would have given up, since 50 pages is quite a lot to read before really getting into it.
I thoroughly enjoyed the many references to historical events and famous literature of all eras (although, there were some I had no idea what they were from). To Say Nothing of the Dog is just a fun, fun read and I thought the ending was excellent.
Time travel, you've not disappointed.
If you liked this review of to say nothing of the dog, you might also like these books: