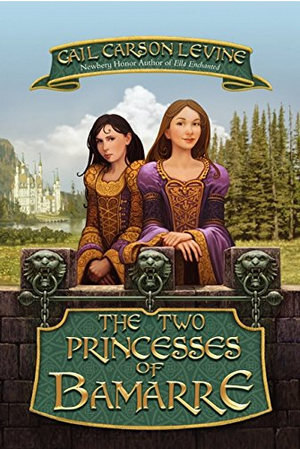 Ella Enchanted was Gail Carson Levine's first book and for it, she won a Newbery Honor. I read this book for the first time when I was in 8th grade and fell completely in love with it. I've re-read it several times since and Bart read (and loved) it shortly after we got married. It really is a fantastic book.
Perhaps the fabulousness of
Ella Enchanted
is what made me so disappointed in the last two books of hers that I've read. I read
The Wish
in one evening early this summer and was so unimpressed that I didn't even write a review of it. My friend
Ralphie
lent me "
The Two Princesses of Bamarre
" a few weeks ago and I read it on the plane on Sunday. It was a lot better than
The Wish
but it was not even close to being on par with
Ella Enchanted
. Alas.
The Two Princesses of Bamarre has many of the same elements of
Ella Enchanted
(it almost made me wonder if she was trying to recreate the massive success of that book), with fairies, magic objects, a little romance, etc, but it just didn't have the same magic that Ella did. It felt a little rushed in some places and very slow in others. It simply didn't work together as well as Ella had.
the two princesses of bamarre
Anyway, the two princesses are polar opposites: Meryl seeks adventure and wants to leave the palace and go find a cure for the Gray Death and find the fairies. Addie is scared of practically everything, especially Meryl leaving and makes her swear to not leave until Addie has married (she promises herself she will never marry because then Meryl will never be able to leave).
Then, Meryl comes down with the Gray Death and Addie forces herself to leave to find the cure before Meryl dies. She's given some pretty excellent gifts to help her – seven-league boots, letting her get anywhere she needs within a few steps, a table cloth that sets itself with a feast anytime you say the magic words, a cloak that makes you less noticeable (not quite invisible, though), and a spyglass that can look through walls/stone/brick/wood, etc.
I didn't hate The Two Princesses of Bamarre; it did have some great parts. I
loved
the dragon scenes, and I liked how the plot was resolved. It really was a fine book, made worse by the unavoidable comparisons with
Ella Enchanted
.
If you liked this review of The Two princesses of bamarre, you might also like these books: