I turned on the webcast for the ALA awards yesterday morning and Ella kept asking me, "Which books got the gold stickers?"
That's my girl.
Also? I never love Twitter more than I do during the award announcements because my entire feed is just one excited or disappointed tweet after another about the awards. Nerd heaven.
Anyway, I'm sure you're all dying to hear my deep thoughts about the Caldecott winners.
Caldecotts first, since that was the award I was most in the know about this year.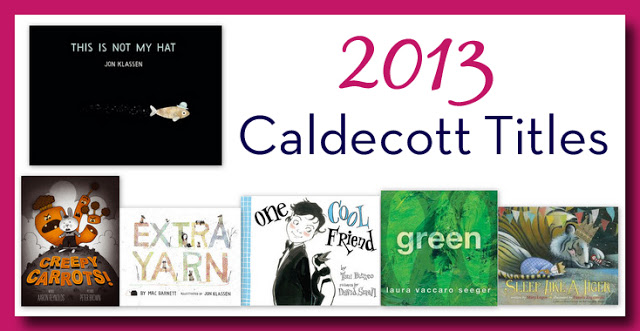 caldecott winners
The Caldecott winner was This Is Not My Hat illustrated and written by Jon Klassen. I read Klassen's book, I Want My Hat Back, and I thought it was amusing, but I wasn't such a fan that I read this latest one. In fact, I saw it at the bookstore when I was reading other Caldecott buzz books and decided not to read this one. I guess I picked wrong. I'll be repenting at the library this week.
And FIVE honor books:
Creepy Carrots! illustrated by Peter Brown, written by Aaron Reynolds. I thought this book was extremely clever and included it in my Halloween book round up back in October. I feel very proud. Also, I've seen Peter Brown speak in person twice and he is just so delightful. So that makes me happy.
Extra Yarn illustrated by Jon Klassen, written by Mac Barnett. I checked this one out months ago when mock Caldecott lists were starting to go around and. . . I do not get this book at all. I finished it, closed it, and immediately returned it to the library. Two points for Jon Klassen, none for Janssen.
Green illustrated and written by Laura Vaccaro Seeger. I love this book so much and am just so happy to see it on this list.
One Cool Friend illustrated by David Small, written by Toni Buzzeo. I have been meaning to pick this one up for ages, but it was never quite high enough on my list to use one of my precious reserve spots for it. And now that it has that silver sticker, it'll probably take FOREVER for me to get a copy at the library.
Sleep Like a Tiger illustrated by Pamela Zagarenski, written by Mary Logue. I only heard about this book last week when the librarian at storytime had it as one of the books about sleep/bedtime. But then she ran out of time, so I've only seen the cover.
I think it's a good list, although there were SO many good picture books this year, that I'm a bit sad to see several of my favorites that deserve to be a Caldecott winner and not even get an award.
And then the Newbery. I have not been following middle grade books as closely this year as I have in the past (too much time reading non-fiction books about food, I guess). So the fact that I'd heard of all but the winner makes me feel quite pleased.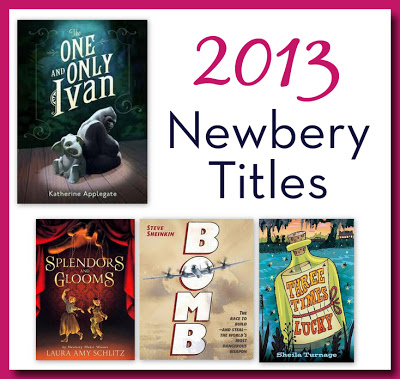 newbery winners
The winner is The One and Only Ivan written by Katherine Applegate. I haven't even heard of this one (and a quick search through my Google Reader says the only place its popped up in the blogs I follow is on the Horn Book, so . . . was it a bit of a dark horse or was I just living under a rock?)
And the three Honors:
Splendors and Glooms by Laura Amy Schlitz. She won the Newbery several years ago for Good Masters! Sweet Ladies! and then her A Drowned Maiden's Hair was widely considered a favorite for the Newbery a few years later (it didn't get any stickers). I've liked her other books, so I'm looking forward to reading this one
Bomb: The Race to Build—and Steal—the World's Most Dangerous Weapon by Steve Sheinkin. I started reading this one on Sunday night and immediately fell in love. Now I will have to read it very quickly because I doubt I'll get the chance to renew it. Also, this book got BOTH of ALA's awards for non-fiction (the YA one and the children's one).
Three Times Lucky by Sheila Turnage. I mentioned this one in my best of the year books too, so I'll be over here patting myself on the back.
Other winners of various awards that I'm anxious to read:
Really, so many good books out there. I love this golden age of children's literature (and yes, I just said "golden age" like the stuffy librarian person I am inside).  Any thoughts on the awards you'd like to share? Happiness and indignation are both welcome.
And if you'd like a printable copy of this list that you can take to your library or screenshot on your phone for easy access, just pop in your email address below and it'll come right to your inbox!
if you liked this post about newbery and caldecott winners, you might also like these other posts: