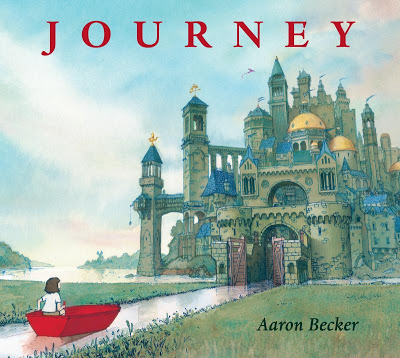 You all know I love a good wordless picture book. And Journey is a GOOD wordless picture book. Actually, it's a great wordless picture book.
I reserved this from the library after my librarian friend Jen recommended it on Twitter, but didn't get around to opening it until a week or so later. And then, when Ella finally picked it from the library basket, we both just sort of gaped in delight at this amazing, beautiful book.
It is absolutely magical. Click right over to your library this MINUTE and request a copy (I apologize for my bossiness, but sometimes (always) my oldest childness pushes its way to the top. I'm sure Merrick and Landen would be happy to commiserate with you).
journey by aaron becker
The first few pages of Journey are all sepia tones, with a little girl slumped on the front stoop of her city apartment. Inside, you can see her mom in the kitchen on the phone, her dad at the computer, and her sister playing a video game. None of them have time to play.
So she heads up to her room, where, in the midst of all these shades of brown, is a bright red marker on the floor. She draws a door on her wall (by now, we've read this enough times that Ella always says on this page, "Do we draw on the wall? NO, we do NOT draw on the wall"), opens the door, and steps into a magical, full-color place.
The contrast between those pages of sepia and this full color forest is so breathtaking, I almost couldn't speak when I turned the page. It is glorious. And the adventure is only beginning.
I particularly love a picture book that loops back to the beginning – where you feel like the book has really come full circle, and this one does it marvelously. I read it to our little preschool group on Tuesday and they all stopped their 3-year-old bouncing and wiggling and were riveted to the page.
Journey by Aaron Becker has all the magic and detail and fun of David Wiesner's best books (and I cannot imagine I'm the first person to make that comparison). Of course I loved every page.
Seriously, go get this book (have I mentioned that before?). I hope it snags itself a gold or silver sticker come January.
P.S. You can watch the trailer for the book below. It's perfect – giving the flavor of the book without giving away all the secrets hiding inside:
if you liked this review of journey by aaron becker, you might also like these books: