If you want a book that will have your kids rolling on the floor, The Book with No Pictures by B.J. Novak is the book you're looking for.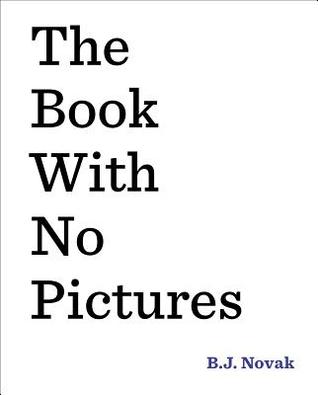 Usually, when I write about picture books, I do it as a list, with a bunch of picture books together.
It's only for the very most exceptional picture books that I write an entire post about a single book (I think the last one that got its own post was Journey).
The Book With No Pictures deserves its own post.
But actually, as you might suspect from the cover, this book isn't really a picture book at all.
Nope, not one single picture in the whole book.
I'd been hearing buzz about The Book with No Pictures for MONTHS, but didn't manage to get my hands on a copy until we returned to the United States and I picked up one at my parents' library.
That afternoon, Ella and I read it together and she laughed so much, I thought she was going to pass out.
She begged to read it a second time and, to my surprise, she laughed just as much that time through.
Over the next few days, we read it dozens of times, and she insisted that both of my parents read it to her (they both thought it was delightfully clever too) and the first morning that Bart was back from the UK, it was the first thing Ella asked him to do with her (the second thing was to ask if he'd brought back any Jammie Dodgers).
The Book with No Pictures
The basic idea of The Book with No Pictures is that, yes, there might be no pictures, but adults might not realize that their job is to read whatever words are on the page and if those pages are filled with nonsense words or the insistence that they are a monkey, well, then, they just have to read those crazy words.
Admirably, the book goes on just long enough to be funny, without overplaying the joke. And somehow, it does manage to be fun and enjoyable for reading after reading.
You can also watch the author (B.J. Novak was a writer, producer, and actor on The Office) read part of the book to a bunch of school-age children here and it's hilarious.
Seriously, go get yourself a copy of The Book with No Pictures and be a hero in your home.
(And, if you're a parent like me, you will break the rules and where it says "Boo Boo Butt," you will read aloud "Boo Boo Bottom." Because that's the kind of rebel without a cause I am).
If you like The Book with No Pictures by BJ Novak, you might also like these posts: