The thing about a new year and setting goals is that you might spend a lot of time thinking about all the things about yourself you don't really like or that you're not good at.
So, while I've been working on my goals for 2015, I've also been taking note of some of the small things that I am good at, that I don't need to make any goals about.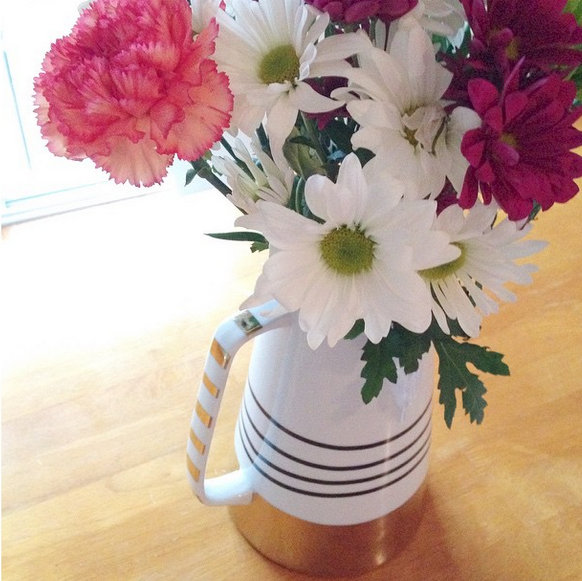 And sometimes, that just feels nice, especially when you're seeing so clearly some of the things you really do struggle with.
If only one of the things on this list was flossing my teeth. Here's hoping my dentist dad misses this post.
things I'm good at
Making My Bed. I cannot think of a day in the last two decades where I haven't made my bed. It's a big deal to my mom, and so all of us have always made our beds every single day. On the rare occasions that I go into one of my sisters' rooms in their homes, their beds are always made too. My college roommate started making her bed every day after just a few days of living together because she said, "I don't want to be the slob roommate!"
Sticking to My Grocery List. This doesn't make me a very fun person to do the grocery shopping (I am very very unlikely to come home with fun things tucked in among the milk and eggs and dried pasta), but I'm very good at it.
Reading Very Fast. I'm not a speed-reader, but my natural reading speed is pretty quick (Bart can't stand it when I read over his shoulder because I'm done with the email or whatever he's reading so much sooner than he is). This definitely makes it easier to plow through a lot of books.
Putting My Children to Bed on Time. I try to be a good mom, but by seven p.m., I'm pretty much ready to not parent any more. So those girls do not stay up past their bedtime almost ever. Once that clock hits seven, their doors are shut and their day is over.
Getting fees and charges removed. I cannot stand late fees and while I try to avoid them at all costs, if I do get dinged with one, you can bet I'll make the phone call and get it removed (hint: they'll basically always remove it).
Typing very quickly. My brother is on an LDS mission and writes an email to family and friends every week. Several people have commented on how long his letters are and when this message was relayed back to him, he wrote back saying, "Thank you, Mavis Beacon." We all did typing lessons on the computer starting almost immediately when we got our first desktop back in the early 90s and all of us are speedy little typists now. Which is a seriously useful skill to have.
Taking short showers. I think one of the reasons I'm able to get dressed and ready every morning is that my showers are about three minutes long (it helps that I only wash my hair about once a week). When we lived in London and only had a shower, I learned Ella did not inherit this trait – she was always in the shower for AGES and we'd have to .
And I'd love to hear what little things you're good at. Probably flossing.
if you liked this post on things I'm good at, you might also like these other posts: