Wondering about Sophie Kinsella's new book? Surprise Me! just came out in February and it's definitely not as light-hearted as other Sophie Kinsella books (think more along the lines of a Liane Moriarty novel), but I still enjoyed reading it and stayed up WAY too late to finish it.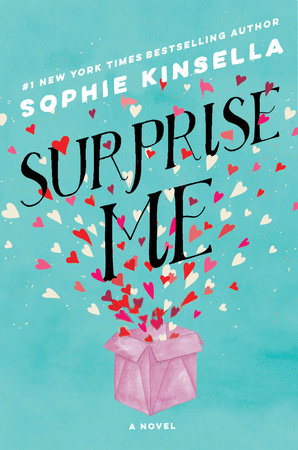 I first was introduced to Sophie Kinsella books when I was in college and one of the women I worked with owned several of the Shopaholic novels.
I was going on a trip with my dad a few weeks before I got married and she lent me them to take along. I devoured the first one on the plane flight and then the next morning, while my dad was speaking, I stayed up in our hotel room, and read two of them straight through.
Since then, I've read every single book she's come out with (at least the ones under the name Sophie Kinsella. She also has written 7-8 books under her real name, Madeline Wickham, but I've never read any of those).
So when Surprise Me! turned up on my radar, I immediately put in my library hold and when it showed up, I dropped every other book I was reading and dove right in.
I'd read a few reviews of Surprise Me! beforehand, so I was prepared for the fact that this one wasn't quite as light-hearted and hilarious.
I think one thing you have to expect from all Sophie Kinsella books is that there is a reasonably large amount of absurdity you have to accept.
I mean, in Twenties Girl, the main character is visited by the ghost of her great aunt who is after a lost necklace. Why not?
And in I've Got Your Number (my favorite of all her books), the main character loses her cell phone, finds a cell phone in the trash, takes it over and the owner of the phone lets her keep it and take business calls on it and relay the messages on to him. If that's not unlikely, I don't know what is.
Basically, you just roll with it.
surprise me by sophie kinsella
In this one, the original premise is pretty ridiculous too. Dan and Sylvie have been happily married for ten years and super compatible, finishing each other's sentences and enjoying a quiet life together.
But then when they go in for physicals to get their life insurance, the doctor offhandedly mentions that with rising life expectancies, they probably have 68 more years of marriage and suddenly both of them are sent into a tailspin.
Basically, they're going to be married forEVER and . . . that suddenly seems super long.
I mean, it's just a little out there. What are the chances you're married for ten years and suddenly are SHOCKED to hear you might be married until you're 95 or 100?
But let's just assume that's normal and move on.
So Sylvie comes up with the idea that they should try surprising each other with gifts, outings, and anything else they can think of. That will keep things new and fresh. Right?
Of course, as only Sophie Kinsella books can do, NOTHING goes right.
And then some old secrets start to surface and suddenly Sylvie is wishing they'd never started out on this plan.
Is there any going back for them?
When I mentioned on Instagram that I was reading this book, several people mentioned that there just seemed to be TOO many mishaps, but I didn't get that feeling.
If you've read her other books, it felt about par for the course to me. I can hardly stand some of the situations in the Shopaholic books where Becky just spends herself into oblivion, so this felt much less painful to me than those.
The major difference is that this book didn't have the truly light-hearted and hilarious feeling that most of her other books do. There are still some laugh-out-loud funny bits, but overall, it has much more the feel of Liane Moriarty's books like Big Little Lies than Sophie Kinsella's previous books.
I also suspected what the twist might be, which. . . never happens.
But still, I stayed up hours past my bedtime because I just couldn't stand not to see what happened. (This is why Bart should never be allowed to go out of town).
If you've read Surprise Me, I'd love to hear what you thought!
If you liked this review of surprise me, you might also like these books: