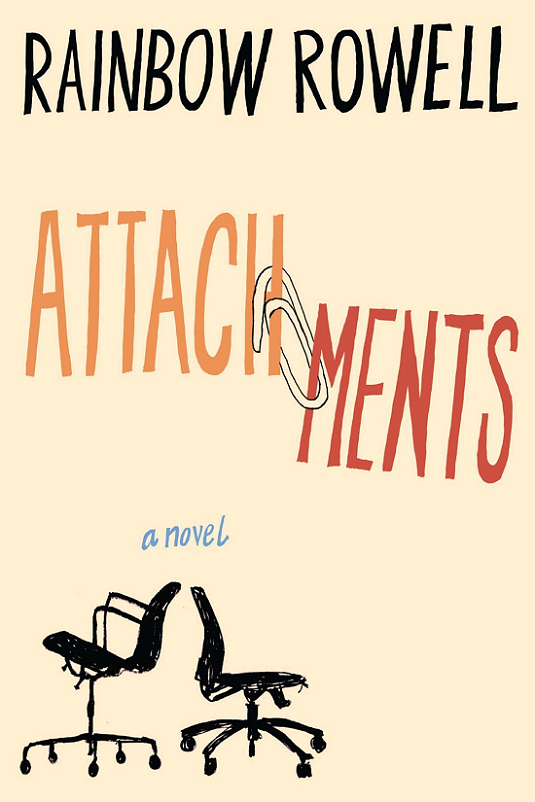 I first read Attachments in the summer of 2011.
After reading both her YA books (Eleanor & Park and Fangirl) last year, I decided to re-read this one.
I picked it up from the library on a Friday afternoon and had finished it by Sunday morning. It's just such a cute, fun read.
attachments by rainbow rowell
The premise is that Lincoln works the night shift at a newspaper, monitoring the company email. Beth and Jennifer, who both are journalists at the newspaper, email back and forth like crazy, and their emails keep getting flagged.
But after an email or two, Lincoln finds he quite likes these two women and doesn't have the heart to send them a reprimand. Instead, he just keeps quietly reading their emails, day after day (well, night after night, actually).
Soon, he feels like they are his friends and, before long, he finds himself falling in love with Beth.
But he knows it's just too creepy. He's way past the point where he can just casually introduce himself without ever mentioning that he's read hundreds of her most personal email exchanges, but he also can't see a way to TELL Beth he's read hundreds of her most personal emails without completely scaring her off (the fact that he doesn't even know who she is also presents a problem).
And Lincoln sort of hates himself for reading these emails in the first place – he hates that this is his job, and he really hates that he can't convince himself to stop reading them.
He can't see any way that this is going to turn out nicely for him. And we won't even discuss the fact that he still lives with his mom.
Having read all three of Rainbow Rowell's books now, I can recognize that one of her gifts is for setting up a book in a way that is unusual, but doesn't draw overt attention to itself (and when I say "I can recognize," I really mean that I read this fantastic blog post by Jessica about Fangirl and it wouldn't leave me alone the entire time I was reading Attachments).
In this case, you get to know a LOT about Beth and Jennifer, and because it's email, it feels totally personal. But you're also reading it all through Lincoln's eyes and you never know what Beth actually thinks about anything – only what she's telling Jennifer. It's very clever without feeling like it's trying to be clever (which is a good trick, I think).
And character development is really Rainbow Rowell's strong point. Nobody is a throw-away character or one-dimensional. And if she's doing that with nothing characters like Lincoln's boss, you can only imagine how amazing she is with the main characters (spoiler: amazing). You never feel like you're just reading a romance novel; it's so much more than that.
Best of all, I find Rainbow Rowell to just be extremely witty. I flipped through page after page trying to find a line to quote here, but she's not just a one-line funny writer. She writes whole paragraphs of amusing dialogue.
You know when you read a book and you think, "Well this is clever, but . . . maybe it's trying a bit too hard to be clever?" (I always feel a tiny bit that way about John Green's books). I never feel that with Rainbow Rowell books. They just are clever, without showing off about it. It's funny and smart in just the kind of way I like it.
And I can especially buy it in Attachments because aren't we often our most clever self in emails when we have a few extra seconds to think of that perfect reply?
I just thoroughly enjoyed reading Attachments by Rainbow Rowell again – I just wanted it to keep going and going and going.
And now I'm counting down the days until her next book, Landline, comes out in July (JULY! I believe that is 40,000 years away).


if you liked this review of attachments by rainbow rowell, you might also like these books: