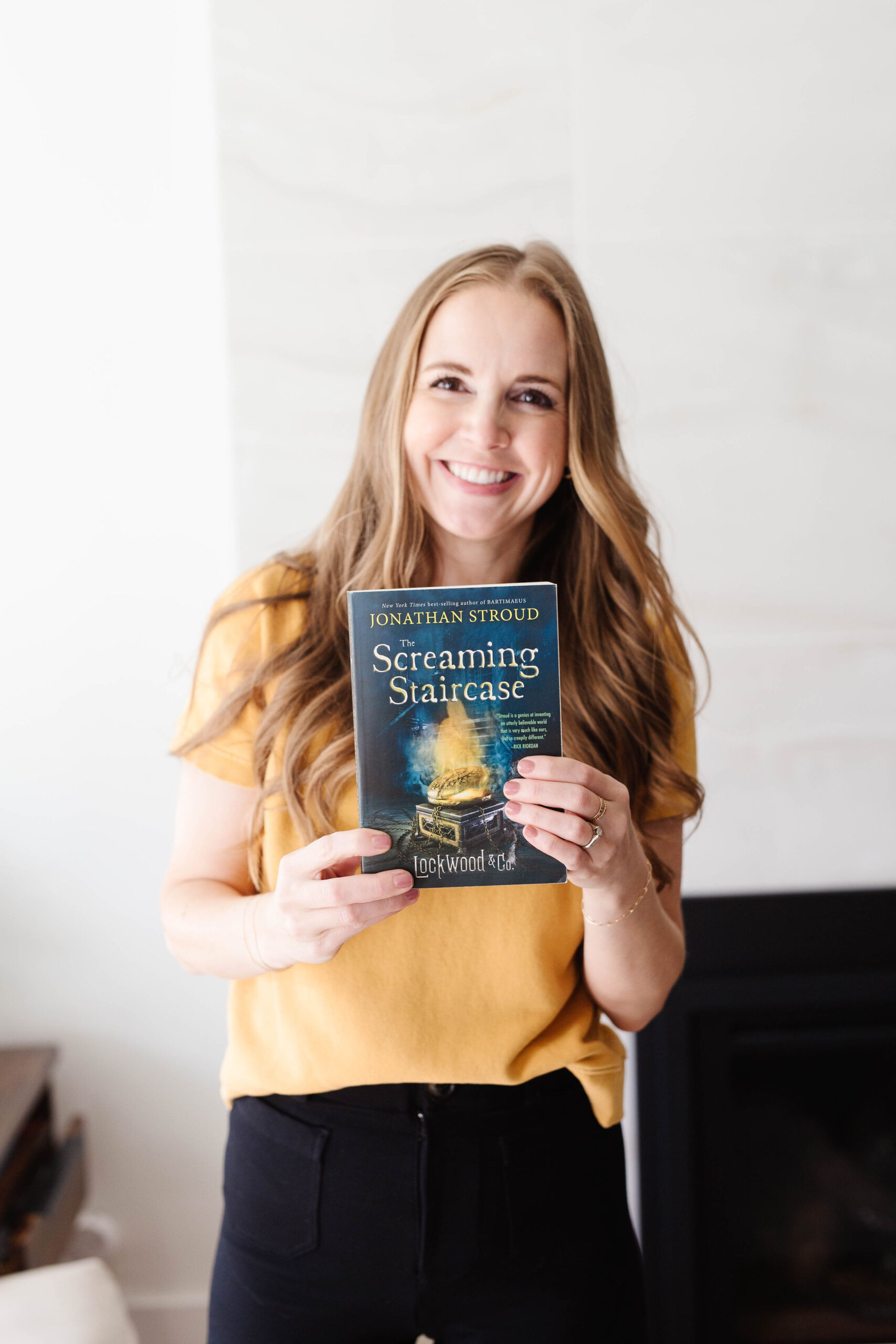 One of the things I love about Everyday Reading Book Club is choosing a seasonal read every year for October.
And when it's a book I've been meaning to read for literal YEARS? Well, that's a big time bonus .
The Screaming Staircase (the first in the Lockwood & Co book series) was one of those books and all year, I've been looking forward to reading it.
Last week, the first Lockwood & Co came up in my library holds and I blew through it in just a few days and immediately requested the second one which I'm now about halfway through! It's the perfect spooky read (or listen!) for October.
And do I plan to watch the Netflix Lockwood & Co show in October? You bet I do!
I was already inclined to think I'd like Lockwood and Co because Bart and I listened to the Bartimeus series by Jonathan Stroud more than a decade ago and absolutely LOVED that series. Funny, smart, and a little bit dark, it's basically everything you could want in a good story and I expected no less from Lockwood and Co!
lockwood & co: the screaming staircase by jonathan stroud
The Screaming Staircase is set in London and for the past 50 years, there has been a major ghost problem. Ghosts – and not the friendly kind – are popping up all over the place and if you get touched by one? That's generally it for you.
People do NOT go out after dark and there is a booming business around iron and silver and other things that keep ghosts at bay.
Children tend to be more psychically sensitive to ghosts than adults – able to see or sense or hear them – and so children with those abilities are recruited to various agencies to hunt down ghosts and secure them.
Lucy Carlyle definitely has that talent and so from a young age she starts working with a team to take down ghosts. But after an incident where things go terribly wrong, she sets out to find a new position and finds one at the tiny agency of Lockwood & Co.
Anthony Lockwood is the teenage head of the agency (Lockwood & Co is unusual because they don't have an adult supervisor) and he, George (who mostly does research on the cases they'll be working on) and Lucy start taking on cases.
Things go okay for a bit until a disastrous case where they start a fire at the client's home and are now on the hook for thousands of pounds of repairs (plus they start losing clients right and left as news spreads about the fire).
Which means they need a really high profile case to both earn the money to pay off their debts AND to start wooing clients back to their agency.
That really high profile case, of course, is going to be dangerous in the extreme.
The first few chapters were a bit slow as the stage was set, but after that I was ALL in and I blew through to the thrilling conclusion.
Several people had warned me that it was fairly scary and I can see what they mean – the ghosts and the haunted houses and the murder victims that become ghosts can be a bit frightening – but I'm a total wimp and I never felt scared. I wouldn't probably read it aloud to my 6 and 8 year olds, but I think my 10 and 13 year olds would love it!
And the audio is well done too – the narrator has a great British accent and I loved listening to her tell the story.
If you're looking for a great Halloween read aloud with older kids or fun car listen or solo read, I think you'll really enjoy Lockwood and Co.
And even better, there are five books in the Lockwood and Co book series, so you'll be stocked for your holiday reading!
if you liked this book review of lockwood & co: the screaming staircase, you might also like these other posts: