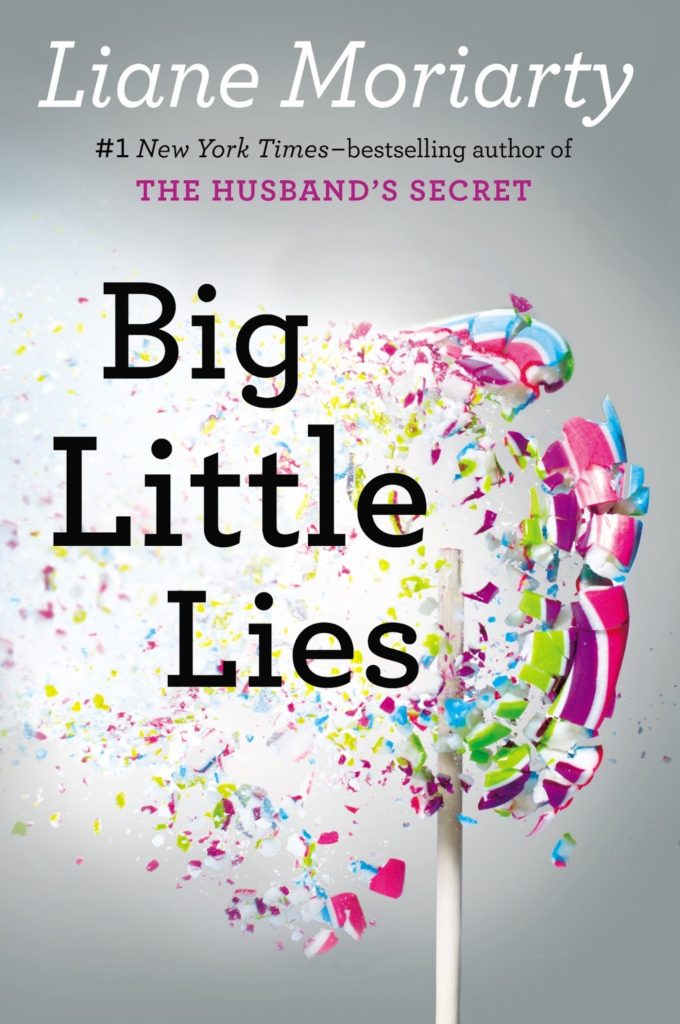 It's no secret that What Alice Forgot is one of my favorite books.  I've read it twice, and enjoyed it both times (and raved about it here).
Then I read her next book, The Hypnotist's Love Story, and was definitely underwhelmed (I actually can't remember almost anything about that book now, except that I didn't really care for it).
The Husband's Secret shot her into the spotlight last year when it became a #1 New York Times best-seller and landing on all sorts of Best Books of the Year lists, and I liked that one better, although still not on the level of What Alice Forgot.
Now Big Little Lies book is out (it came out in July – it took me a while to work my way to the top of the holds list), and I think it's her next best after What Alice Forgot. 
It made me laugh, it made me think, and I ignored all sorts of vital tasks to finish it in two days (the sure sign of a good book for me).
It also had the same sort of amusing humor, true-life situations, and slight absurdity that made me love What Alice Forgot.
It's one of those books where you don't want to know too much about it going in – half the fun is watching it all unfold and wondering how exactly things are going to work out.
big little lies by liane moriarty
The main thing you need to know is that a parent died at trivia night at the local elementary school. The big questions are was it a murder? Was it an accident? And, through 95% of the book, the big question is WHO DIED?
The story introduces the death at trivia night, then jumps back about six months, working its way toward the big night. Interspersed with the story are interviews with various parents making accusations or denying any involvement with the mysterious death.
There are three main characters, all of them mothers of kindergarten students.
There is Madeline. Her youngest child is entering kindergarten, but her main focus is on her oldest daughter, Abigail, from her first marriage. Her husband walked out on them both when Abigail was just a few weeks old, but now he's happily remarried and he and his wife live with their kindergarten daughter in the same village, which means Madeline is constantly running into them at school. Worse, Abigail is hugely taken with the new wife and increasingly seems to prefer her dad's family to Madeline.
Then there's Celeste. She's beautiful and also ridiculously wealthy. Her kindergarten boys are super energetic little guys and from the outside, her life looks just about perfect. But, to no reader's surprise, there's more going on behind closed doors than meets the eye.
And then there is Jane. She's a super-young, single mom, and just moved to the village with her only child, Ziggy. He gets accused of hurting another child during kindergarten orientation and instantly, some of the powerful parents in the kindergarten class are turned against both Jane and Ziggy.
The story alternates between the three of them as you find out more about their lives, their children, and what they're keeping to themselves.
Big Little Lies is an absorbing book with lots of plot lines, and I basically loved every minute of it.
I'm not much of a plot guesser (I like to pretend it's because I'm such a fast reader, I have no time to be guessing, but I'm fairly sure the reason is that I'm just not all that clever), and I had no idea who was going to end up dead. If you've read the Big Little Lies book, I'm terribly curious about whether or not you guessed ahead of time who it was.
if you liked this review of big little lies, you might also like these books: