Looking for a copy of this list of books for 6 year olds? Pop in your email address below and it'll come right to your inbox!
For much of her life, Tally has watched Ella make book recommendations on my blog (you can see them all here in the Ella Enjoyed archives) and a few weeks ago, she told me SHE wanted to suggest some books too.
She finished kindergarten in the spring and is a pretty solid independent reader (thanks to Savvy!) and these are the books she picked as some of her favorite solo reads.
If you have a reader just getting into easy readers, I hope you'll find some fun options here!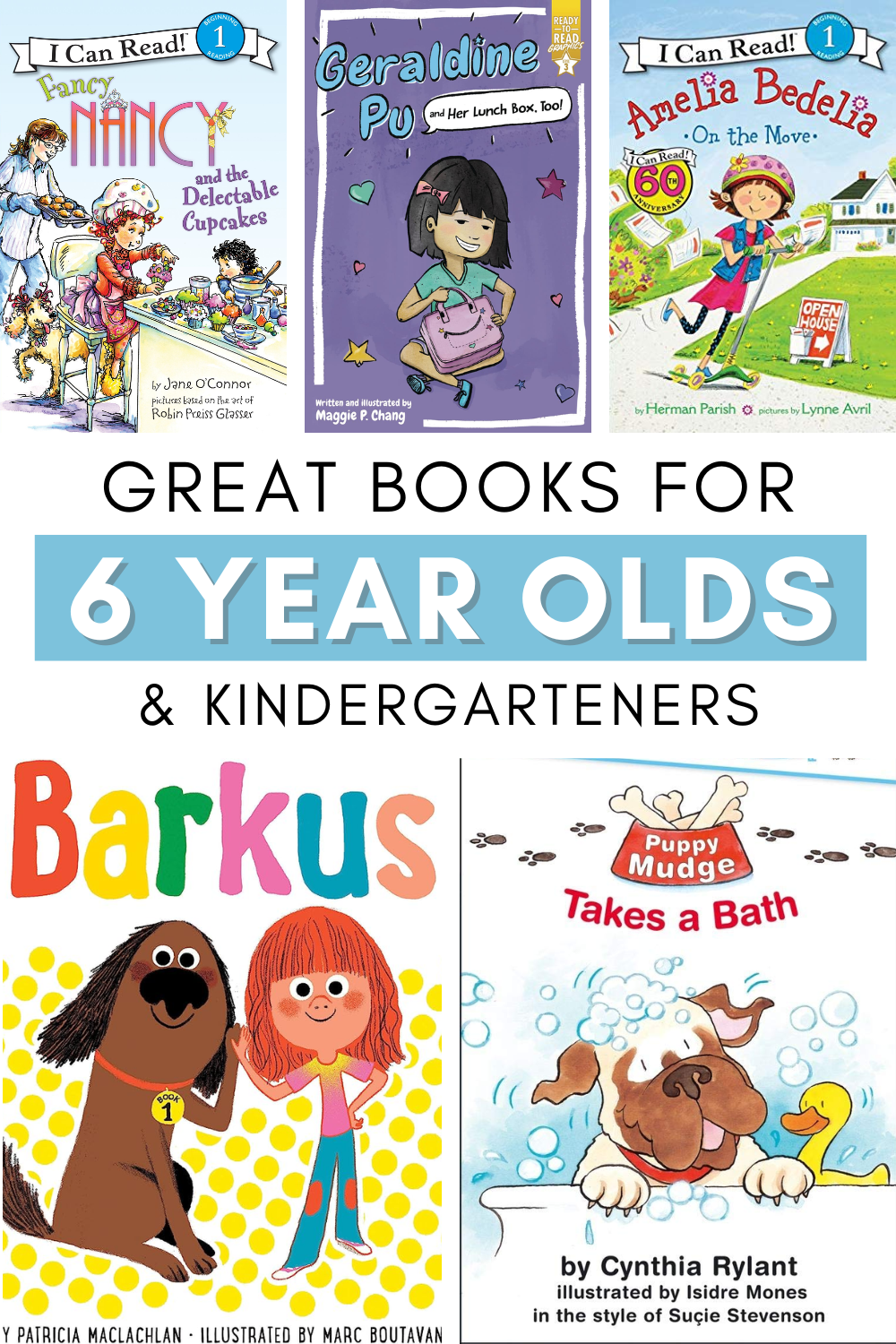 5 books for kindergarteners
Fancy Nancy and the Delectable Cupcakes by Jane O'Connor
32 pages
These books are super popular at our house. All of my girls, including Tally, LOVE Fancy Nancy, and all her gigantic (that means big) words. When Nancy bakes cupcakes for the upcoming bake sale, will she remember to follow the directions?

What Tally has to say: I like this because it's about cupcakes and I like cupcakes! This one is a pretty easy to read book. I've read a lot of Fancy Nancy books so I'm used to them.
Amelia Bedelia On the Move by Herman Parish
32 pages
I've never met a child who doesn't just love Amelia Bedelia as she misunderstands virtually every direction ever given to her. With, of course, hilarious results. This fun series follows Amelia as a child, and it is filled with just as many crazy antics. In this installment, Amelia's family is looking for a new house.

What Tally has to say: I like it because it's also easy to read. It's very exciting most of the time. I like to read these books when I'm trying to fall asleep at night.
Barkus by Patricia MacLachlan
56 pages
If your favorite uncle came to visit and brought you a large dog as a surprise, you'd probably be THRILLED! (Your parents? Not so thrilled). Nicky and Barkus have all sorts of adventures together.
What Tally has to say: Barkus is funny and not too short, so I can read it for a long time. This one is a little harder than the first two books so it helps me get better at reading.
Puppy Mudge Takes a Bath by Cynthia Rylant
32 pages
Most young readers know the beloved Henry and Mudge and the Puppy Mudge series is perfect for younger readers who aren't ready for the longer books featuring this playful duo.

What Tally has to say: I like this book because it came in a collection and they're short so I can read all them. I got them for Christmas.
Geraldine Pu and Her Lunch Box, Too! by Maggie P. Chang
64 pages
This is a fun beginner reader graphic novel series featuring sweet, but spunky Geraldine. Things get a little bit tricky at school for Geraldine when she opens up her lunchbox and finds stinky tofu inside. I love that this series even has a "how-to" guide on how to read a graphic novel.
What Tally has to say: I like this one because it's short and interesting. I like that it's a graphic novel and I just asked my mom to request the next two books from the library.
And if you'd like a printable copy of this list that you can take to your library or screenshot on your phone for easy access, just pop in your email address below and it'll come right to your inbox!
if you liked this post about books for kindergarteners, you might like these other posts: