Looking for a copy of this list of books to read after finishing The Penderwicks? Pop in your email address below and it'll come right to your inbox!
With four sisters at our house, it's no surprise that The Penderwicks has been a popular series at our house (fortunately, thus far I've managed to escape the fate of the Penderwick mother who passed away before the first book begins).
My girls have listened to this series on repeat over the years and love making up stories where they're the Penderwick sisters. We've listened to them on road trips (the audio is terrific) and they make wonderful read-alouds as well.
If you have a Penderwicks lover in your house, try these titles once you've read all five books in the Penderwicks series!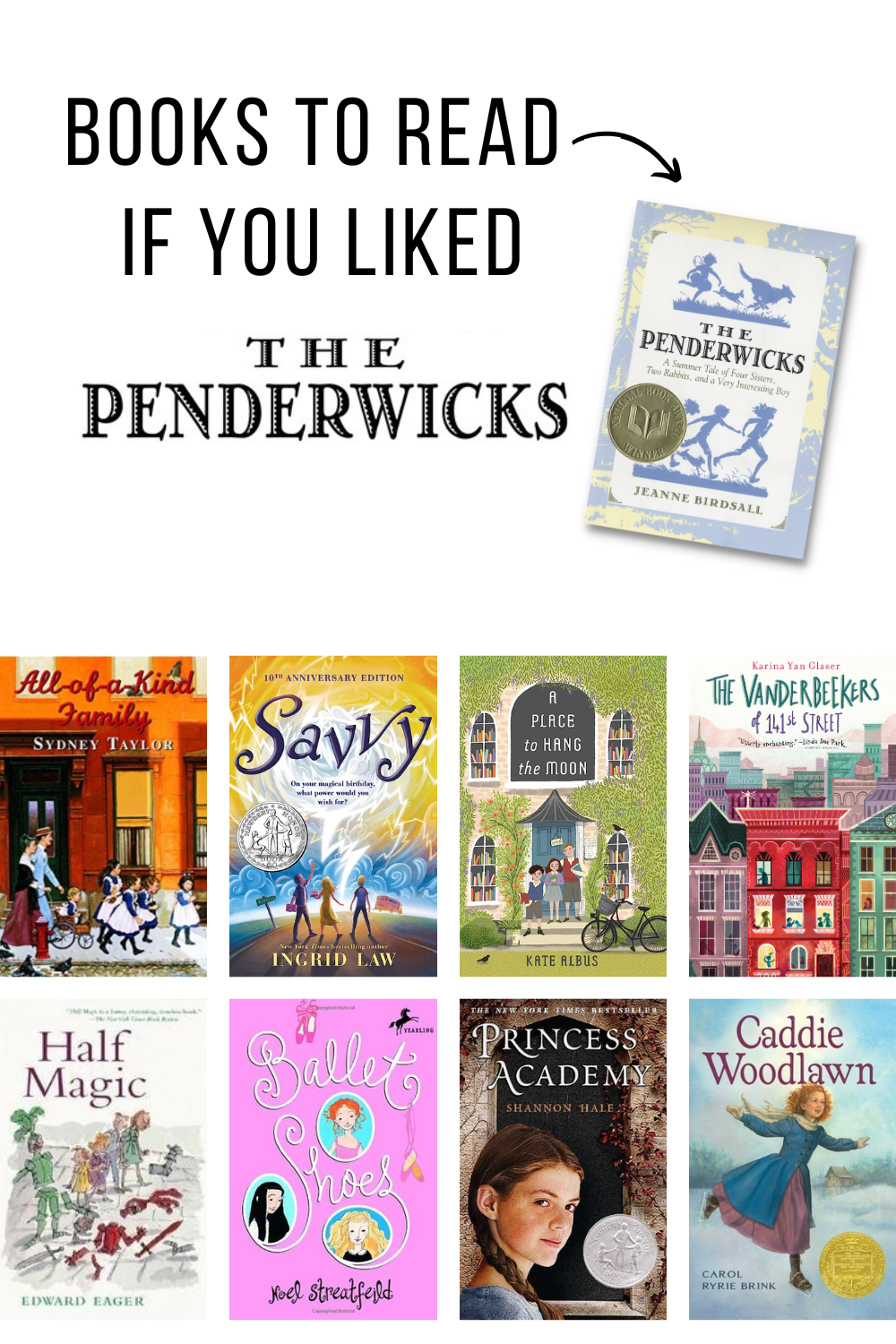 The Vanderbeekers of 141st Street by Karina Yan Glaser
This fun story follows five siblings who are about to lost their beloved brownstone home in Harlem, thanks to a cantankerous (and mysterious) landlord who refuses to budge. If you're looking for a book with similar vibes to The Penderwicks, this is an unbeatable option.
Savvy by Ingrid Law
In the Beaumont family, everyone gets a magical talent (a savvy) when they turn 13. But just before Mibs' 13th birthday, a tragedy occurs and now Mibs is desperately hoping her savvy will turn out to be something that can save her family.
A Place to Hang the Moon by Kate Albus
This historical fiction title absolutely charmed me and it's been one of my favorite read-alouds in the past couple of years. Three young children lose their grandmother, leaving them orphans and no place to go. Her lawyer suggests that, since so many children are being shipped out to the English countryside during the bombings, they might join the exodus and conveniently not mention that they don't actually have a family. And just maybe the family that temporarily takes them in will want to keep them forever. This book has all the feelings of a classic and I definitely shed some tears at the end.

All-of-a-Kind Family by Sydney Taylor
Follow along on the daily adventures of a Jewish family, with five girls, living in New York City during the early 20th century. This heart-warming book shows the joys and struggles of this close family with five sisters (much like the Penderwick four sisters). And, you won't want to miss the surprise ending!
Ballet Shoes by Noel Streatfeild
This sweet classic series tells the story of three adopted sisters living in Britain in the 1950s. Determined to help out their family, they vow to work hard and dive into the world of show business. Dancing, acting, and…aviation?
Princess Academy by Shannon Hale
Don't let the title fool you – this book isn't just for girls. It's great for boys and girls of all ages. A remote mountain town becomes host to a competition to choose the next Princess who is prophesied to come from the town. Like The Penderwicks, the main character has lost her mother and has a special relationship with her dad.
Caddie Woodlawn by Carol Ryrie Brink
Caddie Woodlawn, a strong-willed and brave 11-year-old is growing up on the Wisconsin frontier. This Newbery winner is a fun classic that is reminiscent of Little House on the Prairie. The strong family relationships and realistic AND postive sibling dynamics makes this an excellent read-alike for lovers of The Penderwicks.
Half Magic by Edward Eager
I adore Edward Eager's books – they're the perfect combination of regular childhood and magical adventure and have that old-fashioned vibe that makes me love The Penderwicks so much. Start with Half Magic and then blaze through the rest of the series.

And if you'd like a printable copy of this list that you can take to your library or screenshot on your phone for easy access, just pop in your email address below and it'll come right to your inbox!
if you liked this post about books like the penderwicks, you might also like these other posts: