A few weeks ago, I shared a list of decodable readers for very beginning readers.
The books on this list of early reader books are just one step up from those books.
If you give them to a child JUUUUST starting to sound out simple words and who knows a few basic sight words, they'll likely be frustrated or overwhelmed.
But if you have a reader who is starting to gain some confidence, is getting comfortable with 4-5 letter words and knows a few more sight words, these books are going to be just the ticket!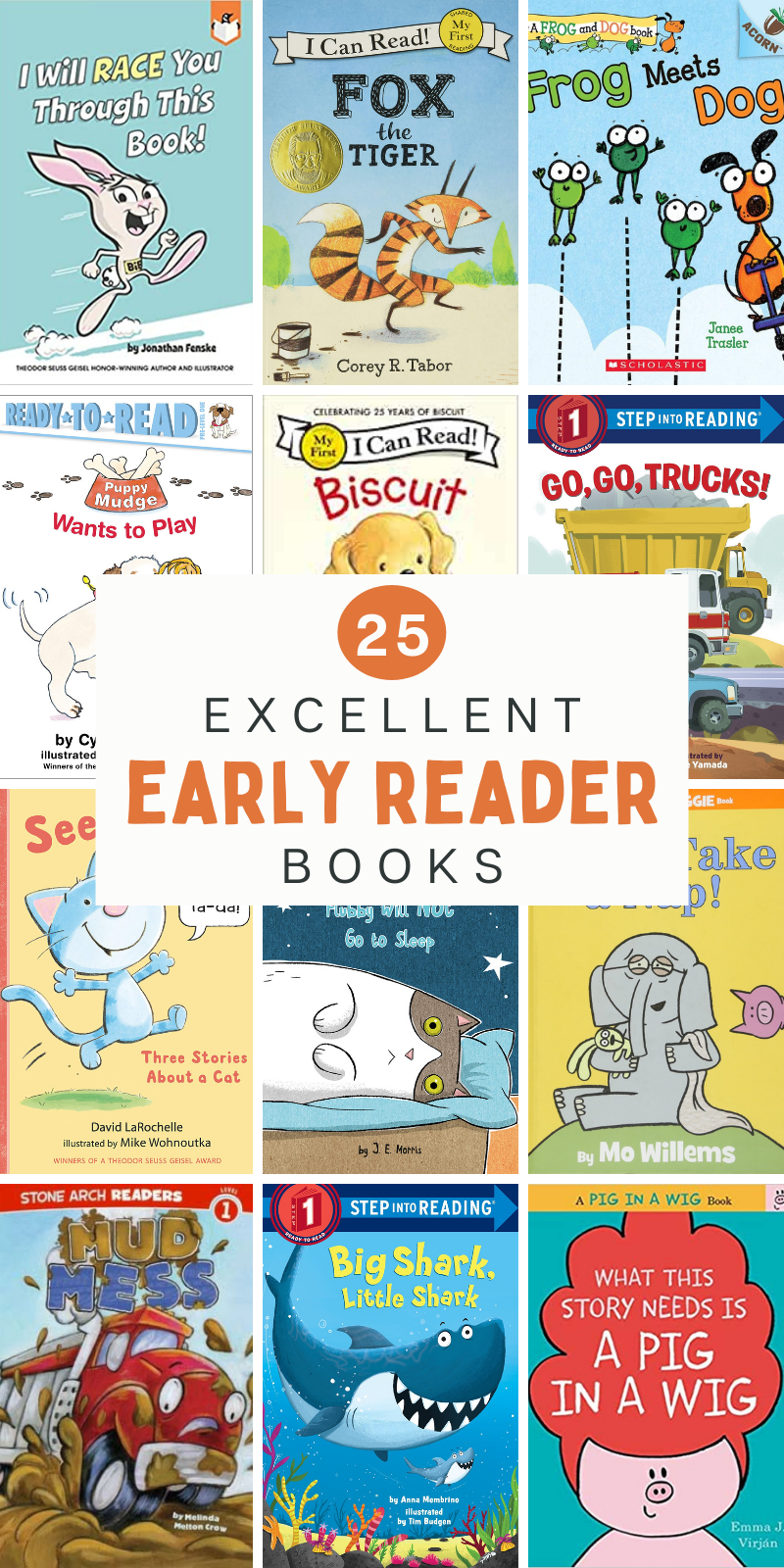 25 Excellent Early Reader Books
Go, Go Trucks! by Jennifer Liberts, illustrated by Mike Yamada
This book is a really great example of easy reader books – nearly every word is decodable and there is a lot of repetition, plus there are is a lot to look at in the illustrations. Definitely a home run for a beginning reader!
I Will Race You Through This Book! by Jonathan E. Fenske
This one is always a hit at our house, in the same vein of There's a Monster at the End of This Book, where the rabbit addresses the reader and challenges them to a race through the book (and isn't above a bit of a cheating!).
Mud Mess by Mindy Melton Crow, illustrated by Veronica Anne Rooney
With lots of repetition and bright illustrations, this is the perfect book for beginning readers who are ready for a simple story.
Sick Day by David McPhail
This picture book is a sweet delight about a little boy having a sick day at home, along with his beloved dog. Lots of simple words make this a big win for a beginning reader.
Biscuit by Alyssa Satin Capucilli, illustrated by Pat Schories
The Biscuit books are perfect easy reader books because they contain so much repetition, white space, and big text. These were some of the first books my first grader was able to tackle on her own.
I Will Take A Nap! by Mo Willems
When I asked for easy reader books, this series was one of the most suggested (it was a huge hit at our house too when I had a reader just gaining some confidence!). The books vary a bit in how hard they are, so take a look at specific titles before handing them over.
Go, Dog Go! by P.D. Eastman
At 60 pages, this book is going to require a bit more reading stamina, but it has a lot of simple words and feels really great for a young reader who wants to feel like a rockstar.
What This Story Needs Is a Pig in a Wig by Emma J. Virjan
Plenty of rhyming words and lots of silly antics make this one an absolute win for young readers. There are a few trickier words, but nothing truly unmanageable.
Frog Meets Dog by Janee Trasler
I love the Acorn books (they range from very beginning to longer chapter books) and the Frog & Dog series is excellent for early readers with three books in the series featuring a dog who really wants to play with a group of frogs.
Puppy Mudge Wants to Play by Cynthia Rylant, illustrated by Sucie Stevenson
Most young readers know the beloved Henry and Mudge and the Puppy Mudge series is perfect for younger readers who aren't ready for the longer books featuring this playful duo.
Rhyming Dust Bunnies by Jan Thomas
You can't beat Jan Thomas for a laugh-out-loud picture book and this one is full of decodable words with the occasional word (like "rhyming") that you may need to assist with.
Spot Sleeps Over by Eric Hill
With very large text and only one sentence per spread, this is a great early reader book. Add in the flaps on each page and it's a very interactive experience for a beginner, with bonus point for being a familiar character for many.
Fox the Tiger by Corey R. Tabor
The first in the Fox series, this easy reader book was a huge hit with my second and third daughters when they were in this stage. There are a few words they'll probably need a bit of help with, but it's a fun story that has massive child appeal.
The Fat Cat Sat on the Mat by Nurit Karlind
This book is fairly text heavy but filled with primarily very simple decodable words that are perfect for early readers. With this much text, it might be helpful to switch off reading pages with your child if they don't yet have the reading stamina this one requires.
Clara and Clem Under the Sea by Ethan Long
This book has very sparse text, but enough of the words are hard enough that it belongs on this list, rather than the decodable readers list. For a child who can sound out harder words or will accept a bit of help, this book is a big confidence builder because you can get through it so quickly!
Big Dog and Little Dog by Dav Pilkey
This early reader book (by the author of the super popular Captain Underpants series) has a lot of repetition and short sentences that make it ideal for beginning readers. There are also some reader activities and comprehension checks in the last couple of pages, if that's helpful for you!
Brownie & Pearl Make Good by Cynthia Rylant, illustrated by Brian Biggs
After Brownie and Pearl break the radio, they try their best to make up for their mistake in this simple picture book with only 1-2 short sentences per page. Plus, it feels like a true picture book, rather than an easy reader.
Where's Dear Dragon? by Margaret Hillert, illustrated by David Schimmell
With short, simple sentences (and only 1-3 sentences per page), paired with bright, basic illustrations, this is a great book for beginning readers to gain confidence with.
Big Shark, Little Shark by Anna Membrino, illustrated by Tim Budgen
With bright underwater illustrations and short sentences, this book is ideal for a beginning reader. There is a lot of repetition, plus enough of a storyline to keep it interesting.
Pip Sits by Mary Morgan
When Pip is recruited to sit on some eggs waiting to hatch, he finds that it's more of an adventure than he bargained for. This one is quite simple with big text and lots of white space.
See the Dog: Three Stories About a Cat by David LaRochelle, illustrated by Mike Wohnoutka
This book (along with its predecessor See the Cat) are perfect examples of easy reader books with three short stories, lots of laughs, and simple words. My girls LOVED this book and after I shared it, I got so many messages from other readers who absolutely adored it too.
Dragon Egg by Mallory Loehr, illustrated by Hala Wittwer
This one is a delight for a young reader who wants adventure, simple words, and a nice predictable storyline.
Put Me in the Zoo by Robert Lopshire
This is another 60 page book, but with simple words, lots of white space, and fairly sparse text, it's a good candidate for reading together.
Go to Bed, Blue by Bonnie Bader, illustrated by Michael Robertson
This one is an IDEAL easy reader book with very short sentences, tons of repetition, and very few words a reader will need help with. Prepare to read this one on repeat!
Flubby Will Not Go to Sleep by J.E. Morris
This amusing book about a cat who will not go to sleep will make parents chuckle and is perfect for a child who is a bit more of an advanced reader, with words like "squishy" and "blanket."
And if you'd like a printable copy of this list that you can take to your library or screenshot on your phone for easy access, just pop in your email address below and it'll come right to your inbox!
if you liked this post about early reader books, you might also like these other posts: