Once a child learns the basics of sounding out words, they're often anxious to practice those exciting new skills.
And then there is nothing more frustrating than when they go to the library and there isn't a book in sight that they can actually read.
Even the books in the "easy reader" section are often packed with challenging words or way too text heavy.
I've been working on collecting books that are true decodable readers with 99% words that can be sounded out by a beginning reader and that I could find at my local library.
No "engineer" or "giraffe" or "pneumonia" thrown in just for funsies.
Here are some of my favorite decodable readers – I hope you'll find them useful for your beginning reader too!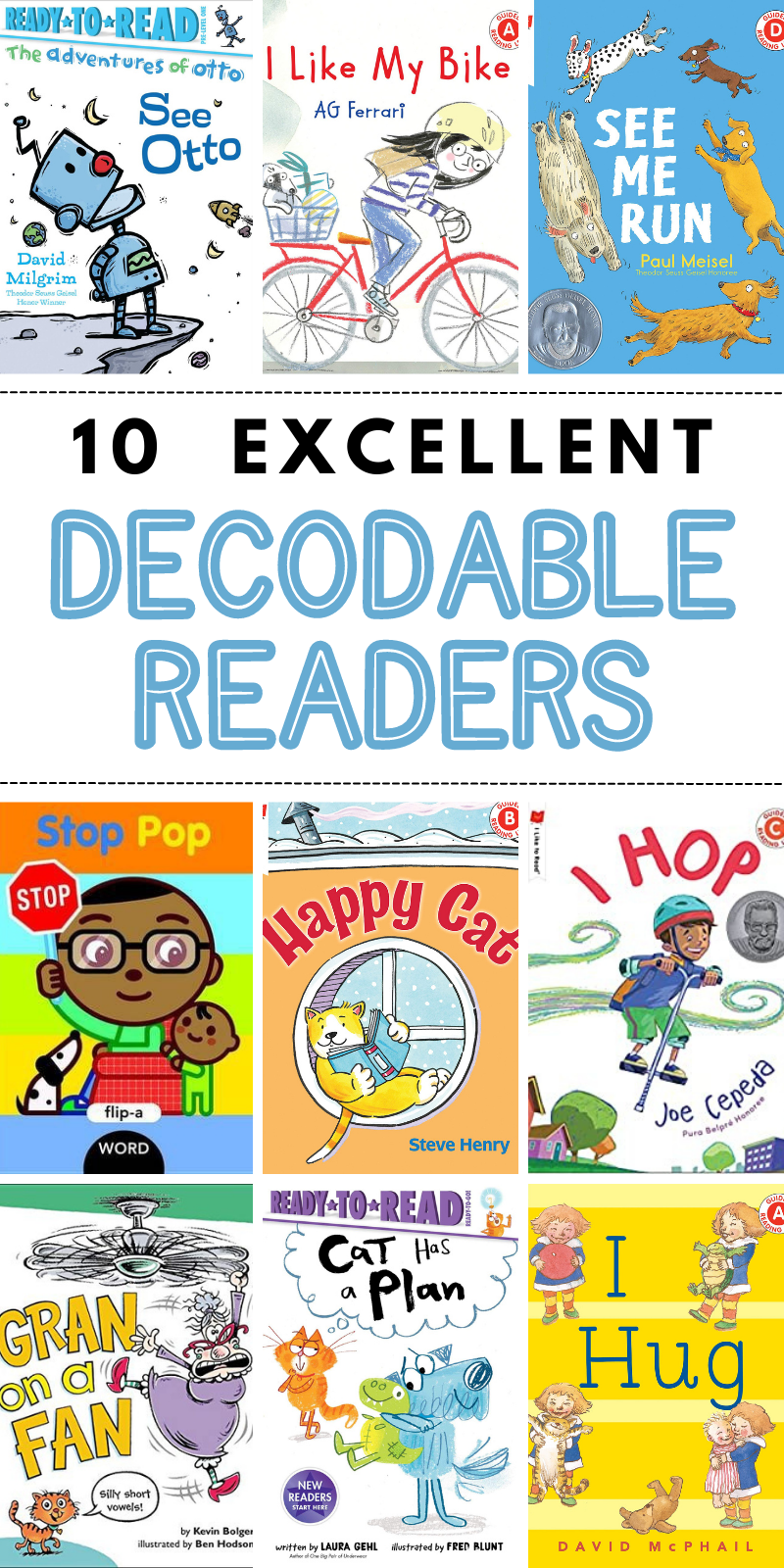 10 Excellent Decodable Readers
I Like My Bike by AG Ferrari
If you have an emerging reader who needs a quick win, this book is a home run. It has about twelve total unique words and lots of repetition, with only 4 or 5 words per page, so they can blow through it pretty quickly. Definitely a huge win in the decodable readers category.
See Otto by David Milgrim
This decodable reader has lots of repetition and only 3-6 words on most pages. The main word you'll probably need to help with is "laugh" which shows up on the last two pages.
Gran on a Fan by Kevin Bolger, illustrated by Ben Hodson
This is one of the more text heavy books on this list, but it is perfect for lots of repetition and working on short vowel words – most beginning readers are going to have no trouble with this one, and they'll love the illustrations that feel more like a graphic novel than a picture book.
See Me Run by Paul Meisel
This is the size of a normal picture book (rather than the size of an easy reader book) and it's fun, full of energy and 95% decodable text. The surprise ending is especially great for readers who like an actual plot in their decodable readers.
Cat Has a Plan by Laura Gehl, illustrated by Fred Blunt
This is one of those magical decodable readers where literally every word except one is either a very common sight word or decodable (that word is "Mouse") AND it has a little section at the front to review words and sight words before you get started. My five year old was delighted to read this one aloud to her sisters instead of them always reading to HER.
Stop Pop (Flip-A-Word series) by Harriet Ziefert, illustrated by Yukiko Kido
This series of early reader books is GOLD. It's fully decodable and each one focuses on lots of repetition, plus fun flip pages that change the illustration as the words change. My new reader was THRILLED when I brought this home for her from the library (other books in the series are Snow Bow, Pig Wig, and Snake Cake).
Happy Cat by Steve Henry
When Cat finds himself stuck out in the cold, he goes inside and finds a whole group of new friends. There are a few tricky animal words in here (namely "Elephant" but plenty of picture clues and repetitive phrases to make it easier).
I Hug by David McPhail
A whole day of hugging makes for a happy little girl AND an easy read for beginning readers. Each page follows the "I hug my _____" format with lots of decodable words and only one they might need help with (the word is "friend").
I Hop by Joe Cepeda
This big bright book has only 2-4 words per page, so it's great for readers who are still building up their endurance. There are a couple longer words that they might need help with (mainly still decodable – just longer than 3-4 letters).
Cat Days by Alexa Andrews
Broken into three short chapters, this decodable reader has lots of basic familiar words paired with bright, simple illustrations. It's perfect for the youngest readers who will love reading a "chapter" book.
Any other favorite decodable readers? I'm always on the look out for new ones – please leave them in the comments! Those recommendations make this post more useful for everyone.
And if you'd like a printable copy of this list that you can take to your library or screenshot on your phone for easy access, just pop in your email address below and it'll come right to your inbox!
IF YOU LIKED THIS POST ABOUT decodable readers, YOU MIGHT LIKE THESE OTHER POSTS:
Reader Interactions