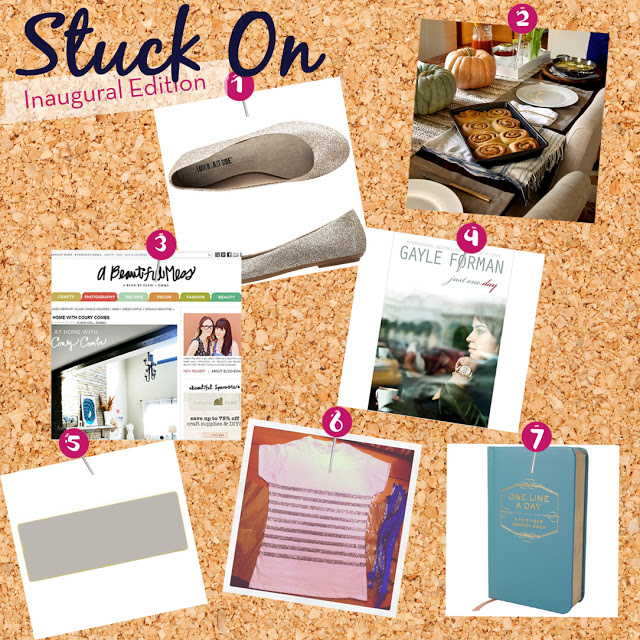 A few things I've loved lately:
Merrick mentioned these glittery flats in her Sisters Share It All post this week and I'm convinced I need a pair now, especially since my own beloved gold shoes now have holes in the soles (when I sit on the floor at storytime, I look like a homeless person).
I love cinnamon rolls but don't make them often because Bart doesn't particularly love them. I'm dying to try this chai-spiced version from Joy the Baker. I mean, people, they have candied ginger, cardamom, black pepper, and maple syrup in the filling (I am certain Bart will hate them. More for me).
A Beautiful Mess is a new blog to me and I'm in love. So many gorgeous posts on all the things I enjoy – food, homes, projects, and clothing. I tried this peanut butter/chocolate smoothie recipe yesterday, and Ella and I both scarfed it down.
I've been waiting for Gayle Forman's new book since Where She Went came out almost two years ago. And now the wait is over – Just One Day is out!
I know this looks like a gray blob. It's actually a stoneware platter from Crate & Barrel.
This tutorial for a glittery striped shirt caught my fancy. . . must figure out something to do that is similar (I'm kind of in stripe-overload right now, but maybe a glittery polka dot shirt?)
Merrick got this one line a day journal and Becca had just mentioned a similar kind of journal on her blog, so I was definitely intrigued. I think this might be just my style of journal writing. And it doesn't hurt that it's such a pretty book, too.