Ella is slowly starting to give up her nap and so we've been transitioning to quiet time. Usually, she sleeps for about an hour and a half or so and then when she wakes up, I give her an enormous pile of books to read in her crib until her two hours is up.
Sometimes, she gets through all her books before her time is up and she'll call out for me to replenish the stack. And while I collect more books, she'll say to me, "I a book-readin' machine, Mama?" which I think is only the cutest thing I've ever heard.
Some favorites book recommendations for toddlers, for quiet time and for snuggling-on-the-couch-with-me time!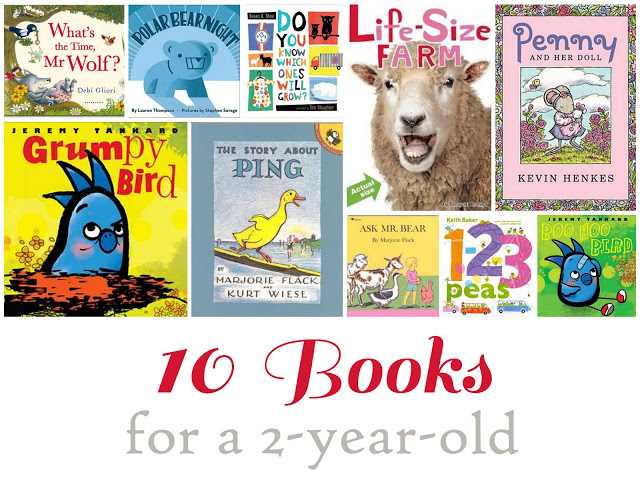 book recommendations for toddlers
What's the Time, Mr. Wolf? by Debbi Gliori– This one is getting some Caldecott buzz and although Ella doesn't know fairy tales well enough to understand many of the clever references in here, she loved reading this one and I laughed to myself about the funny jokes in it.
Polar Bear Night by Lauren Thompson, illustrated Stephen Savage – Because of our deep love for Where's Walrus?, I've checked out pretty much everything else of Steven Savage's and this has been Ella's favorite. I love the quiet, rich feeling of the illustrations, and when I showed Ella that Polar Bear Morning is out now, she hasn't stopped talking about it.
Do You Know Which Ones Will Grow? by Susan A. Shea, illustrated by Tom Slaughter – This was recommended by Peaceful Reader and we read this dozens and dozens of times while we had it checked out. Lift-the-flap books are always enormous hits around here and this was a particularly clever one, with the pictures of the smaller item turning into the bigger item when you opened the flap.
Life-size Farm by Teruyuki Komiya – We are big fans of all the Life-Size books, so I won the "good mom" prize when I reserved this one from the library.
Penny and Her Doll by Kevin Henkes – Ella loved this one so much she named her doll Rose too. I'm excited to be venturing into the early reader books.
Grumpy Bird by Jeremy Tankard – After we discovered It's a Tiger!, we dug up some of Jeremy Tankard's other books (this one is one he wrote himself as well as illustrated) and Ella thought this was the funniest book ever.
The Story about Ping by Marjorie Flack, illustrated by Kurt Weise– Bart's parents gave Ella half a dozen new books for Christmas, all of them favorites from Bart's childhood. This one has particularly caught her fancy, and we've read it many times since Christmas (I'd never read it before).
Ask Mr. Bear by Majorie Flack – I discovered picture books with accompanying CDs recently and it's pretty much the best thing ever to let Ella listen to these while we drive instead of being forced to make up endless stories about "Harry the Hippo." (I have no idea who Harry the Hippo is, but Ella ALWAYS asks for stories about him). This book is 15 years older than I am and it definitely feels like a book from the seventies, but I kind of loved it.
1-2-3 Peas by Keith Baker – I was checking books out at the desk at the library (rare for me – I usually do self-checkout because I don't wish to be judged for my stacks of YA romance books), and the librarian was checking in an enormous pile of picture books. Only the spine was showing on this book, but Ella immediately spotted it and begged to check it out, recognizing it as a companion to the L-M-N-O Peas book we read hundreds of times last year. I won't pretend I wasn't impressed.
Boo Hoo Bird by Jeremy Tankard – A companion to Grumpy Bird (I like this one slightly less, but it's still amusing).
P.S. You can see previous favorites of Ella's here.
And if you'd like a printable copy of this list that you can take to your library or screenshot on your phone for easy access, just pop in your email address below and it'll come right to your inbox!
if you liked this post about book recommendations for toddlers, you might also like these other posts: