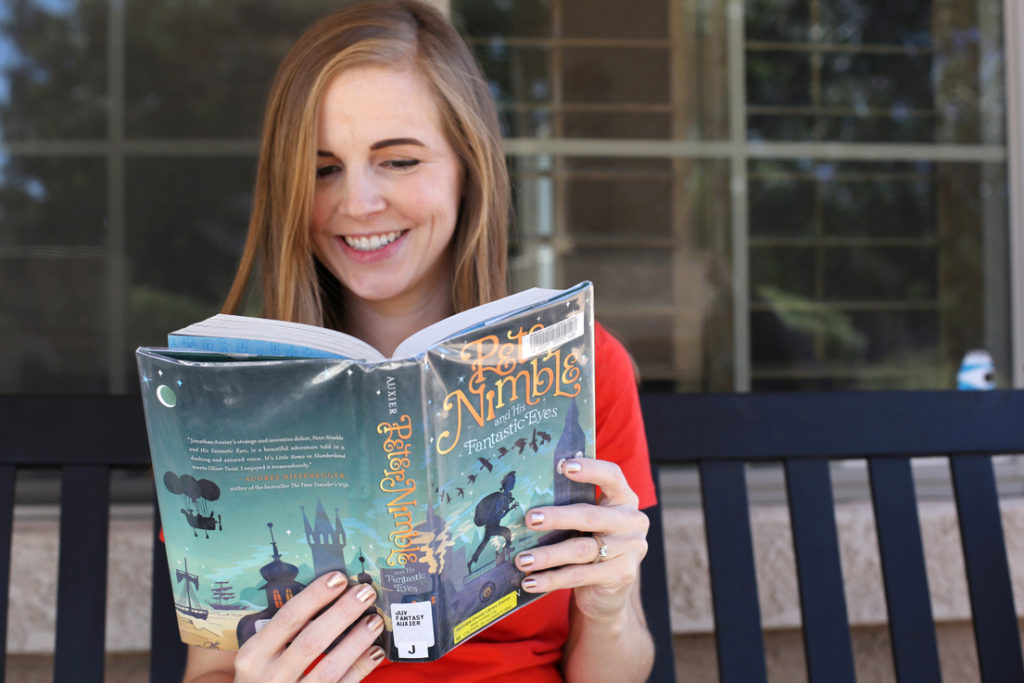 This was by no means the best book reading quarter of my life, but after last quarter's 14, a solid 18 books is making me feel pretty happy.
Not to mention the fact that I really read some excellent things this quarter, and my Kindle and Overdrive accounts are currently bursting with books I'm really looking forward to reading.
It's too bad when it takes you until September to hit your reading stride for the year, but better late than never.
third quarter reading 2016
I read this with Ella and somehow it was one of those classics I'd never actually read before. I think I'd maybe read the first chapter years and years ago, but other than that, it was all new to me. To be honest, it was fun enough but not a favorite for either of us.
This was just such a perfect summer read and nothing feels more extravagant to me than staying up hours past my bedtime reading (if that doesn't tell you how quiet and non-exciting my life is, I don't know what will).
My mom ordered this for me last year after Gretchen Rubin recommended it as one of her monthly book picks, and it took me FOREVER to finally pick it up. When my mom came this summer, she read the first chapter or two to Ella and then we finished it together, and both really enjoyed it. I mean, when do I not love time travel?
I'm so HAPPY to have finally read this book, and I got a lovely copy as a birthday gift, so now I even own my own copy so I can refer back to it whenever I want.
I'd never read anything by Curtis Sittenfeld, despite having meant to for the past. . .decade. But I'll admit this one made me not want to bother. It's a retelling of Pride and Prejudice and the first half wasn't bad, but the second half just tanked for me.
This wasn't as good as One True Loves, but it definitely was an enjoyable and fun read. If you have a vacation coming up, this is a good pick.
Oh, I just loved this book so so much, and I need to get the next one to read to Ella (and I'm definitely planning on adding a copy of Christmas at Noisy Village to our Christmas book collection).
I haven't read a lot of young adult this year, but I blazed through this one. It was pretty good, but some of the plot points were a little difficult for me to swallow.
This was just such a blip for me – I'm glad to have read it, but it is not at all a book #8 for me. Mostly, I just want to go back and read the real series.
Writing about 9/11, especially for an audience that wasn't even born when it happened, takes some serious skill, and she has it – this book is excellent.
I still think about this book all the time. So engaging, interesting, heart-breaking, and gripping. Definitely worthy of its best-seller status.
For some reason I was thinking this was the same author as A Hundred Summers, and when it was available just before a road trip, I checked it out. Different author, but definitely an interesting storyline. I stayed up several nights working on a jigsaw puzzle so I could listen to more. Would I race out to recommend it? Not likely. But was it a fun listen? Absolutely.
I've meant to read this for ages, and finally checked out a copy and blazed through it in about two days. It's so fun to think about marriage and relationships and weddings, and she had lots of great stories, good advice from people with great marriages (and failed ones), and it's a quick read.
Sometimes I get advance copies of books and they sit around for months and months. This one came and I'd finished it within two days of its arrival. I mean, a middle-school version of Cyrano de Bergerac? How could I resist? It was filled with likeable (and not) characters, believable scenarios, clean, and just so sweet and fun. I loved every second of it. It doesn't come out until February, but once it does, it's totally worth reading.
This book has changed my life. At least for the time being. It's helped me rethink so many of my bad habit patterns, helped me be more focused on my children, more productive during my work times, and more ruthless about cutting out things that aren't improving my life. Full review coming soon, because I cannot stop talking about this book.
This is a retelling of The Taming of the Shrew where the dad is a researcher in danger of losing his most-beloved assistant because his visa is about to expire, so he convinces his daughter to marry him. Surprisingly charming.
When I was checking out books for my Halloween book list this year, I thought it'd be fun to read a Halloween-themed chapter book with Ella too, and this was a perfect pick. We both loved it and sped through it in less than a week. Perfectly spooky without being actually scary.
I couldn't remember almost anything about this book from when I'd read it as a child, so it was really delightful to experience the whole thing again when Ella and I read it together. And Ani listened to a LOT of it and I was really impressed by how much of it she retained. So sweet, charming, and classic. Also, I got so choked up multiple times during the last couple of chapters.
And if you'd like a printable copy of this list that you can take to your library or screenshot on your phone for easy access, just pop in your email address below and it'll come right to your inbox!
What great things have you read recently or are reading right now? I'd love to hear – my book queue could always use more titles in line!
if you liked this post of books i read right now, you might also like these other posts: